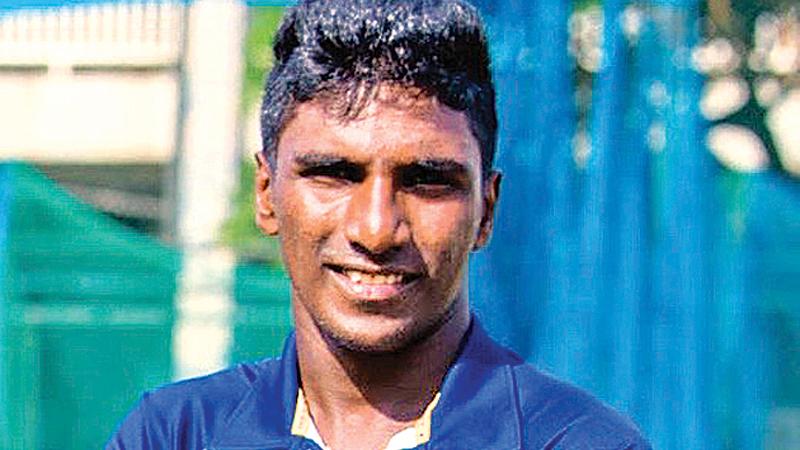 The Observer-Mobitel Schoolboy Cricketer of the Year presented its prestigious title to an outstanding player from a lesser-known school for the first time in 2017.
The main winners of the most prestigious event in school cricket have been from affluent schools in Colombo, Kandy and Galle. But for the first time in its 39 years, a cricketer form a lesser-known school in the Southern Province was identified for that glorious honour,
History was created in 2017 when Nipun Ransika of P. De S. Kularatne College in Ambalangoda was adjudged Observer-Mobitel Cricketer of the Year.
It is not easy for a cricketer from such a school to compete against his elite counterparts and take that prestigious title.
But Ransika produced some outstanding performances to beat all overwhelming odds and take that title for the first time in the contest's four-decade long history.

Born on June 2, 1999, WA Nipun Ransika was definitely not a cricketer born with a silver spoon in his mouth. But his outstanding talent was good enough to beat all others and take him to the pinnacle of local school cricket.
His versatile skills as an all-rounder were coupled with elegant left handed strokes all round the wicket and was a treat to watch when he was in full swing. Moreover, his ability to move the ball both ways off a good length was the secret behind his success story in bowling.
In August 2018, he was named in Kandy's squad for last year's Sri Lanka Cricket T20 League. He made his Twenty20 debut for Kandy in the 2018 SLC T20 League tournament on August 22, 2018. Prior to his T20 debut, he was named the Sri Lankan Schoolboy Cricketer of the Year for 2017.
Ransika made his first-class debut for Colts Cricket Club in the 2018–19 Premier League Tournament on February 7, 2019. He made his A debut for Colts in the 2018–19 Premier Limited Overs Tournament on March 4, 2019.
A right-arm fast medium bowler, he is also a useful left-hand batsman and it did not take long to show his colours as he was picked for duty for the Sri Lanka Under-19 team on its tour of Australia two years ago.
He scored 28 runs and captured 2 for 22 in the first under-19 ODI played on April 21, 2017. In the second match he captured 2 for 42 and 3 for 60 in the last one-dayer. All matches were played in Hobart, Tasmania.
Ransika kept the Sri Lanka flag fluttering high at the tri-nation cricket tournament which followed in South Africa, which also featured Zimbabwe.
Having captured 19 wickets in the tournament he was adjudged the Player of the Tournament and was consistent throughout the tournament with spells of 3 for 45 v South Africa, 4 for 25 v Zimbabwe, 2 for 51 v Zimbabwe, 3 for 51 against South Africa and finally 5 for 19 against South Africa again.
The talented all-rounder from the coastal town captured five wickets and guided Sri Lanka to win the championship. In the two other matches played earlier in the tournament Ransika won the Man of the Match award on both occasions.
His emergence as Observer-Mobitel Schoolboy Cricketer of the Year in 2017 opened a new chapter not only for him as a cricketer but also for his school, marking its place prominently in Sri Lanka's cricketing history. During his school career, Ransika had been highly regarded by the staff at P. De S. Kularatne College who rated him as an asset to Sri Lanka in cricket and with big hopes to occupy a high position.
His ability to bowl at 140kms per hour and his nagging length impressed his then Sri Lanka Under-19 bowling coach, the former Sri Lanka ace paceman Chaminda Vaas. At the early part of his career, the youngster was coached by Jayananda Warnaweera, former Sri Lanka Test spinner.
An unexpected injury in his spine kept the young fast bowling sensation out of the squad for the Under-19 World Cup held in New Zealand in January 2018.
Meanwhile, the stage is set to host the 41st Observer-Mobitel Schoolboy Cricketer of the Year contest next month.
The special selection panel headed by Hashan Tillekaratne, former Sri Lanka captain and current Sri Lanka under-19 head coach, met at the Galadari Hotel along with school cricket and umpires association officials and picked the winners.
Tillakaratne said they have drawn up a comprehensive plan with the 2020 Under 19 World Cup in mind. "Sri Lanka Cricket will also develop national junior pools for Under-17 and Under-15 in order to support Under-19 pool. If we continue this development program for ten years, Sri Lanka's cricket will be in safe hands," he said. This will be the 12th consecutive year that Sri Lanka Telecom Mobitel will be sponsoring the Mega Show, the country's first schools cricket awards show which had started in an era in which there had not been even a first XI inter-school cricket tournament.
Winning the Observer-Mobitel Schoolboy Cricketer of the Year title has remained the dream of every schoolboy cricketer.
Moreover, there is a common belief among schoolboy cricketers that winning the prestigious title would take them closer to a place in the Sri Lanka team.
Most past winners of the Observer Schoolboy Cricketer title had made their Sri Lanka debut in double quick time. SLT Mobitel has played a praiseworthy role in the promotion of the Schoolboy Cricketer of the Year event.
Thanks to the untiring efforts of Sri Lanka Telecom Chairman Kumarasinghe Sirisena and SLT Mobitel Chief Executive Officer Nalin Perera who have played a dynamic role in promoting school cricket in a big way. Lake House Chairman, Krishantha Cooray has always helped this event to go that extra mile, providing his innovative ideas.