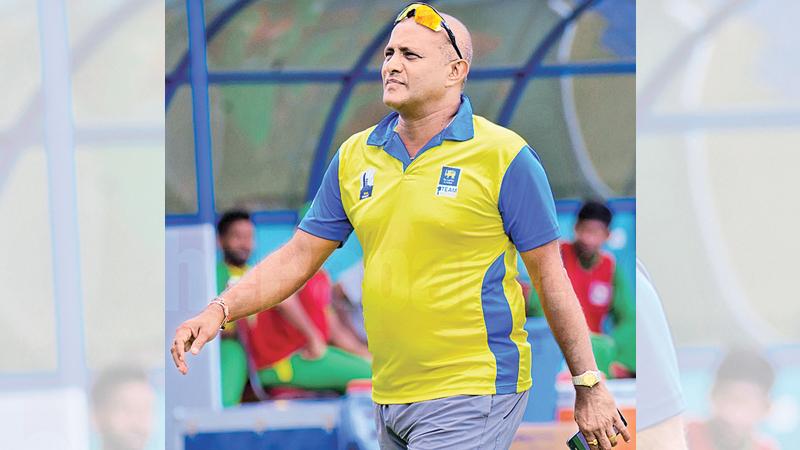 Former Sri Lanka captain and current Sri Lanka Under-19 head coach Hashan Tillekaratne was optimistic about the future of Sri Lanka cricket, when he said that there is plenty of young talent which should be carefully groomed to fill the future vacancies in the national pool.
After being the batting coach of the Sri Lanka team, Tillekaratne now plays an all-important role as the Under-19 head coach for the past one-and-a-half years. This has given him an opportunity to bring the performances of youth cricketers under a microscope thoroughly.
"Chasing a dream" is the slogan of the Sri Lanka Under-19 team, which has shown a marked improvement under the former Sri Lanka captain who has a proven track record.

The Under-19 players have been thoroughly disciplined by introducing the '15 All Blacks team rules' conducted by players such as former Sri Lanka champion Chandrishan Perera and Duminda de Silva.
"We have given opportunities to 25 top Under-19 players which include the team for the Asia Cup which will be held in Sri Lanka from September 2 to 14. But we have made provisions for ten additional players to train along with the Asia Cup team with next year's Under-19 World Cup in mind," Tillekaratne said.
He said the Sri Lanka Under-19 team will have a strenuous program ahead. On completion of the Under-19 Asia Cup, the Sri Lanka Under-19 team will make a full tour of Bangladesh from October 23.
"After the Bangladesh tour the team will also tour West Indies where they will play in a Triangular series which also includes England.
This is the most crucial test before the 2020 Under-19 World Cup scheduled for early next year," he said.
Tillekaratne said that similar programs will be launched to form similar national squads for Under-15 and Under-17 age groups.
"Sri Lanka Cricket has given top priority for youth cricket. Our aim is to have a top grade feeder pool for the national team. I think by the 2023 ICC World Cup, at least two or three players from the current Under-19 team will make it the Sri Lanka team," said a confident Tillekaratne.
He paid a tribute to Sri Lanka Telecom Mobitel and the Sunday Observer for conducting the Observer-Mobitel Schoolboy Cricketer of the Year awards ceremony at the end of each school cricket season.
Tillekaratne, who was adjudged the runner up to Asanka Gurusinha for the Best Batsman award in 1986, said they anxiously looked forward to the event during their school days.
"It was a big show for us when we were playing school cricket for DS Senanayake College. Similarly, the present schoolboy cricketers too are eagerly looking forward to the Observer Schoolboy Cricketer event which rewards the most outstanding schoolboy cricketers."
"It gives you a great feeling that your hard efforts during the season would be rewarded at the end of the school season. Making your way to the Observer-Mobitel Schoolboy Cricketer victory podium was a great feeling for any schoolboy cricketer and the organisers of this great event - the Sunday Observer of Lake House and its present sponsor SLT Mobitel that deserves credit for recognizing school talent, which is the stepping stone for club cricket and to the Sri Lanka pool thereafter," said the veteran former Sri Lanka captain who was a member of Arjuna Ranatunga's victorious World Cup-winning team of 1996.
"Mobitel is rendering a great service by providing the financial support for the show which is undoubtedly a great source of encouragement for thousands of schoolboy cricketers in the country who are dreaming of representing their country at some level," added Tillekarate who represented Sri Lanka in 83 Tests to aggregate 4,545 runs with 11 centuries and 20 fifties at an attractive average of 42.87.
He made his Test debut for Sri Lanka in December 1989 in the second Test against Australia in Hobart. Incidentally, his last Test for Sri Lanka too had been against Australia where he made an unbeaten 74 at the SSC ground in March, 2004.
Tillekaratne's talent was not only confined to the established game. He was a vital ingredient in the Sri Lanka ODI team, including that of 1996 which beat Australia by seven wickets in Lahore to win the World Cup 23 years ago.
He had represented Sri Lanka in 200 ODIs to aggregate 3,789 runs at an average of 29.60 with two centuries and 13 half tons.
Interestingly, his twin sons – former Trinity College player Duvindu Sachin Tillekaratne and ex-S. Thomas' College player Ravindu Sachin Tillekaratne have shown great form in inter-school and thereafter at club level. While his third son Rajidu is blossoming at Under-15 level for S.Thomas' College, his wife Apsari played a praiseworthy innings as head of women's cricket to popularize the game in girls schools.
Meanwhile, the 41st Observer-Mobitel Schoolboy Cricketer of the Year contest is scheduled to be held shortly. Prior to that, the special selection panel headed by Tillekaratne met at the Galadari Hotel on Monday along with the school cricket and umpires association top officials and picked the winners.
This will be the 12th consecutive year that Sri Lanka Telecom Mobitel will be sponsoring the Mega Show, the country's first schools cricket awards show which had started in an era in which there had not been even an inter-school cricket tournament.
Winning the Observer-Mobitel Schoolboy Cricketer of the Year title has remained the dream of every schoolboy cricketer. Moreover, there is a common belief among schoolboy cricketers that winning the prestigious title would take them closer to a place in the Sri Lanka team.
Most past winners of the Observer Schoolboy Cricketer title had made their Sri Lanka debut in double quick time. SLT Mobitel has played a praiseworthy role in the promotion of the Schoolboy Cricketer of the Year event.
Thanks to the untiring efforts of Sri Lanka Telecom Chairman Kumarasinghe Sirisena and SLT Mobitel Chief Executive Officer Nalin Perera who have played a dynamic role in promoting school cricket in a big way. The unique vision of Lake House Chairman, Krishantha Cooray has always helped this event to go that extra mile.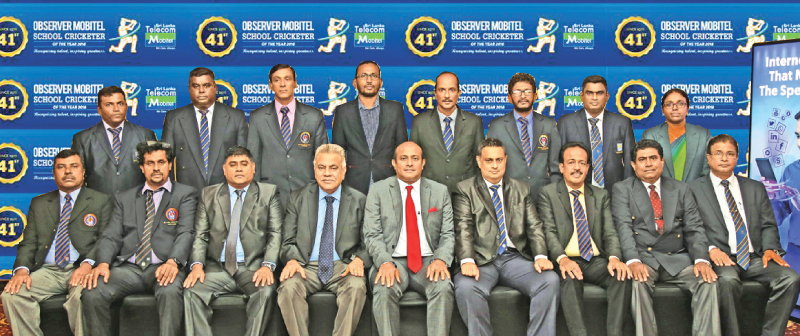 The selection of winners of the Sunday Observer-Mobitel Cricketer of the Year contest took place early this week ahead of the awards ceremony the date of which is yet to be announced. The Panel from left: Nihal Fernando (treasurer, SLSCA), Dilshan de Silva (secretary SLSCA), Jude Silva (Senior Manager-Mobitel), Lalith Alahakoon (Director Editorial ANCL), Hashan Tillekeratne (Under 19 Sri Lanka coach), Daminda Cooray (president-ACUSSL), GW Jagath Senaratne (vice president SLSCA) Nilan de Silva (vice president ACUSSL) and Wasantha Ariyawickrama (treasurer-ACUSSL). Standing from left: JAKS Indrajith (Under 19 tournament secretary), DMMAD Dissanayake (chairman assignment committee ACUSSL), Keerthi Gunaratne (tournament  secretary –SLSCA), Kumara Gamhewa (CEO of Batsman.com), Viraj de Silva (secretary ACUSSL - southern province), Leelananda Kumarasiri (assistant secretary –SLSCA)  Manjula Vaas (tournament secretary SLSCA) and Champika Weeratunga (assignment secretary SLSCA girls segment) after picking the winners