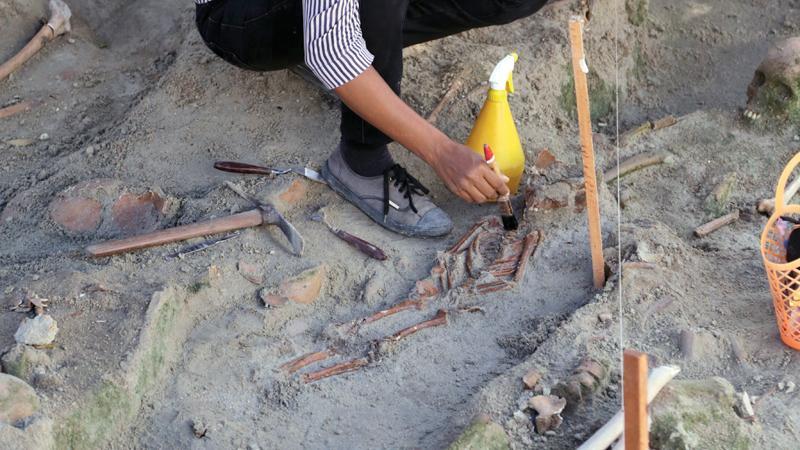 The team of forensic investigators and representatives of the Office on Missing Persons (OMP) are scheduled to meet with Mannar Magistrate on Friday March 22, to take a final decision on the mass grave site at the Lanka Sathosa premises in Mannar, the Chief Investigator and Consultant Judicial Medical Officer (JMO) Mannar, Dr. Saminda Rajapaksha, told Sunday Observer on Saturday.
 He reiterated that the radio carbon dating report would not be the final authority on the Mannar mass grave site and other analytical reports, including that of bar-code testing, would be considered when taking a final decision on investigations at the site and in the compilation of the final report.
The report from Beta Analytic Laboratory in Florida, USA where six bone samples were handed over for radio-carbon dating on January 25, and received at the Mannar Magistrate Court earlier this month, placed the bones from the site from that of 1400 to 1650 AD. The Mannar Magistrate ordered the suspension of the investigation at the site on Thursday March 8. At the time of suspension, the number of individual skeletons identified was 335, out of which 318 were removed, including 28 paediatric skeletons.
There was discontent among the relatives of the missing persons from the district about the result of the analysis. Sri Lanka's history of investigating mass graves is chequered by allegations of mishandling, mismanagement and corrupt practices. Though many mass grave sites had been discovered in the Northern and the Southern parts of the country including Embilipitiya, Matale, Jaffna and at another location in Mannar in the past, almost all the investigations had lead to disappointment as the final reports were suspected to have been compromised and questionable.
As to why the, bone samples were sent for testing while the excavation and
the investigation was ongoing, as against the established practice of getting absolute dating records after the completion of the investigation the Chief Investigator replied that it was due to the fact that the investigation had come to a critical point at the time. "We had excavated a large area and unearthed a large number of skeletons. It was a time where we had to take a critical decision on expansion as well," he said.
The expansion may have required a part of the main Medawatchiya Thalaimannar A14 road to be broken down on its Northern border and expanding the North-Western boarder adjoining the byroad may have adverse effects on the adjoining buildings.
"If we were to undertake that kind of massive restructuring, inconveniencing people and if it was found a site of archaeological importance afterwards, it would have been unfair on people and resources, and the public would not have liked it," he said.