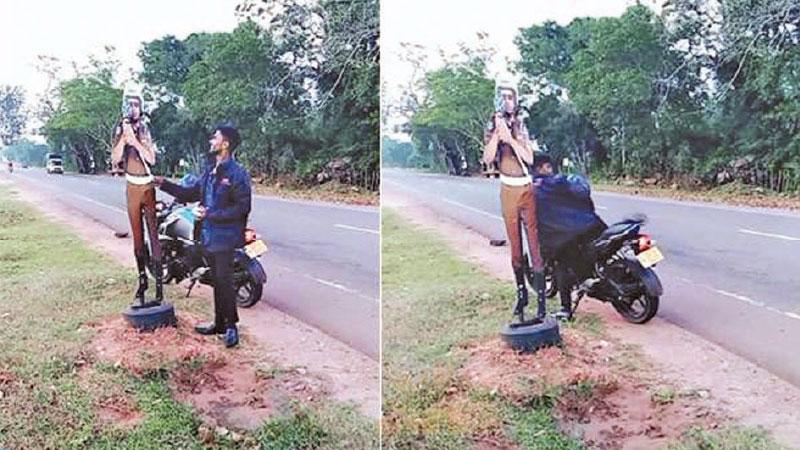 When people publicly ridicule the police it hinders them to enforce the law, Deputy Inspector General of Police (Traffic Administration and Road Safety), Ajith Rohana said.
He was referring to the incident where two 23-year-old youth were arrested by the Vavuniya Police (Traffic Division) on Thursday (3) following a social media post depicting one of the youth trying to bribe a life-size cutout of a police traffic officer placed by a main road.
Cutouts of police officers are a common sight by main roads in the country. They were introduced to remind people to drive safely.
An offence
The social media post - a video - portrays the young man arriving on a bike, coming to a stop next to the cutout, taking money out of his wallet and holding it up to the 'police officer' before laughing and walking towards the camera. The incident has taken place along the Jaffna - Vavuniya main road.
The youth were arrested for damaging public property, humiliating and creating a bad public image of the police. The duo was later released on bail after being produced before the Vavuniya Magistrate.
"No one can ridicule a police officer, police uniform or any item that belongs to the police. It is an offence," DIG Rohana said adding that when police officers are ridiculed the public looks at them with "spiteful looks" deterring them from carrying out their duties properly. He said that there were some instances where traffic police were caught accepting bribes from people attempting to avoid a fine and action was taken against them.
Last week, two police officers were suspended after a video was released on social media and also broadcast on television showing the two officers accepting a bribe. The incident had reportedly taken place near the Old Parliament Road on December 26.
The arrest of the two youth caused confusion among the public.
Satire
In a tweet Senior Researcher and Founding Editor of Groundviews.org Sanjana Hattotuwa said "Under what law? Why? Don't the Police have anything better to do?", and Attorney-At-Law Gehan Gunatilleke replied "Are we turning into a society that is unable to laugh at itself? Ridiculing public officials is how some folks cope with the tragi-comedy of every day life. The last thing we should do is to arrest people for expressing themselves humorously."
Attorney-at-Law Thishya Weragoda said that this case is not dissimilar to the Pidurangala incident where five post-A/L hikers were arrested for indecent exposure on September 26, 2018. The group was also arrested after they posted photographs of their adventure on a social media site. Human rights activists and lawyers expressed concern over the police reaction to the incident.
"Satire is a form of free speech and in this incident the boys were putting in perspective something that we all know happens in Sri Lanka. They are saying "look, so we are making a joke of it. At least open your eyes now," Weragoda said. He pointed out that a crime has two elements - an intention and an act. "They were not intending to bribe the dummy police officer nor was there an actual bribing," he said.
Weragoda said that the police are using its powers unlawfully to frighten those involved and set an example so that others would not ridicule the police. "This is not the duty of the police," he said, adding that people have the right to have fun.
Police mentality
"This is the terrible police mentality that no one must criticise them. The public must be aware of their rights and change this culture as the police are there to serve us and not the other way round," he said. He also added that all police officers have to know how to respect the fundamental rights of the people.
"We have to change the attitude where we treat military personnel or police officers as demi-gods. The National Police Commission needs to step in and stop incidents such as the Vavuniya youth arrest happening again," he said. Police are carrying out an investigation into the incident.