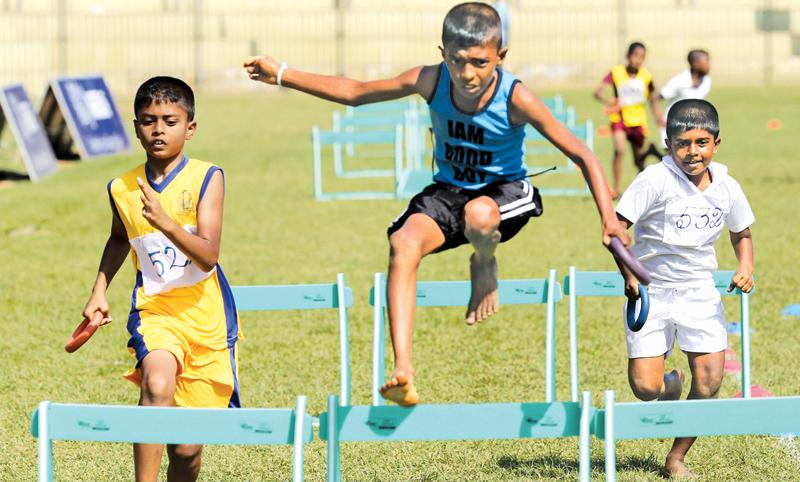 Albion Tamil School from Nuwara Eliya Carried away the Grade 3 and 4 major Trophies on offer at the Kids Athletic Championships which concluded at the Bogambara stadium over the last week end. The Boys and girls of Ginigathena Primary School were the runners up in Grades 3 and 4 respectively.
The Kids Athletics concept introduced to the schools three years ago with the aim of encouraging young one to get involved in sports has produced good results. With all schools in the island getting involved in sporting activities specially designed to suit the age groups saw many schools from rural areas taking part on these two days of sporting activities.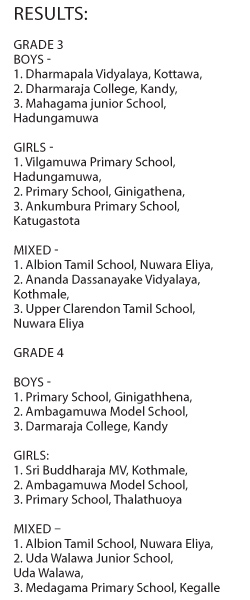 All school participants from grade 3 and 4 Boys and Girls who participated at the finals of 'Kids Athletics' in action were the winners of Zonal, District and Provincial level meets which were held during the year 2017.
Two days of activity from these young children especially from rural areas showed their dominance throughout the games. This event also saw many school children come out from their home towns for the first time and also competing in and witnessing a mega event of this nature. They were showed that they are capable of taking to in a big way to reach the top in sporting activities.
Children from farmer families from rural areas proved that they are fit and eager to continue sports. Their teachers and masters in charge of sports said that these children have to undergo many difficulties such travelling to schools and their Parents inability to feed them properly due to financial problems.
Looking at the games on wide angle it proved that it is concept which need to be continued for the future as this will help not only the sport but it also gives teachers and other officials to identify different abilities of children. Identifying these hidden the sports talents of these children officials and teachers will get the opportunity of directing these children to improve on selected fields.
It was two days of excitement not only for the athletes but also for parents and all well wishers who made their way distance places to witness the talents of young ones who are heading for their future. Bogambara stadium was packed to its maximum after a lapse few decades. All present on these two days left the stadium with full of cheer for the organizers.
The children of rural areas who visited Kandy for the first time in their lives took time visit Dalda Maligawa and Peradeniya Botanical Gardens after completing their respective events.
Manjula Kariyawasam and Sunil Jayaweera addressing the gathering said that all parents present here along with their children must be thankful Nestle Lanka Ltd. for coming forward to sponsor the Kids Athletics for the third successive year.
They also made special tribute to Nestle Lanka for serving sports at school level for over a period of three decades continuously. Kandy District Parliamentarian who was the chief too thanked the sponsors for their great
contribution to school's sports Islandwide.
Special invitees for the Kids Athletics' Games were Sunil Jayaweera Special Advisor to the
Education Ministry (Sports), Manjula Kariyawasam Advisor Ministry of Education, Milroy Jayamanne, Project Officer Ministry of Education, Bandula Egodage Vice President, Nestle Lanka Ltd. Senior managers of Nestle Lanka Ltd. Damitha Kulatunga and Sajeewa Wickramsinghe.
Lucky Jayawardene the MP for Kandy Distric who was the chief guest on the final day and gave away the awards along with special invitees.