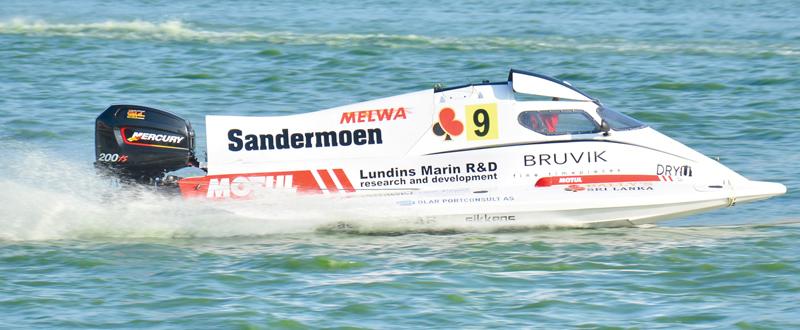 Young lass from Norway Mette Brandt Bjerxnaes outplayed all opposition from her male counterparts to win the Bally's Formula 2 Powerboat Extravaganza on the waters of Beira Lake last Tuesday. She was followed by two British Boaters Jamie Stellard and Robin Stoddard.
The event was initiated by the President of the of the Lanka Powerboat Association Prasanna Ranaweera. He had the fullest co-operation from Bally's Entertainment Director John Stave.
Ranaweera explaining the reason to have an event of this nature stated that the main intention of this was to make Sri Lanka an attractive place for foreigners who are engaged in Formula 2 Powerboating to visit our country. We have the potential to conduct this eye catching sport in this country as we are blessed with many water reserves available here.
This event was also meant for the governing body to have a inspection tour to hold up coming international events for World and other international Formula 2 Powerboating Championships in the future. He further added that the inspectors who were here for the event agreed to hold the final stage
of the World F-2 Powerboating Championship - 2018 in Sri Lanka in mid November.
This will definitely be of great value to develop our tourism industry saidRanaweera.
Speaking to Sunday Observer Bally's Entertainment Director John Stave stated that our mission became a success mainly due to the tiring efforts of Prsanna Ranweera. These efforts reached the highest level with the first event concluded here and we hope that it will continue in the coming years too. With the Inspectors highly satisfied with our first ever engagement on this sport has showcased the suitability of our country to hold major international championships here.
He also said that along with Lanka Powerboating Association hopes to conduct few international events this year in Unawatuna and Trincomalee in addition to Beira Lake.
If things happen the way we are expect it is sure to attract water sport lovers from all parts of the world to visit our land which also could be a boost for our tourism.
The winner Mette Brandt the 29 year old from Norway said that she was really happy to be in Sri Lanka for this major event and hope to visit again for all major events that is to take place here. She further added that the organizers have done a highly acceptable arrangement for the event and she enjoyed boating Sri Lankan waters.
Mette had won the world championship twice and competes in all international Championships throughout the year. She also has won the English boating championship during Formula-2 Power Boating career which spans for ten years.