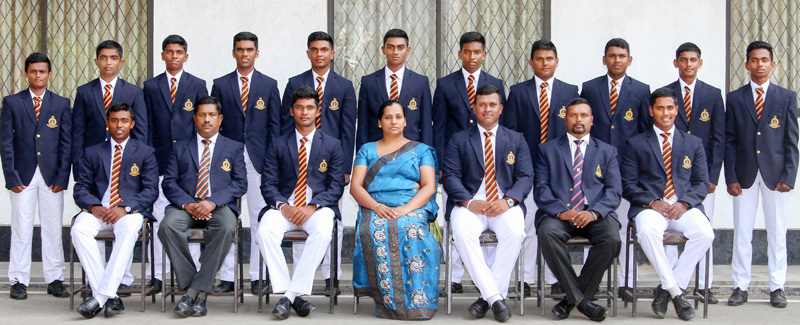 THURSTAN College : Seated from left; Pansilu Deshan, Lesley harischandra(Asst. Principal), Nipun Lakshan (Captain),
Mrs. H.A.R. Ratnasekera (Principal), Imesh Perera, (Vice Captain), Suren Gunatillke (Coach), Yeshan Wickramaarachchi Standing
from left: Nimesh Perera, Binara Ranatunga, Sandara Dias, Rashmika Hiripitiya, Avishka Kaushalya, Savan Prabash,
Yeshan Liyanage, Nimesh Lakshan, Ayesh Harshana, Janishka Shalaka Bandara, Absent Jayavihan Mahavithana  
The Big match fever is set to get off the mark this week end when the '55th Battle of Brothers' between Isipathana College and Thurstan College clash at the Sinhalese Sports Club ground. This year the Big Match is organized by the organizing Committee of the Thurstan College Old Boys Association. This was disclosed to the media at a press briefing held at the BRC pavilion last Tuesday in the presence of principals of both Institutes.
Since the inception of the Battle of Brothers only nine matches have ended with decisions from which Thuurstan is in the lead with five wins against four wins of Isipathana. The balnce 49 games have been drawn.
This year too for the fifth consecutive year the organizers have decided have the peace cycle parade which is to take place before the match commences. The peace cycle parade is to begin from Isipathana College. The riders will ride to Thurstan College where the Thurstanites join the parade and will proceed to the SSC ground before the match starts.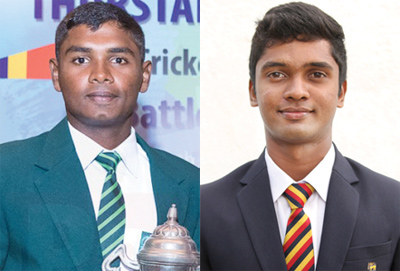 Ayana Sriwardene Captain Isipatana College and Nipun Lakshan Captain Thurstan College 
This year Thurstan College is led by Nipun Lakshan a fifth year player who has done well to be among the runs inclusive of an unbeaten century (107) to have a total of 349 runs under his belt. The most impressive batsman for thurstanites is Savan Prabash who has an aggregate of 616 runs inclusive of seven half centuries gained from 13 matches. He tops the batting average for the season with an average of 56.00.
The other top order batsmen from Thurstan camp to go past the three hundred ru mark are Yeshan Liyanage (478), Nimesh Perera (369) Pansilu Deshan (369) and Nipun Lakshan 349). The top order batsmen have done well this season to keep their hopes alive for the Big Game of the year.
In the Bowling department for Turtan is led by Sandane Dias becoming the leading wicket taker for his school capturing 43 scalps with best figures of 9 wickets for 30 runs which is a high ranking achieving this season. He is expected deliver the goods for his team to take the upper hand in this encounter. Along with him Thurstanite skipper too has been among the wickets capturing 36 wickets to prove himself as best all rounder for his team. He is sure to join hands to trouble the Isipathanians to a great extent.
Isispathana College team too is packed with a strong batting line up to face the rivals in this game. Sanjula Abeywickrama who scored a brilliant unbeaten 150 against St. Peters College is in fine form. Their batting is further strengthened with skipper Ayana Siriwardene's form. He too has scored a century this season against strng DSS College.
The Isipathana team also has few up and coming cricketers who have done well to keep their school flag flying high. Isipathana College's bowling too has been up to expectations with Madushika Sandaruwan taking honors with a haul of 31 wickets during the season. Meanwhile too has performed well with ball for his school taking a tally of 29 scalps which included a match bag of 10 for 97.
When considering the above achievements of both teams shows that they are evenly balanced and a game of cricket is expected by all interested cricket fans of both schools. The 38th limited over cricket encounter between these two schools are scheduled to be played on March at the P. Sara Stadium.
In addition to these two games organizers have also organized a twenty/twenty match to be plyed on Thurstan ground. Staff members match too will be played in the near future.
Principal of Thurstan College Mrs. H.A.R Ratnasekera addressing the media men said that it was a great pleasure to be associated with the '55th Battle of Brothers' Cricket encounter which is considered as one of events that can be classed as an event that brings togetherness among all involved in school activities of both schools.
She further added that both teams are entering the field with confidence and will go flat out to produce result on this day.
It was also stated by the organizers that a new format for the game has been introduced to make this an interesting one for all who gather on this day. Explaining about the format he said that both teams play the first innings limited to 60 overs and second innings to play on the normal basis up to the end of the game. With this new format day one could be more interesting for all fans.