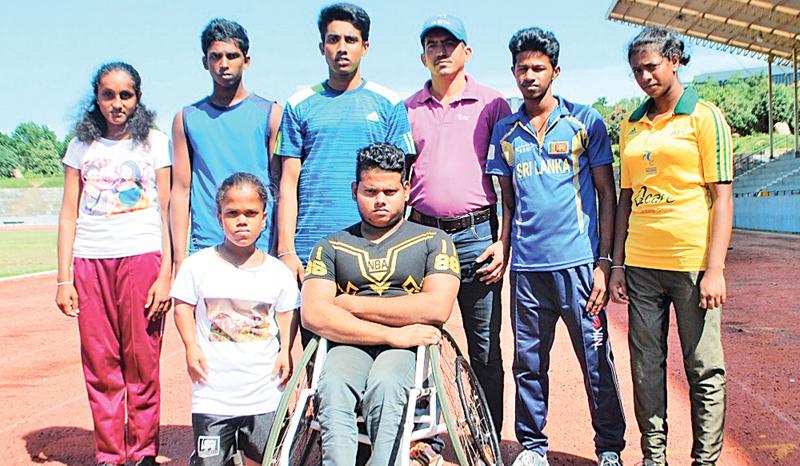 Eight Youth Para athletes from Sri Lanka left the Island yesterday to participate at the third edition of the Asian Youth Para Games to be held in Dubai from Dec. 10 to 14. Para Athletes from Sri Lanka are billed to compete in athletics and swimming during the Games. The Lankan team comprises of five boys and three girls.
Youth below the age of 20 from 40 countries are billed to compete in ten sports disciplines at this year's Games. Events included for this year's games Boxing, Goal ball, Archery, Chess, Badminton, 10 Pin bowling, Installing a Lift and Table Tennis, Athletic and Swimming. Sri Lanka's Yoshitha Prabath (T-54 category) who competed at second Asian Youth Games held in Malaysia in 2013 won three bronze medals for Javelin Throw,100m and Putt shot.
The Sri Lankan contingent comprises of the following members P.W. Pradeep Somasiri (T-46 category 200 m, 400 m), UD Yoshitha Prabath (T-54 Javelin throw, disc, m.100), A.L.I.B. Liyanage (T-46 100 m, 200 m, long jump), Ayesha Damayanthi (T-42 shot putt, javelin, discus), Rasanjali Anupama (MRI. 400 m, 1500 m, long jump) , KA Nirosha Dilhani (25-inch category 100 m, discus, shot putt), Naveed Rahim (100 S. 44th rat free, butterfly and backstroke) Nazar Mohamed (100m, 200m, Long Jump)
The chef de mission will be Secretary National Paralympic Committee Lt. Col. Dhananjaya Aludeniya, while the National Paralympic Committee Development Officer Nalini Ranasinghe will accompany the team as the Lady chaperon. The two coaches for Swimming and Athletics are L.V. Fernando and G. D. Nelson. Thirteen year Naveed Raheem from DS Senanayake College is the youngest competitor representing Sri Lanka at the Games. The young swimmer will be participating 100m Free style, 100m Back stroke and 100m Bitterfly stroke. He is sponsored by DSS College Old Boys, while Raheem and A.L.I.B. Liyanage are also to receive support from Jaipur Foot Programme and Friend-in-Society for the tour. The Ministry of Sports while giving its approval for the tour extended its fullest co-operation for these athletes.