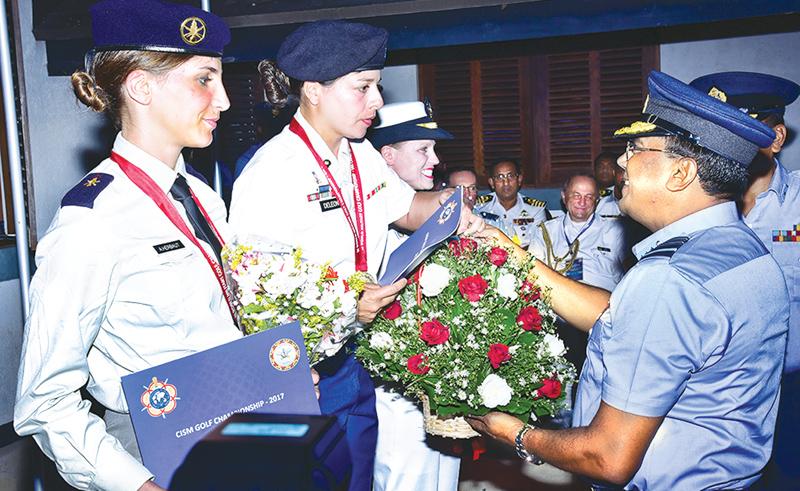 The 11th World Military Golf Championship which commenced on November 12 at the 'Eagles Golf course in China Bay came to an end last Friday (Nov. 17) with USA and France, Men and Women taking major honors in the Championship.
In the women's individual event Sgt Melani De Leon had a comfortable 8 under par win over Annyssia Herbaut of France.
Later Melani played vital role in the women's team event to win the women's title for USA.
They recorded this victory over France with massive margin of 55 under par in two rounds of golfing.
The USA team comprised of the following Sgt Malani De Leon, Lt .Lauel Gill and Maj. Linda Jeffery.
In the Men's Team event too it was battle between USA and France which also went in favor of the USA. USA team had an aggregate of 1250 while their closest rival were with only 1274 which gave the Americans a victory margin of under 24 under par to go away with the Trophy.
IW O.Naser Mubaak (319) of Bahrain carried away the Men's Individual title beating the fancied Canadian M Coporal Sterling Swansburg 9 under par. In three rounds Bahrain's Naser Mubaak had an aggregate of 318 while his opponent was far away from him with a tally of 328 to be placed as the runner up in this category.
Though Sri Lanka had the opportunity of conducting the Championship for the first the local servicemen and women failed to live up to expectations as they lacked international experience to match the foreign competition.
Results:
Women team Championship: USA (652), France (697)
Men Team Championship: USA (1250), France (1274)
Women Individual: Sgt. Melani De Leon (318) USA, Ord. Annyssia Herbaut (326) France
Men Individual: IW O.Naser Mubaak (319) Bahrain, M Coporal Sterling Swansburg Canada