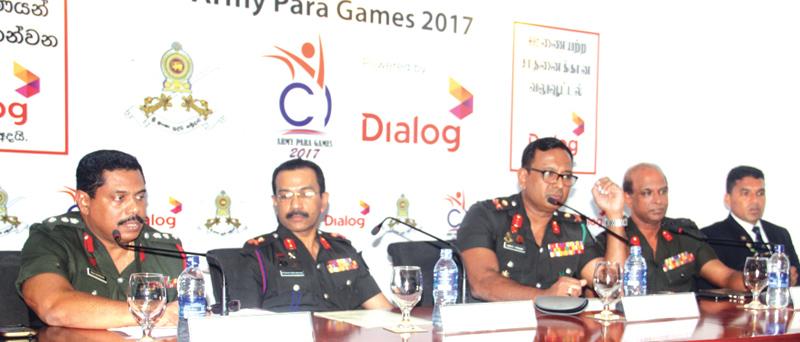 The 20th edition of the Sri Lanka Army Para Games 2017 is scheduled to come to an end with the Athletic Championship to be held from November 22 to 24 at the Mahinda Rajapaksa Sports complex in Diyagama.
The Opening ceremony will be graced by the Army Commander Lt. General Mahesh Senanayake while on the final day the chief guest will be the Secretary to the Ministry of Defense.
This years Athletic Championship will be participated by over 700 athletes competing in different age groups 72 disciplines representing eleven regiments. Already all other sports disciplines connected with Para Games Archery, Badminton, Cycling, shooting, Table Tennis, Power Lifting,
Wheelchair Marathon, Wheelchair Tennis, Swimming, Volleyball (sitting), Beach Volleyball and Para Rowing championships were concluded. These details were disclosed to the media by Chairman of the Para Games Sports Committee Major General W.B.D.P. Fernando at the Defense Services Media Center in Colombo. He further said that this year five Korean Para Sportsmen have confirmed their participation at the championship. The Two athletes who are to compete are of international level who have won medals. They will be competing in five disciplines along with local athletes. Their participation is sure to give a big challenge and also help improve standards.
Adding further he said that the championship will also be considered as a trial to select athletes for the national pool expected to undergo training targeting the forthcoming South Asian and Asian Para Games next year.
Sri Lanka was able to win many medals at international Para Games including Paralympics held in Brazil last year. Most of the medals won at international Para Games were achieved by Sri Lanka Army Para Sportsmen.
This Para Games was introduced mainly to uplift the morale of the soldiers who were disabled due to the ethnic war. It became an important duty of the Armed forces to show them that they are looked after even though they are unable perform their duties on the field, but with these sporting activities they were able maintain their morale as well as their health. While they engage in these sporting activities they were also able to bring glory to the country by participating at International Games and winning medals for the motherland.
The athletes with high performances will be selected to undergo training with national level coaches to represent the country at the forthcoming International Para Games.
Chairman paid a glowing tribute to the Dialog Axiata Plc for sponsoring the Para Games for many years. Their kind gesture has helped these sportsmen immensely and that is the main reason why Para Sportsmen reached a very higher level in sporting activities.