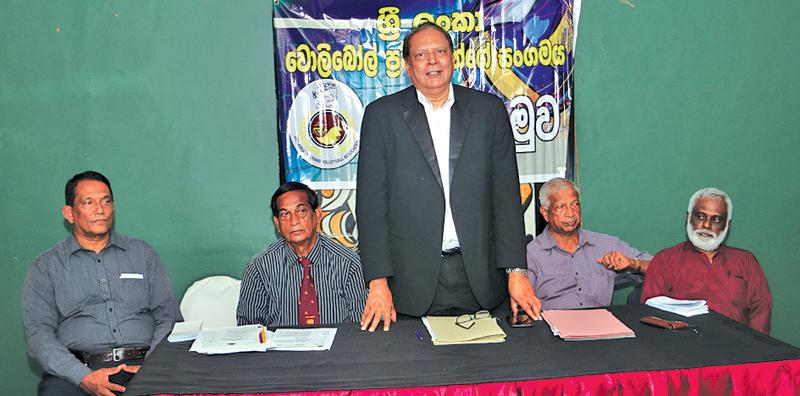 The sixth edition of the Veteran's Volleyball Championship organized by the Sri Lanka Veterans Volleyball Association is scheduled to be played on November 9 and 10 at the Davisamara Vidyalaya Courts, Seeduwa. This was announced by the Association's President Mervyn Fernandopulle at the press briefing held at the Otters Aquatic Club premises on Wednesday.
Addressing the media he said that The intention behind this program is to give an opportunity for the former Volleyball players get together with the aim of maintaining their unity while helping the sport to gain more publicity to educate the younger generation about the former players who did yeoman service to keep the game alive to date.
Adding further he noted that all other sports are with Veterans Associations but sorry to say that there is no Veterans VB Tourney to highlight and to give due recognition for this sport is completely ignored throughout the world. Though Sri Lanka conducts a tourney for our former local Spikers it has not reached the outer world. Our Association hopes to consider this matter on a higher note and is set to organize a Veterans tournament within the South Asian Countries he said. After the Veterans Tournament is completed the Association is to take action to make our aim a reality.
This year's tournament will be played under four categories Women over 35, Men over40-50, 50-59 and over 60 years. Entries for the tournament are accepted up to November 30. All entries should be forwarded to Ranjith Premaratne, Secretary, No. 69, Mar Biso Mawatha, Gampaha, along with an entry fee of Rs. 500/-.
The matches will be confined to three sets and played on a knock out basis and top teams will qualify for the finals.Winers of each category will awarded Trophies and cash awards in addition they will also be handed Certificates. The tournament held in Ratnapur last year attracted over 50 teams from all parts of the country and the organizers expect this number to increase further.
This sort of Volleyball Tournaments can also be considered as a tourism promotion event in the future said Fernandopulle.