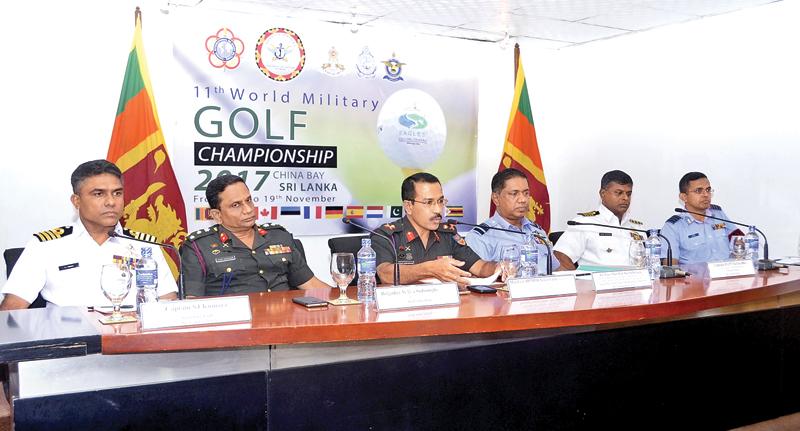 The eleventh edition of the World Military Golf Championship 2017 will be held in Sri Lanka for the first time from November 12th to 19th at the Eagles Golf Link in China Bay.
This also happens to be the first occasion that a World Military Sports Council approved sport discipline is to be held in Sri Lanka. The World Military Council which was formed way back in 1948 at present has a membership of 136 countries including Sri Lanka. The Council was formed with the aim of fostering friendship through sports.
This Council conducted 24 Sports disciplines,they are as follows, Aeronautical Pentathlon, Basketball, Beach Volleyball, Boxing, Cycling, Equestrian, Fencing, Football, Golf, Judo, Military Pentathlon, Modern Pentathlon, Naval Pentathlon, Orienteering, Parachuting, Shooting, Skiing, Swimming and Lifesaving, Taekwondo, Track and Field, Triathlon, Volleyball and Wrestling. The main event organized by the Council is the World Military Games once in four years but Individual disciplines are held annually in different parts of the world. Sri Lanka joined the World Military Sports Council in 1974 and within a short period of time were lucky to get an opportunity to conduct a mega event of this nature is something that Lankans can be proud of. Conducting the Golf Tournament became a reality as the Sri Lankan Defense Services take a keen interest of the World Military Games since it became a member of the Council. In the past Sri Lankan Defense Service personnel has competed in many World Military Games.
Sri Lankan Defense Services Army, Navy and Air Force has combined well to host the World Military Golf Championships on a Grand scale with full blessings of the Ministry of Defense, said the Director/Military spokesman Major General A.W.M.P. Roshan Seneviratne addressing a press briefing held at the Ministry of Defense - Media Center in Colombo on Thursday.
He further said that the world Military Golf Tournament is to be held in China Bay Eagles' Golf Course which has developed to standards required to conduct International Championships. Sri Lanka Air Force has been the driving force in developing this up to this grade he said.
This redevelopment is also of much value to tourism Industry at large as most of the tourists who arrive in Sri Lanka visit this eastern part of the country where they can enjoy playing golf on this course. With the World Military Golf Tournament coming to Sri Lanka is also a boost for our Tourism Industry said Major General Seneviratne.
Twelve teams have confirmed their participation they are Bahrain, Canada, Estonia, France, Germany, Netherland, Pakistan, Spain, Uganda, USA, Zimbabwe and host Sri Lanka.
Sri Lanka men's team comprise of two golfers each from Sri Lanka Army, Sri Lanka Navy and Sri Lanka Air Force.
The Women's team comprising of five members are two Golfers from Air Force and one Golfer from SL Army.
It is interesting to note that ten out of twelve participating countries are mainly from the European region.
This is a rare occasion where we Lankans get an opportunity to witness many Westerners in a participating in a sporting event to showcase their supremacy in a world renown sport.
The organizers have planned a grand opening ceremony on November 13 and play will continue from Nov. 15-17. After the Championship comes to an end on Nov. 17 the awards ceremony will take place with State Minister for Defense Ruwan Wijewardena in attendance as the chief guest and Secretary to the Ministry Defense Kapila Vaidyaratne as the guest of honor.
The organizers request the general public to be present on these days to cheer our local players which will also show the gratitude to foreign players for participating at this Championship.