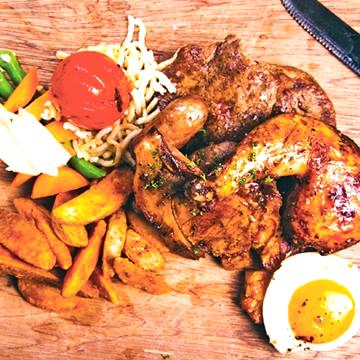 Nestled in the ground floor of the colonial Galle Face Court building is one of Colombo's pioneer restaurants, which began operations in 1983. For many decades the Bavarian has sustained clients and made new clients. German cuisine in its authentic form is rich in flavour and has an intense focus on meats. Meat such as beef, lamb and pork take centre stage in German kitchens.
When I walked into the venue on Monday night every single table was full. Thankfully, a Chinese couple left shortly and made way for me. The interior really captures that vintage feel and resonates with a sense of deep warmth. The wood panelled ceiling is lovely, and the wood extends down to make partitions. The furniture also enhances that "European pub" aura: round wooden tables with red cushioned wooden chairs. The simple light shades with yellow bulbs, suspended to hang just two feet from each table create such a sense of nostalgia. It is a fact that décor adds to the meal appeal and ethnic branding of any restaurant.
The beverage tent cards display four scintillating wines from the regions of Italy, France, New Zealand and Chile.
The restaurant manager Angelo Thomasz is busy walking around and ensuring a smooth service as stewards hurry back and forth with plates. The menu created by Chef Lal Kodithuwakku has a good range of dishes, not too many dishes but the right amount of choice from beef, chicken, pork, lamb and fish. There were prime steaks from Australia and salmon from Norway. The famous German beers Paulaner and Bendiktiner were being served at many tables, the last time I saw these brands was in Sydney. Benediktiner is a famous German beer, with its distinct luminous amber hue and caramel like taste with hints of honey. Strangely, the beer originates from the Ettal Monastery in the 16th century. Noticing the starters being served in large portions I decided to head right into the main course segment of dinner and ordered a cordon bleu crumb fried pork escalope. As stated before, pork is the primary choice of meat in German cuisine. While waiting I munched on some deep fried potato wedges - which had been cut by hand, something quite rare these days as chefs prefer to take commercially cut fries out of the fridge and fry them. These wedges were just right and not too oily. The pork escalope was served with mashed potatoes and a crisp salad that had the colour variations of green, red, yellow and purple: again visual appeal is vital to trigger your appreciation of any dish, and Chef Lal was right on target. The chunk of pork had a moist layer of bacon and cheese in the middle further accentuating the taste of this lovely dish. The portions at the Bavarian are really quite large. Dessert choices are always rather hard to make and I chose the strawberry cheese cake. This imported dish was served nice and cold, but it would have been much better if it was made at the restaurant thereby completing that feeling of "being created in the kitchen". Thus, the Bavarian Restaurant is one of the very few places in Colombo for a real German meal.