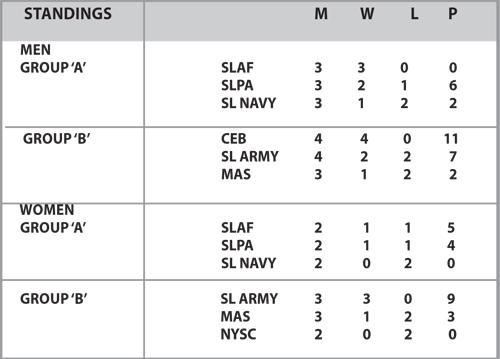 In the ongoing Munchee National Volleyball Championship Sri Lanka Air Force with a clean record is placed on top of the points table in Men's Group 'A' collecting 9 points from three matches. They won all three games they have played so far to be on top. Airmen are followed by Sri Lanka Ports Authority who has a tally of six points.
Meanwhile in Group 'B' Ceylon Electricity Board spikers occupy the top berth having won all four matches to collect 11 points . Sri Lanka Army with two victories from four games are behind CEB with a tally of 7 points.
Sri Lanka Air Force women and Sri Lanka Army women heads the 'A' and 'B" groups respectively. Women Soldiers playing group 'B' have played three games won all their matches to gain the maximum number of 9 points to be on top position. SLPA spikers playing two games have won one and lost to collect only 4 points are placed behind Air Women.
In the men's championship Sri Lanka Navy have recorded the highest number of points 280 and also conceded the biggest number points giving away 280 points. The tournament continues.