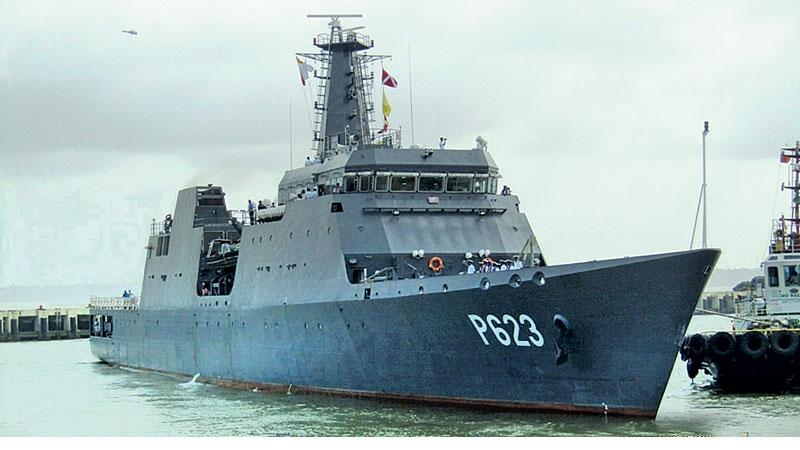 The Sri Lanka Navy, our nation's first line of defence and guardian of the deep sea enhanced their deep sea capability when the Goa Shipyard Ltd (GSL) delivered the 1st Advanced Offshore Patrol Vessel (AOPV), constructed at the Indian shipbuilding facility, to Sri Lanka Navy on July 22. The vision was initiated in 2014, yet, it was the present Navy Commander Vice Admiral Ravindra Wijegunaratne who inspired and led all those concerned to make this naval dream a reality.
The new AOPV will manifest its operational prowess by conducting patrols, maritime policing, reconnaissance, surveillance, search and rescue, Humanitarian Assistance and Disaster Relief (HADR) and pollution control missions in Sri Lanka's maritime zones. The vessel has the additional capability to be used for external fire-fighting missions. The vessel will consolidate the ISR concept of Intelligence, Surveillance and Reconnaissance.
The 105.7m long, 13.6m wide vessel is bestowed with a maximum speed of 24 knots and a displacement of 2,350 tons. Apart from that, the vessel will be manned by 18 officers and will accommodate up to 100 sailors. The AOPV could bear the endurance of 4,500 nautical miles while operating at her cruising speed (12-14 knots). SLNS Sayurala is provided with a landing and hangar facility for Advanced Light Helicopter (ALH). The state-of-the-art vessel tailor made for the mission requirement of the Sri Lanka Navy, cost an estimated USD 66.55 million when it reached completion stage of its construction.