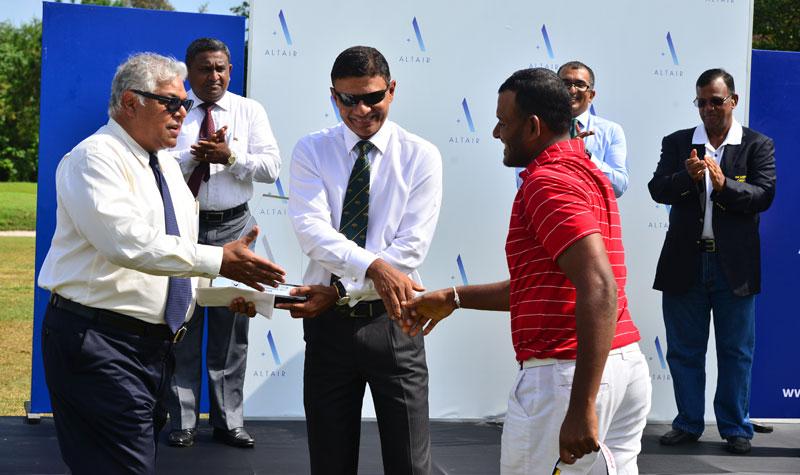 N. Thanharaja won the Altair Royal Colombo Golf Champioship with a gross total aggregate of 274 from four rounds of play. The Championship was conducted by the Royal Colombo Golf Club after a lapse of 22 years.
They were able to reveive this Championship with the entry of 'Altair' the Indocean Developers (Pvt) Ltd. as sponsors for the Championship. The tournament was played over four days and after the first round 30 Golfers qualified to play in the last three rounds.
N. Thangaraj got off to flying start in round one with score of two under par ahead of Mithun Perera. He continued to dominate the last three rounds too with scores of 66, 65 and 74. Though Mithun fought well he was not able to overcome the top contender Thangaraja. Mithun Perera had scores of 74 (first round and 65, 72 and 68 for the last three all these scores were well ahead of Mithun that infact helped Thangaraja to carry away the 'Altair' Trophy that was on offer.
The RCGC Open Championship that was revived after 22 years attracted a large number of Golfers from all parts of the country which went on for four days. The first round played day was considered as the qualifying round for all Golfer.
On the final day, soon after the end of play the award ceremony was conducted at the RCGC pavilion with Director 'Altair 'Indocean Developers (Pvt.) Ltd.Pradeep Moraes as chief guest.
Results
1. N. Thangaraja 68 + 66 + 66 + 74 - 274
2. Mithun Perera 74 + 65 + 72 + 68 279 (Inactive Hcp)
3. Amrith De Soysa 73 + 68 + 71 + 70 282
4. Anura Rohana 75 + 68 + 67 + 72 282 (Inactive Hcp)
5. Sisira Kumara 72 + 71 + 71 + 73 287