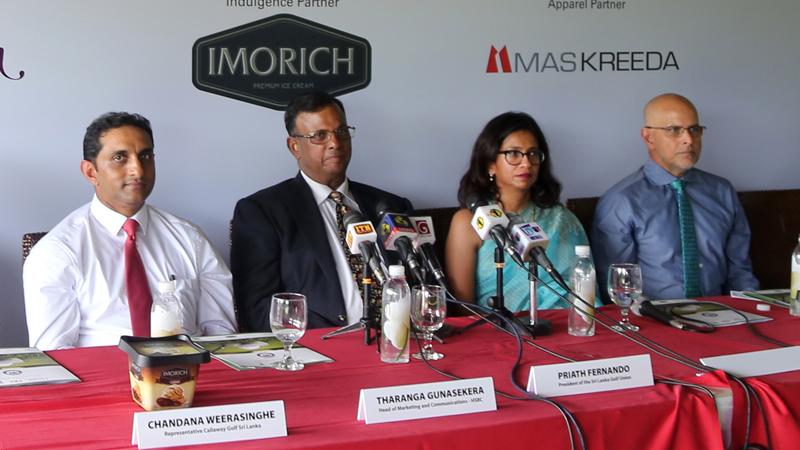 The Sri Lanka Golf Union has taken steps to promote the sport from the grass root level and with this intention will conduct the first ever Junior International Golf Championship on August 10 at the Royal Colombo Golf Course.
This was revealed to the media at the launch held at the RCGC pavilion last Wednesday. The launched was presided Priath Fernando, President of the SLGU along with Niloo Jayatilleke Chairperson of the Junior Golf Sub Committee and Dirk Flamer Caldera, Chairman Schools Golf Committee.
President SLGU speaking on the occasion said that to make this first ever Junior International Golf Championship a success HSBC has come forward to join hands with the SLGU.
He added that a MoU was signed between HSBC and SLGU recently. HSBC is the Bank which plays a pivotal role in many countries in promoting golf at its highest level. This could be an advantage for SLGU to get the co-operation of a Company highly involved with the sport in most parts of the world. Adding, further Fernando said that Sri Lanka Golfers in the past has competed in many international tournaments and brought glory to the motherland.
But it is sad to note that we as Lankans have failed to promote the sport among juniors with the view of raising the standard of Golf here. With the sole intention of promoting it among junior golfers the SLGU decided to conduct this Championship with the participation of three neighboring countries India, Pakistan and Bangladesh along with Sri Lanka.
The Champioship will be played as a team championship with each team comprising of six members. A team can accommodate four boys and two girls up to the age of 18 years. In addition to the main event on August 10 there will also be an HSBC Junior Golf Championship as an individual event on August 09.
This individual event is divided in to four different age groups as 15-18 years+ (Gold) 12-14years+ (Silver) 10-11 years+ (bronze) and 9 years and under (copper). Though all golfers of all these age group are to appear here the management has the option of selecting the final six members for the team Championship irrespective of their age if they consider they can be fitting
to compete in the Championship along with other golfers.
Tharanga Gunesekera Head of Marketing & Communication HSBC speaking on behalf of the main sponsor of the inaugural International Championship stated that his Bank will join with SLGU in a programme for the first time to find 'HSBC Future Lions' from grass root level.
This programme will be for juniors of the age group between 8-13 years and will go on for five days beginning Augusts 01. It will be conducted in Nuwara-Eliya, Kandy, Anuradhapura and at Welisara Naval Base (Navy Aqua Range). The two parties the SLGU and HSBC has agreed to expand this 'HSBC Future Lions' Grass root level programme for the coming years too said Gunesekera.
The other sponsors for the inaugural Junior International Golf Championship 2017 are MAS Kreeda (Apparel Partner), Elephnat House, Callway Golf Sri Lanka and Cinnamon Life (Accomodation)