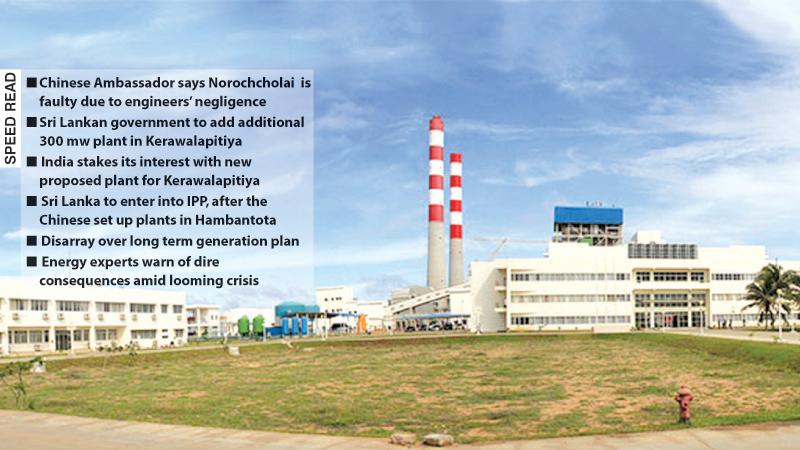 Earlier in 2010, when former President Mahinda Rajapaksa undertook an official visit to India, the possibility of Sri Lanka selling power to India was touted and discussions reaffirmed on the basis that commissioning the Norochcholai, Trincomalee and Hambantota plants would be sufficient.
The previous proposal was to establish a submarine power cable line for 500 megawatts of power so that Sri Lanka would have the opportunity of buying power at a cheaper rate, since currently, the country is said to have the highest power prices in Asia.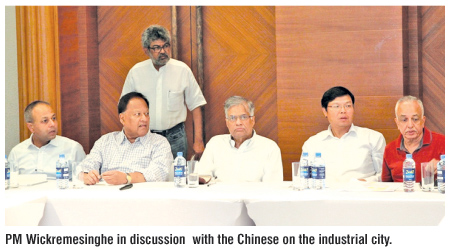 A source at the Ministry of Power and Energy told the Sunday Observer, that the project was initially deemed unfeasible due to the estimated cost of USD 554 million. However, a revision of the route of the cable has brought the costs down to USD 372 million. "A revised proposal has been given to Indian officials for evaluations. Discussions may take place this month, however, this time around, it will be India supplying power to Sri Lanka,"
The original proposal was to lay a 120 km long submarine cable, however, the revision cites an overhead line of 50 km in length which would cut costs. An Indian delegation is tipped to arrive in the country, and a new round of discussions said to take place on Kerawalapitiya.
Ceylon Electricity Board Engineers' Union headed by Athula Wanniarachchi said, the government was fast tracking several projects, some of which have come through unsolicited bids and most of them not included in the Least Cost Long Term Generation Plan (LCLTGP), prepared by the CEB and approved by the Public Utilities Commission of Sri Lanka (PUCSL), recently.
"According to the existing plan, conditionally approved by the PUCSL, we have proposed only one 300 mw plant in Kerawalapitiya and 170 mw plant in Hambantota. However, the government is pushing for an additional 300 mw combined cycle plant in Kerawalapitiya, 400 mw plant in Hambantota and an additional 500 mw LNG plant in Kerawalapitiya," Wanniarachchi said. "We don't need so many plants simultaneously. We don't even have transmission lines to Kerwalapitiya or LNG terminals. We cannot pretend to go grocery shopping for power plants," he said.
Sri Lanka to take on Swiss Challenge
Wanniarachchi said, the power sector was in disarray now that the government was preparing separate generation plans with no understanding on the mechanics of technicalities of the power plants.
"We raised our concerns to which the Prime Minister agreed. However, when we brought it up at a meeting recently we were not given an appropriate answer, but feel pressurized to include more power plants into the approved generation plan," he said.
Meanwhile, Energy Expert Dr. Thilak Siyambalapitiya told the Sunday Observer, the preparation and execution of generation plans should be left to the experts and not politicians.
"The day we have politicians and businessmen meddling with vested interests to include power plants of their choice is when the power section will take a plunge," he said.
He said, if the government had qualms over the existing generation plan, it should consult academics or professionals to check for errors. "We've been preparing the generation plan in a very methodical manner taking into consideration the costs and forecasts."
He also added that the Chinese proposed power plant which is to be set up in Hambantota was a previously touted merchant plant.
"The LNG plant was to be a merchant plant which the Chinese would set up for their own industrial purpose, and, we were to purchase excess power by negotiating the price. However, a month later discussions have changed and constructors of the Norochcholai Power Plant who will be constructing this plant said, it will be an ordinary plant for which the Sri Lankan government would enter into an Independent Power Purchase (IPP) agreement." Wanniarchchi said.
LNG power plants initially to be diesel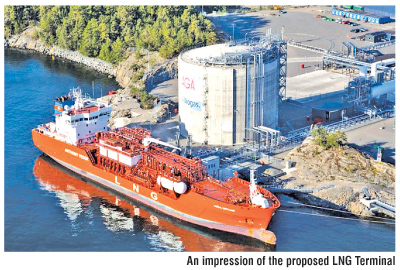 When inquired about the nature of this unsolicited bid, he said, stakeholders in the power sector were told it's a Swiss Challenge and one that Sri Lanka would remodel. In a 'Swiss Challenge' the procedure allows for an innovative unsolicited proposal by a company to the government to be made public, to allow other competitors a chance to match it.
"We've never heard of any examples of power plants being constructed under this module. In this instance, the Chinese would construct the plant based on their specification and open it for bidders to quote," he said.
Wanniarachchi however warned that most of the long term projects were far sighted. "We cannot hoodwink the public, even though we speak of LNG power plants, it will initially have to be a diesel power plant before we can set up LNG terminals."
Executive Director of the Energy Forum, Asoka Abeygunawardana, said, even if the government decided today to go ahead with a coal or LNG power plant, all efforts would not be able to halt the power crisis since it would takes years before a plant is commissioned and is operational.
"If the government intends on having a fixed terminal, it will take at least four years for construction to be complete. If the need is urgent, the only option would be to pursue a floating terminal instead of a fixed one."
Norochcholai Power plant
Meanwhile, the Chinese Ambassador to Sri Lanka, Yi Xialiang delivered a hard blow this past week when he went on record to state that the issues over Norochcholai Power plant was not due to faulty construction but, that the CEB should take responsibility for it.
"The sole responsibility for Norochcholai Power Plant breaking down should be borne by the CEB, because there are similar power plants in India and China and, they do not breakdown as often as this," he had said, adding that Sri Lanka should take steps to prevent this from occurring repeatedly in the future.
The engineer-in-charge of the Norochcholai Power Plant, Indrasiri Gallege however said, the Norochcholai power plant failed many times this year owing to external reasons. "Even during the last breakdown; there was a glitch in the transmission line which caused the power plant to shut down. It was functioning and operating regularly."