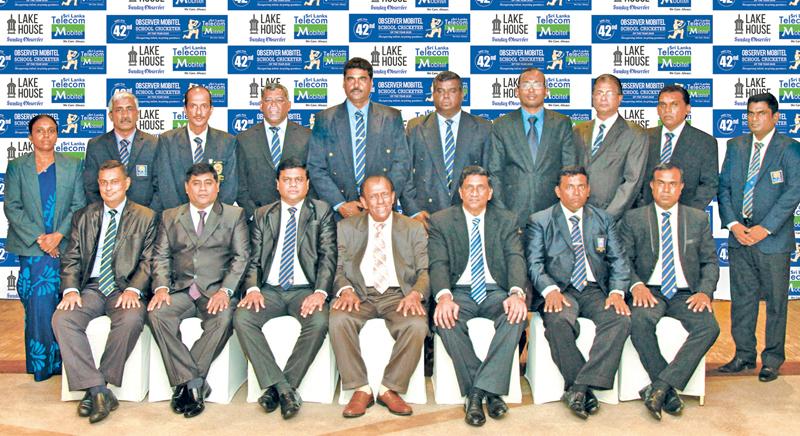 The selection panel that picked the winners of the Sunday Observer-Mobitel School Cricketer of the Year contest. Seated: Daminda Cooray (President, Sri Lanka Cricket Umpires Association), Jude Silva (Communications Channel Manager, Mobitel), Thilak Watthuhewa (Principal, Nalanda College and President Sri Lanka Schools Cricket Association), W. Dayaratne PC (Chairman ANCL), Asantha de Mel (Then Chairman National Cricket Selection Committee), JAKS. Indrajith (Secretary, Sri Lanka Schools Cricket Association), Upul Wewage (Secretary, Sri Lanka Cricket Umpires Association). Back row: Champika Weeratunge (SLSCA Girls Tournament Secretary), Y. Nishantha Kumara (Tournament Secretary Under 19 SLSCA), Viraj Chaminda de Silva (Technical Officer SLSCA), Amarajeewa Dissanayake (Secretary, Central Province Cricket Umpires Association), AMCV Kumara (President, Southern Province Cricket Umpires Association), Deshapriya Dissanayake (ACUSL Assignment Committee Chairman), Kumar Gamhewage (General Manager, Batsman.com), Wasantha Ariyawickrema (Treasurer, ACUSL), Saman Hettiarachchi (Former Selection Committee Chairman, SLSCA), Manjula Vaz (SLSCA Treasurer) Pic: Dushmantha Mayadunne)
The GCE Ordinary Level classes in the Western Province began last Monday and the other grades will also begin gradually, giving brighter hopes of conducting the 42nd Observer-Mobitel School Cricketers of the Year awards ceremony in March.
Schools in all provinces, except for those in the Western Province were earlier started and all schools in the Western Province too are expected to commence in stages by early next month.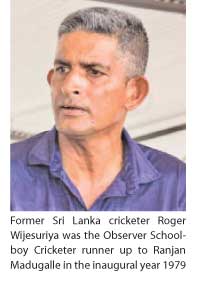 Once all schools get into action with their education, the sports activities too would begin. That would pave the way for the commencement of the postponed 2020/21 inter-school First X1 cricket season. It has been almost a year since the school sports activities came to a complete standstill in mid-March last year with the first wave of Covid-19 pandemic.
Luckily, almost all First X1 matches of the 2019/20 season were completed by then, including the world's oldest continuous match, the Royal-Thomian. But the 42nd Observer-Mobitel School Cricketers of the Year could not be held last year.
The Observer-Mobitel School Cricketers of the Year contest has been held annually for 41 successive years since 1979, except for the last year due to the Covid-19 pandemic.
Now, that too will be held in March for the 42nd year, paving the way for the commencement of the 43rd Observer-Mobitel School Cricketers of the Year. Once the Sri Lanka Schools Cricket Association (SLSCA) begins the First X1 inter-school matches for this year, we would also launch the 43rd Observer-Mobitel School Cricketers of the Year 2021.
The Observer-Mobitel School Cricketers of the Year is conducted by Sri Lanka's number one English newspaper the Sunday Observer and sponsored by Sri Lanka Mobitel.
Thanks to the longstanding association of the Sri Lanka Schools Cricket Association (SLSCA), the Sri Lanka Cricket Umpires and Scorers Association and Sri Lanka Cricket (SLC), headed by Shammi Silva, the Observer-Mobitel Schoolboy Cricketer of the Year contest has gone from strength to strength.
But the Sunday Observer's combination with SLT Mobitel 13 years ago gave a better deal for the cricketers. Its expansion to have a separate segment for outstation schoolboy cricketers went a long way in inspiring the talented players in far flung areas.
Under the directions of the Chairman of Sri Lanka Telecom and SLT Mobitel, Rohan Fernando the Mega Show will march forward with more power and strength.
The Observer-Mobitel Schoolboy Cricketer of the Year contest has produced a group of elite cricketers who have engraved their names in Sri Lanka cricket history in letters of gold.
The first recipient of the title, Ranjan Senerath Madugalle, not only reached the pinnacle of his career as a cricketer but also progressed to captain Sri Lanka. He also reached the very top as an official by becoming the Chief ICC Match Referee, a proud record in Sri Lanka indeed.
He became only the second ICC Chief Match Referee in 2001 after West Indian Clive Lloyd and still holds it with distinction.
The 1978 Observer Schoolboy Cricketer of the Year Contest was held in the outstation and not counted in the series. The contest was held at the Galle Esplanade for the first time with a view to promoting the game in the outstation. It was quite appropriate in having the show in Galle as the Outstation Schoolboy Cricketer of that year was Upul Sumathipala from Mahinda College, Galle.
Royal's Madugalle won the 1978 contest and was also adjudged the winner in the following year (1979) from which the Observer Schoolboy Cricketer of the Year show formally started at the Nawarangahala. In both years St. Sebastian's College cricketer Roger Wijesuriya was the runner-up.
Madugalle and Wijesuriya had prolific records representing their respective schools which resulted in them finding places in the Sri Lanka World Cup team in 1979 in England.
Madugalle who led an unbeaten Royal team, was also picked as the best captain and best batsman and runner-up in the best fielder category, in addition to his main Observer Schoolboy Cricketer of the Year title, after a highly successful season.
Born on February 18, 1960 in Moratuwa, Roger Gerard Christopher Ediriweera Wijesuriya represented Sri Lanka from 1978–79 and 1985–86. Despite superb records in school and domestic career, he failed to prove his might in international cricket.

Making his ODI debut against Pakistan in the first ODI in Karachi on March 12, 1982, he accounted for one of the two Pakistan wickets to fall. Ten days later, he made his Test debut in Sri Lanka's third Test against Pakistan in Lahore.
Wijesuriya was earlier picked for the 1979 Sri Lanka tour of England, where he ended up with ten wickets at an average of 37.70 in five first class games, including three for 13 against Scotland in a rain-hit three-day game. He did not, however, appear at the 1979 World Cup in England. He also toured Pakistan in a Sri Lanka Youth tour prior to that, taking 25 wickets in a series.
Wijesuriya was recalled for the 1981 tour of England and impressed slightly more, recording his first career five-wicket-haul with five for 35 against a combined team of Oxford and Cambridge Universities. He also made six not out for Sri Lanka in the game, holding the last wicket with Mahes Goonatilleke as the match ended in a draw. Wijesuriya took 15 first class wickets from five games on tour averaging 31.13.
After being in the wilderness for three years, he was recalled as Sri Lanka took on India in 1985. Wijesuriya took key wickets in the first ODI, removing Krishamachari Srikkanth and Mohammad Azharuddin early.
Despite the variable performances, he was kept in the side that toured Pakistan in 1985–86. However, he went wicketless in the first two Tests, despite bowling a total of 48 overs, before finally getting his first Test wicket at Karachi.
A panel of umpires comprising Camillus Perera (Chairman), Vernon Tissera, Gilbert Perera, Allan Felsinger and KT Ponnambalam picked the winners at the CCC pavilion for the 1978 informal Observer Schoolboy Cricketer show.
The shortlisted contestants for the Schoolboy Cricketer of the Year 1978 were Prasanna Amarasinghe (Ananda), Ranjan Madugalle (Royal), Shammy Rajendra (Wesley), Roger Wijesuriya (St. Sebastian's) and Selvaraj Dinesh (Trinity).
Ananda captain Arjuna Ranatunga, who won the title after Madugalle in 1980, is another great Sri Lanka cricketer who steered the Sri Lanka national team.
The galaxy of stars who have illuminated Lankan cricket and most of them emerged through the Observer Schoolboy Cricketer contest. The list includes the world's highest Test wicket taker Muttiah Muralidaran, the Most Valuable Player award winner in the 1996 World Cup tournament Sanath Jayasuriya (outstation title), former Sri Lanka captain and ex-national coach Marvan Atapattu (1990), former Sri Lanka captain and ex-ICC Match Referee Roshan Mahanama, former Sri Lanka player cum 1996 World Cup star Asanka Gurusinha, former Sri Lanka player turned ICC Elite Panel Umpire Kumara Dharmasena and ex Sri Lanka Test batsman Thilan Samaraweera (1994 and 1995).
Former captain Dinesh Chandimal (Ananda - 2009), Niroshan Dickwella, (Trinity – 2012) and Kusal Mendis (Prince of Wales - 2013) are some of the recent past Observer-Mobitel Schoolboy Cricketer winners who have sported the Sri Lankan cap.
Apart from those popular figures, there are several other past award winners who have proved their class with the Sri Lanka national team and at various other levels. Among them are Rohan Buultjens (St. Peter's - 1981), Roshan Jurangpathy (Royal - 1986), Rohan Weerakkody (St. Joseph's - 1987), Sanjeeva Ranatunga (Ananda - 1988), Sajith Fernando (St. Anthony's, Katugastota - 1992), Naveed Nawaz (DS. Senanayake - 1993), Nimesh Perera (St Sebastian's, Moratuwa - 1996), Chinthaka Jayasinghe (Dharmapala -1997), Pradeep Hewage (St. Benedict's - 1998), Muthumudalige Pushpakumara (Ananda -1999), Kaushalya Weeraratne (Trinity - 2000), Kaushal Lokuarachchi (St. Peter's - 2001), Sahan Wijeratne (Prince Of Wales - 2002), Farveez Maharoof (Wesley - 2003), Lahiru Peiris (St. Peter's – 2004 and 2005), Gihan Rupasinghe (Nalanda - 2006), Malith Gunatilleka (Ananda - 2007), Umesh Karunaratne (Thurstan - 2008), Bhanuka Rajapakse (Royal – 2010 and 2011), Sadeera Samarawickrema (St. Joseph's - 2014), Charith Asalanka (Richmond –2015 and 2016), Nipun Ransika (P de S Kularatne MV, Ambalangoda 2017), Hasitha Boyagoda (Trinity 2018) and Lakshitha Rasanjana (Nalanda 2019). Roshan Jurangpathy was the second Royalist to win the Observer Schoolboy Cricketer of the Year title and play Test cricket after Madugalle.