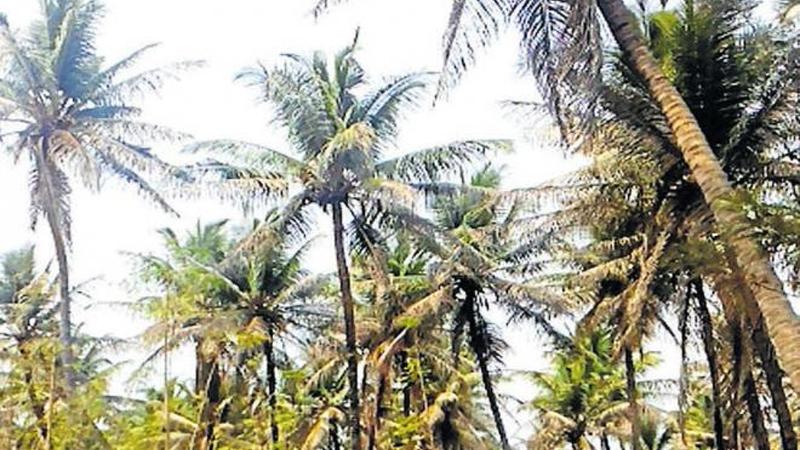 The coconut yield in the coming two months will be unimaginably low due to the lean season from October to February and the effects of this year's and last year's drought in coconut growing areas, said coconut growers.
The coconut triangle comprising Gampaha, Kurunegala and Puttalam districts account for the major share of the yield in the country.
"This year's drought is more severe than last year's which has resulted in a drastic reduction in yield," growers said.
The yield this year is expected to drop by around 20 percent to a round 2,400 million nuts from the average 3,700 to 3,900 million nuts per annum. The yield last year was around 3,000 million nuts.
The Coconut Cultivation Board expects the drop to be a little lesser than the amount projected by growers.
However, according to growers the yield would not be sufficient even for consumption apart from exports and other domestic industry usage. "This year's yield will be one of the lowest in years due to the adverse weather that resulted in trees shedding button nuts and palms being affected badly," a grower said.
Growers also said due to the bad weather that had prevailed for the past two years, the crop yield will be low even in 2018. The yield projected for next year is around 2000-2200 million nuts. According to statistics the country needs between 3,700 to 3,900 million nuts per annum to be self sufficient. The industry requirement comprises consumption, oil manufacture and exports. The consumption requirement is around 1,900 to 2,000 million nuts while oil and exports account for around 1,900 million nuts.
The Sri Lanka Desiccated Coconut Manufacturers' Association Past President Felix Fernandopulle said the operation of factories has become highly uneconomical due to the shortage of coconuts. He said due to the crisis, work in factories has been reduced to two to three days a week."Employees are faced with a severe issue due to the absence of normal employment to sustain their income."
"Even with much hesitation we have to permit imports of nuts to keep the industry going and maintain prices," Fernandopulle said.
He said "the move to distribute coconuts across the country is good as it will help to control prices."
Coconut is one of the major plantation crops that plays a vital role in the economy. It is one of the pillars in employment generation accounting for around 1-2 percent of the contribution to the GDP.