Dumindu Abeywickrema, an old-boy of Royal College, who is ranked 197 in the world, won the bronze medal at the International Badminton Future Series played in Shimkent, Kazakhstan yesterday.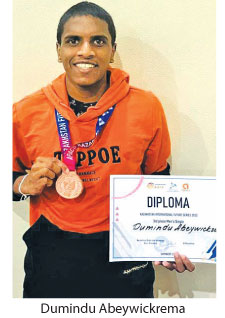 On his way to the semifinals the 20-year old Abeywickrema beat Lan Gabriel Vargas of Philippines by two sets to one in the pre-quarter finals. After losing the first set 19-21, Abeywickrema came back strongly to take the last two sets by 21-9 and 21-9.
He went on to beat Akash Singh of India by two sets to one in the quarter finals. Abeywickrema won the first set by 21-17, but the Indian came back to take the second set by 19-21. In the last set, Abeywickrema dominated and sealed the game with a 21-15 win.
In the semifinal he was up against Dmitry Panarin from Kazakhstan who is ranked 100 in the world.
Abeywickrema lost the semi finals in straight sets (21-4, 21-11) (BP)