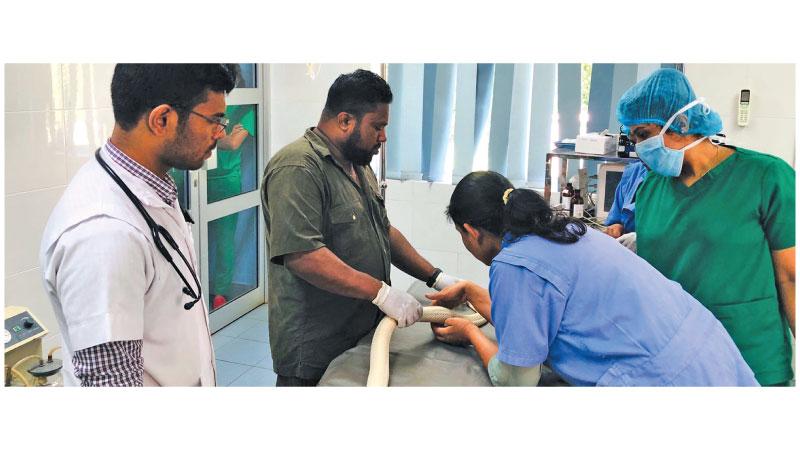 King Buddhadasa who reigned in the 4th Century was known for his talents as an Ayurvedic healer with medical knowledge. According to historical chronicles, the King was gifted a Naga Manikya (a highly valuable gemstone) by a cobra for curing it of a stomach ailment which would otherwise have inevitably led to its death.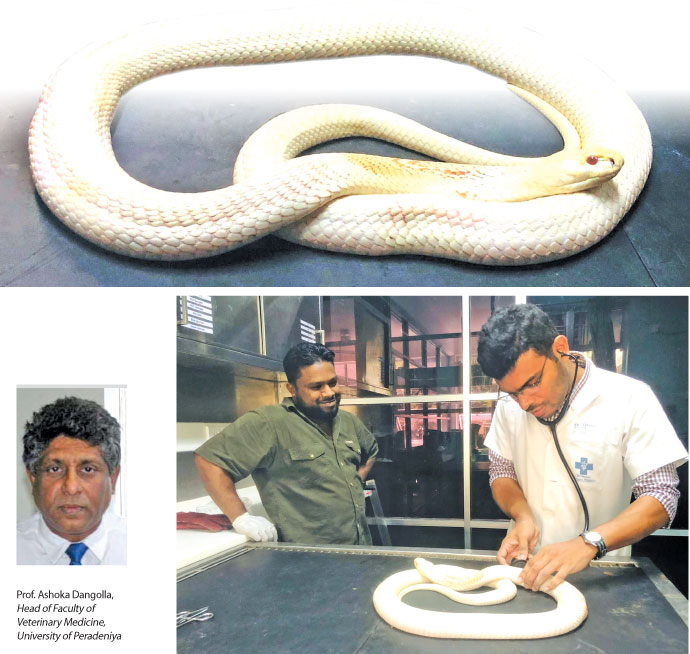 Centuries later, a cobra was cured in a similar fashion at the University of Peradeniya, Faculty of Veterinary Medicine and Animal Science recently, the only difference being Western medical practices were used to cure the ailing reptile creature instead.
The surgery was performed on a white cobra, nearly five feet in length and aged six years. The cobra, brought up at the University of Colombo, Medical Faculty is said to be an Albino snake. Albino snakes rarely survive in the wild as other snakes attack them and they also become easy prey to birds of prey and other creatures, as they cannot camouflage themselves well and are spotted easily. However, they adapt well to captivity and tend to live longer than wild cobras.
The reptile, normally used for various research purposes relating to venom, had been refusing to have food for over two months. On observation, a growth was discovered in the snake's abdomen area. The cobra was then directed to the Veterinary Hospital by University of Colombo Medical Faculty Herpetologist Dushantha Kandambi and Animal Researcher Anil Wijetunge.
As it is common for a cobra to have a gap of even one to two weeks between meals, his keepers had not first noticed anything unusual. However, after the cobra refused food for two months, Kandambi had realised it was suffering from some ailment and decided to obtain treatment.

Head of the University of Peradeniya, Faculty of Veterinary Medicine and Animal Science Prof. Ashoka Dangolla had immediately commenced treatment on the cobra following its arrival. It was subjected to an X-ray and a mass was observed in his abdominal area.
According to Prof. Dangolla, the cobra was first administered saline as it had become very weak. It was decided the cobra will not be sedated for the X-ray and other precautionary measures were used instead.
"We found a mass within its body. We had to determine if it was located in its bowels or outside. These checks were not done on the same day. We allowed the cobra to rest and carried out an endoscopy the next day," he said. An endoscopy is a test where a probe with a camera is inserted via the mouth to the stomach and intestines to check their condition. This procedure can be carried out on both humans and animals, though overnight fasting is required to empty the stomach.
"A cobra (or any other animal) must be sedated for an Endoscopy test. Accordingly, it was sedated and we found that the mass was actually located outside his bowels. This reduced the risk factor," he said.

According to Dangolla, it was decided that surgery should be performed right away while the cobra remained under general anesthesia. "The mass was the size of a lime. It took nearly one hour to complete the complex surgery," he said.
One and a half hours later the cobra had fully regained consciousness. Eight self-dissolving sutures had been administered to close the wound.
"It is recovering and recuperating at a house close to the faculty as it needs to undergo daily checks. It is not being fed yet. But in a few days, it will be able to return to Colombo. More tests will be done on the mass to determine whether it is a form of cancer," he said.
He said the Albino cobra was very fortunate. According to Dr. Dangolla, his faculty did not have an endoscopy machine till recently. "We received a machine worth Rs.20 million as a donation from a university batchmate of mine S. Logeshwaran who is residing in the United Kingdom. We were able to carry out the relevant checks on the cobra's mass by using it. Receiving the machine has helped us improve our care for animals and the education of veterinary students as well," he said.
According to Prof. Dangolla, around Rs. 20,000 was spent on the surgery. When asked if it was important to save the life of the rare albino cobra, he responded "the life of every animal matters to us". The great value of the cobra which has assisted the university's research efforts and helped students understand and study the effects of venom cannot be denied.