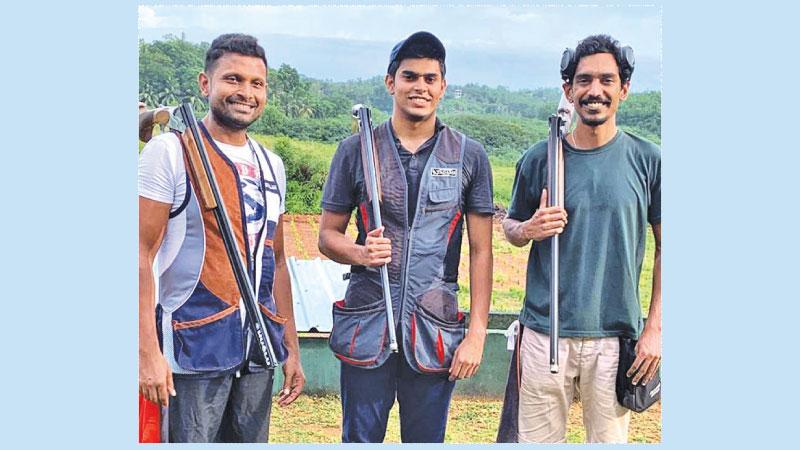 Kaushan Samaranayake of Negombo Rifle Shooting Club emerged winner of the NSSF Trap Open Championship 2023, held at the Clay Target Shooting Club of Colombo (CTSCC), Payagala Range earlier this week.
Samaranayake was in prime form as he easily overpowered Jeremy Fernando of CTSCC to claim the gold medal in the main event with a score of 32 in the final.
Fernando, who finished with 28 points, won the silver medal while Rishan Dias, also of Negombo RSC, settled for the bronze medal claiming 21 points.
Samaranayake topped the list of top 13 finalists after the first round with a final tally of 88 points, while his team-mate Shiyam Dias finished close behind with 84 points.
Jeremy Fernando, who won the silver medal, finished third with 81 points after the first round while Rishan Dias, who claimed the bronze, was placed fourth with 77 points, the same tally of Johann Fernando of CTSCC, who was placed fifth.
Others who qualified for the final with a score of 25 or above from the first round were Ambrith Samaranayake and Dallas Martenstyn, both of Negombo RSC, MTM Fahim of Hill Country, Kaveesh Jayasuriya and Nivantha Vaas of Negombo RSC, Ijaz Meezan of Hill Country and CTSCC shooters Roshan Perera and Shirantha Peries.
Samaranayake also went on to claim the gold medal of the Open Category with a score of 36, as he edged out team-mate Shiyam Dias by a point.
Dias claimed the silver medal with 35 points and was placed one point above CTSCC's Jeremy Fernando, who won the bronze medal with 34 points in the category.
Dallas Martenstyn of Negombo RSC claimed the gold medal of the Masters' Category of the event with 32 points as he finished two points above Roshan Perera of CTSCC, who settled for the silver medal with 30 points. Ambrith Samaranayake of Negombo RSC won the bronze medal scoring 29 points, just one point ahead of Shirantha Peries of CTSCC, who was placed fourth.
The gold medal of the Teams Category was won by NRC Team Alpha of Negombo, who accumulated 93 points, while the Clay Target Shooting Club of Colombo Team 'A', with 89 points claimed the silver medal.