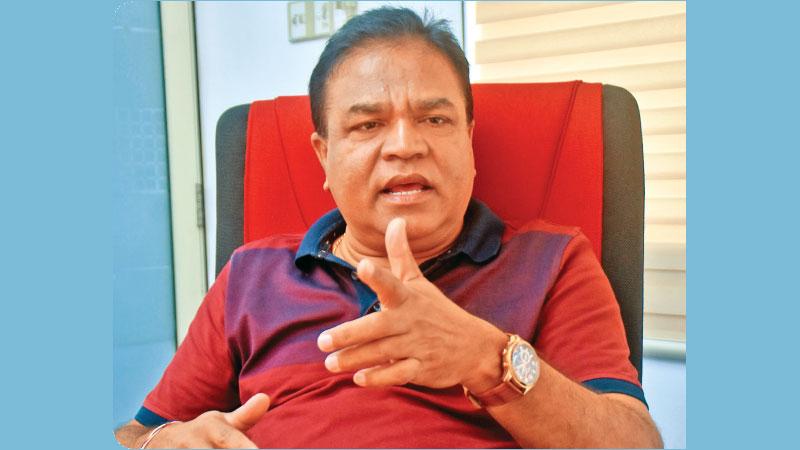 SJB has split into several group:
No vision or action plan by Opposition leader:
No issue for SJB MPs to join hands with the President:
Former Samagi Jana Balawegaya (SJB) Vice President and Agriculture Minister P. Harrison said that President Ranil Wickremesinghe during the past couple of months has restored the country which was in a crisis.
The President through his actions has clearly shown that he is capable of formulating a program to get the country out of bankruptcy and strengthen its economy. The former Minister in an interview with the Sunday Observer said as a veteran politician with his vast experience, the President has taken the country forward without having any media shows or making speeches at political stages to hoodwink the people.
We should be proud of it. The President will definitely perform his duties on behalf of the country as we all expect.
Excerpts of the interview
Q: What led you to resign from all posts of the SJB and extend your unconditional support to President Ranil Wickremesinghe?
A: At this juncture, we all should join hands regardless of political differences to sort out the burning issues of the country. First, there should be a country for us to engage in politics. The President could get the country out of the crisis so that we should honour him. Actually, we had a country which didn't have fuel, gas, fertiliser and lack of other essential food commodities. It was President Ranil Wickremesinghe who accepted the challenge to rebuild the country. On several occasions, we tried our level best to convince Opposition Leader Sajith Premadasa on the importance of joining hands with the Government at this critical juncture and move forward. However, he turned down all those requests due to his stubbornness.
Firstly the then President Gotabaya Rajapaksa requested Opposition Leader Sajith Premadasa to accept the presidency but he escaped by putting forward various conditions. It showed that he was not capable enough to accept that kind of a challenge. It was the second occasion that Ranil Wickremesinghe was invited to accept the challenge but he accepted it without any fear.
President Wickremesinghe had only one seat in Parliament. He also didn't have any support from the Opposition and the people also had a lot of disappointments over the Government.
Amidst all these, President Wickremesinghe accepted the challenge and fulfilled his duty on behalf of the country. As a politician who represents an agricultural area, we can see how the people think. Instead of just mentioning his father's name and his programs, we cannot see any vision or action plan presented by the Opposition leader. It is very obvious that if we want to move forward as a country, we should closely deal with the international community and similarly we should focus on the country's vision as well. When the people died in fuel queues, the Opposition leader said under his Government that will be formed, three Arabic countries are ready to give fuel free. As the Opposition Leader and a party leader, it was his duty to talk to those countries at that time to get the fuel.
When there was an acute shortage of fertiliser, the Opposition Leader said that there are several countries which are ready to give him fertiliser and he will provide fertiliser to farmers free once he comes to power. At that time, the Opposition Leader should have talked to those countries and formulated a program to give a bag of fertiliser which was sold at Rs.48,000 to at least Rs.10,000. Then that credit should have gone to him.
When the country has faced bankruptcy, Opposition Leader Sajith Premadasa has a responsibility to extend his support to overcome the crisis. For example when the tsunami catastrophe occurred during the tenure of President Chandrika Bandaranaike Kumaratunga, then Opposition Leader Ranil Wickremesinghe extended his unconditional support to the Government. He used his international connections and requested those countries to help us.
At that time, he joined hands with President Kumaratunga irrespective of politics to provide immediate relief measures to those tsunami victims. However, Sajith Premadasa is completely different. When the country was bankrupt, it was the Opposition Leader and his party seniors who first pressurised to go to the IMF. However, when the IMF credit facility was finalised, the Opposition Leader said that if he was in power he would have put forward more lenient conditions to obtain the IMF bailout package.
If Sajith Premadasa is a leader who works for the people and if he had lenient conditions, at least he should have submitted them to the Government officials. If there was a methodology to get more relief from the IMF, that should have passed down to the people. However, the Opposition Leader keeps all these in his mind and that is mainly due to his hypocrisy. Can such a leader take the country forward? Over the past two and a half years we didn't see any vision or program presented by the Opposition Leader. We continuously said that we should join hands with the President. Sajith Premadasa was also a longstanding member of the UNP and he was also a Cabinet Minister of that Government. Majority of the SJB members are former UNPers.
If we genuinely want to rebuild the country, we should extend our fullest support to the President and the Government. However, the Opposition Leader doesn't have any idea how to rebuild the country and manage the economy. That is why I decided to quit the SJB and extend my unconditional support to the President.
Q: You have said that half of the SJB will support President Ranil Wickremesinghe soon. What led you to make such a statement?
A: If you can ask security personnel at the Presidential Secretariat, he would say on how many occasions' members of the Sajith Premadasa's group met the President and discussed with him. If you want to further clarify this, even Chief Opposition Whip MP Lakshman Kiriella knows how many SJB MPs have met the President. It is not only me but also SJB Parliamentarian Rohini Kumari Wijerathna told the media that President Ranil Wickremesinghe is our President so that I can meet him.
In addition, SJB MPs such as Vadivel Suresh, Dr.Rajitha Senaratne and A.H.M. Fowzie have come out of the SJB and openly express their views. I would like to tell you with responsibility that the SJB MPs who made a big hue and cry in the past but cannot be seen in the media now are the group who are getting ready to join the Government.
Q: The SJB too seems to have splintered into several groups as some of them are still loyal to their former leader President Ranil Wickremesinghe. How will this create an impact on a future election?
A: That is why I said to wait another two Poya Days. The majority of the SJB members will be with the President when it comes to Esala and Nikini Poyas and nobody will be able to stop that.
Q: Amid intense speculation of imminent crossovers to the Government benches, some SJB frontliners have said that the SJB will form a grand alliance targeting upcoming elections under the leadership of Opposition Leader Sajith Premadasa. Would you like to comment?
A: How can they form a broad alliance when the SJB has split into several groups? SJB MP Mano Ganesan has queried as to how Sajith Premadasa was nominated the Presidential candidate as they are also the stakeholders of the SJB. This is obvious one segment of the SJB has been ignored when selecting its Presidential candidate.
Q: SJB Parliamentarian Vadivel Suresh who is also the General Secretary of the Lanka Jathika Estate Workers Union has said that he would embark on a new political journey with Tourism Minister Harin Fernando. Do you think more such SJB MPs will join hands with the President in the near future?
A: Definitely. There is no issue of joining hands with the President. Actually, he was the leader of most of those SJB MPs over the past 20 to 25 years. So, it is very easy for us to join hands with our former leader rather than joining hands with a new leader. He knows about us and we also know about him. Therefore, there is no issue of joining hands with President Ranil Wickremesinghe.
Q: The Working Committee of the Samagi Jana Balawegaya has unanimously decided to name Opposition Leader Sajith Premadasa as the next Presidential candidate of the party. The Opposition Leader has said that the SJB is ready to accept the Presidential Election challenge. As a former SJB Vice President, do you think the SJB is in a position to secure victory at a future election?
A: A Presidential Election has not been declared so far. The President can dissolve the Government by the end of next year. A Presidential candidate is nominated after forming an alliance with the discussions of other constituent parties. Instead of SJB nominating its candidate, first it should be discussed within their alliance and then nominate the Presidential candidate. However, the SJB has already selected Sajith Premadasa as their Presidential candidate. If some constituent parties don't accept this decision, then the SJB won't be able to form their political alliance.
Q: Opposition Leader Sajith Premadasa has said that the Government is deceiving the people by uttering falsehoods over domestic debt restructuring. He has said that what is actually happening is not debt restructuring but debt optimisation and the Government is engaged in manipulation of words to mislead the public. Your views?
A: When the IMF loan was obtained, the Opposition Leader and some Opposition parties said that if the Local Government election is not held the IMF credit facility will not be given. Then they made another speculation that the IMF will directly get involved in our domestic debt restructuring but the IMF representatives categorically denied it. The arrangements are being made by the Government on domestic debt restructuring and we call on the Opposition Leader to patiently wait for some time.
Q: Although the Government is trying to bring in an Anti-Corruption Bill, Justice Minister Wijeyadasa Rajapakshe himself has said that a person named Chamara Gunasekara pocketed US$ 250 million from the shipping company in order to avoid paying compensation - more than US$ 6 billion to Sri Lanka from X-Press Pearl ship disaster. What are the steps being taken to probe this and also to prevent such incidents in the future?
A: When US$ 250 million is credited to a personal bank account, can we imagine that the country will not probe into it? Even if US$ 5 million is deposited, any international bank questions how that money came to that bank account. So far, the international community has not made any reference on whether such a transaction had taken place. This allegation is levelled based on some information divulged by SJB MP Ajith Manapperuma to the Finance Committee.
If such a transaction had taken place we should get a reference from the British High Commissioner or those banks. Instead of making false allegations and criticism on international transactions, it is better to get an accurate document from that particular bank. I am also of the view that if any fraud or malpractice has taken place on the X-Press Pearl ship disaster, a full-scale investigation should be conducted.
Q: The Opposition has criticised the proposed Anti-terrorism Bill and portrayed it as a tool to suppress public protests and any future uprising. What is your view on this?
A: My personal view is this Anti-terrorism Bill should be presented. Otherwise, we would always point fingers at certain people by calling and naming them as crooks. There should be a program to punish those who indulge fraud and corruption. Similar acts are operated in countries like Singapore and some other countries. Therefore, it is a timely need to introduce such legislation in our country as well.
Q: The motion for the removal of the Chairman of the Public Utilities Commission of Sri Lanka (PUCSL) Janaka Ratnayake was passed in Parliament with a majority of votes on Wednesday. However, the Opposition and certain sections strongly condemn this and say this is a threat made to the function of an independent commission. Your comments.
A: Instead of doing his official duties, the PUCSL Chairman was involved in political activities. If he comes before the media and makes politically motivated comments, how can he be an independent person? If the Commission is so independent but its Chairman is not so, will that Commission be successful? He mainly got involved in politics. He will be elected very soon as a National List MP from the Opposition. This is the true story. Actually, he got involved in a contract. If the PUCSL Chairman conducts press conferences even without informing its members to embarrass the Government and present bogus statistics to inconvenience the people, he should definitely be removed from his positition.
Pic: Gayan Pushpika