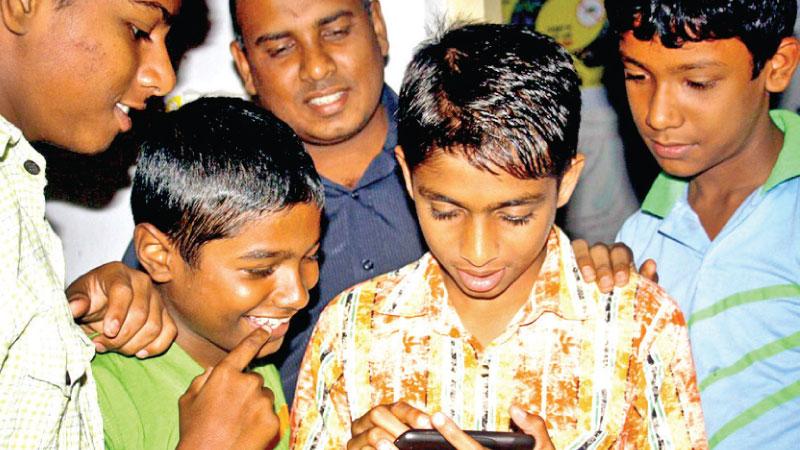 It had been recorded in the recent past that a large number of innocent children both male and female had been subjected to numerous types of calamities, sometimes which lead to the loss of lives. These calamities often entail crimes, accidents, sexual abuse, abductions, seductions and even murders.
Similar incidents had occurred in the country from bygone days but most unfortunately this type of gruesome incidents are reported from many parts of the country at present which should be seriously considered by the law enforcement authorities.
During the past few decades we have witnessed a tremendous difference in many vital segments of the social fabric of the country such as culture, education, economy, technology, and social events and sports activities.
The advancement of the above sectors had changed the lifestyle of the people to a great extent and long standing practices such as the social obligations, spiritual values, religious concepts and conventional practices and love for intermingling with peers gradually started decreasing while the craving for competitions enveloped mankind.
Amidst all these difficulties parents try their utmost to give the best of education to their children. The teachers warn that lack of education will cripple the child's chances in the future.
National education
National education imparted to children should produce men and women who will be able to adopt themselves to rapid and wide changes and development in the super-technology of the future.
In today's busy world everybody is in a rat race for material gain and day to day affairs.
Children do not enjoy the cherished love, affection and care of their parents. As a result of this lack of parental instinctive nurturing, children fail to imbibe superior qualities of human nature, namely love, joy, cheer, respect, patience and compassion.
In many families the children are under the custody of maids or servants most of the day and there had been occasions these maids or servants had misguided young children for uncouth or sexual activities
Sunday schools/Dahampasala education
Present day society is full of vices where the youngsters irrespective of any differences had been victimised due to their sheer ignorance and partly due to the lack of adequate supervision of their activities by the parents.
It is the general belief that Dahampasala or Sunday school in all three main religions should be made compulsory until they reach the Advanced Level so that they will be more religious minded.
National policymakers in respect of scholastic education should pay attention to introduce a value based curriculum in all areas possible.
In the teaching process some moral and philosophical thoughts can be brought out at the end of every lesson. Every topic in the curriculum could be concluded with a moral code. Most scientific laws are the laws of nature. Beauty, goodness and truth should be highlighted in the study of arts, music, dancing, humanities and other aesthetic studies.
Parents and teachers should pay maximum attention to the training and education of a child from pre-grade classes up to Advanced Level classes. The introduction of parents/teacher relationship is vital in early education. It is encouraging to see that the parents/teachers meetings are conducted in almost all schools.
But they mainly focus their attention only on the academic performance of the students. It is time that they pay some attention on other aspects such as discipline, behaviour, social relations and moral developments. Indeed the good behaviour is primarily found in the home and it should be carefully nurtured and fostered in the school and the university.
The survey conducted by some teachers of large schools had proved that most of the unruly and arrogant students are the ones those who do not receive parental care at home and they are more susceptible to vulnerable activities.
The use of narcotic drugs by schoolchildren is supposed to be the biggest misfortune and the irreparable damage caused to the future generation of Sri Lankans. Recently the Justice, Prison Affairs and Constitutional Reforms Minister Dr. Wijeyadasa Rajapakshe has said that over 500,000 youth are addicted to various narcotics. It is a huge number according to our youth population in the country.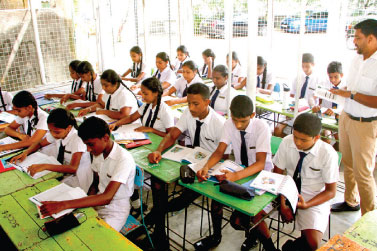 Dr. Rajapakshe clearly said that among them are senior and even secondary level students both male and female in leading schools in Colombo and the outstations. It is very surprising to note that most of those students are from affluent families and some of their parents are professionals and academics who hold high positions in the Government and private sector. Due to their busy schedule of duties parents neglect their prime responsibility of supervising and monitoring the activities of their children.
However, most of the parents are unaware of the bad habits of their offspring and that they have become drug addicts.
When the school authorities become aware that their students use drugs they don't disclose them to the relevant authorities as it reflects bad on the reputation of the school. It is encouraging to see that the present Minister of Education has taken a number of measures to wipe out the drug menace from schools which had been rapidly growing during the past few years.
Drugs such as heroin and Ice are extremely injurious to youngsters as it clouds the mind and eventually leads to terminal illness that snuff out the young lives within a short period.
Sexual predators rampant
The Ministry of Education has recently issued a circular to conduct awareness program for parents and guardians of teenage female students to protect young girls being sexually harassed by drug addicts and even good tuition masters.
According to the official figures 436 girls are reported to have been sexually abused this year. Already 68 predators are in the legal net and action has been initiated by the Child Protection Authority and the Police.
Authorities repeatedly inform parents not to send their girls on pilgrimages and picnics with known or unknown people. They say that eight school teachers and school heads were among the child abusers who had been taken in for questioning in the recent past.
Sexual abuse of young students is very frequent at present due to the decline of moral values among adults and the younger generation.
It is shocking to see the rapid growth of child abuse cases reported in the first three months of this year being 2809 while only 375 cases were reported in 2018.
It had become a modern trend in the elite society that their siblings of both sex who are in their teens, are taught Western music, dancing, ballet, speech and drama, language skills in elocution and oratory where the parents spend enormous amount of money.
But on investigations from the teachers in charge of these centres it had been revealed that these children do not attend classes regularly but instead roam on the beach, go to cinemas or engage in some thamashas and return home at the stipulated hour.
Most of these affluent class children are dropped and picked up by their drivers' and they don't disclose the activities of the children to their parents as they are well looked after financially by these children. Some parents are not even bothered about the moral behaviour, personal conduct and character of their siblings as they are fully engaged in minting money at their enterprises.
Internet and social media
The above facility is indispensable for the present day youngsters to accumulate knowledge in all matters with regard to higher education, research work and to study further in their chosen field.
Simultaneously there are numerous incidents recorded in the country where children had been subjected to various vices, malpractices misdemeanours and finally became bad victims by abusing the social media.
It is the responsibility of the parents to keep a close tab on their children when using internet for their educational activities. In the present age every child is quite conversant in this technology and they can access any website or set up their own websites to communicate with the outside world for whatever requirements.
Hence it is imperative that parents pay adequate attention on their siblings as some youngsters are automatically lured into various nefarious activities. Almost every other day the media reports of cyber crimes committed by young students and their parents also have to suffer the consequences. Last month we witnessed the mayhem that occurred at the grounds of a cricket big match played between two schools where the students in their teens drove vehicles recklessly causing injuries to some students.
Parents are directly responsible for this unfortunate incident as they had provided these powerful vehicles to their sons who are still in their teens. Last week we heard of two boys aged 17 and 19 who had gone for a sea bath with the consent of the parents and never returned home till late evening and the following morning their bodies were found on the shore.
The 16-year-old Kalutara girl's death could have been avoided if her mother had strictly warned her not to attend the dansala late in the evening that day.
Recently a set of youngsters in the age group of 17-23 had organised a motorcycle race on the Marine Drive with their powerful motorcycles. Fortunately the traffic police had been alerted and they visited the scene immediately and apprehended the suspects and it was subsequently revealed that most of them did not possess valid riding licences.
Prompt action by the police had averted an imminent disaster. It is true the parents love their children and buy whatever they want but at the same time parents should monitor the activities of their siblings and prohibit them from misusing the facilities.
It has been observed by the independent media and analysts that the current spate of killings of young children and unfortunate incidents occur partly due to the inadequate attention of the parents. Hence, it should be the duty of the parents, despite giving freedom to their children they should on the other hand hold the reins in their hands.