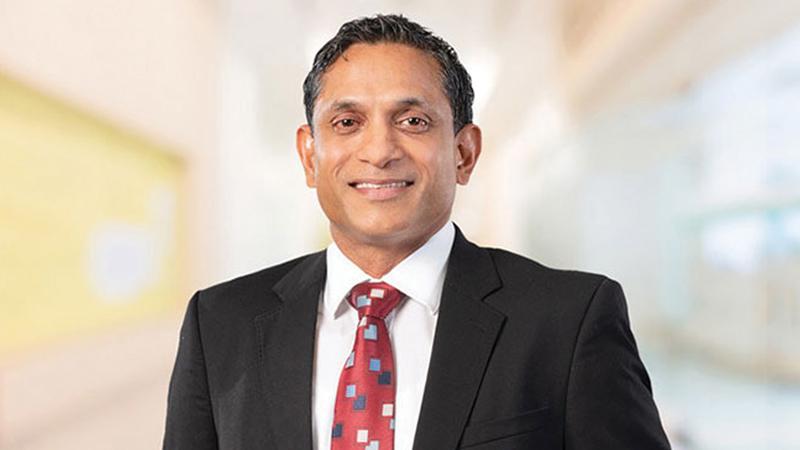 The death of prominent businessman Dinesh Schaffter is still a mystery. Is Dinesh Schaffter's death a suicide? Or is it murder?
Dinesh Schaffter's death occured on December 15 last year. Initial investigations into Dinesh Schaffter's death revealed it was a homicide. Later, it suddenly turned into a suicide.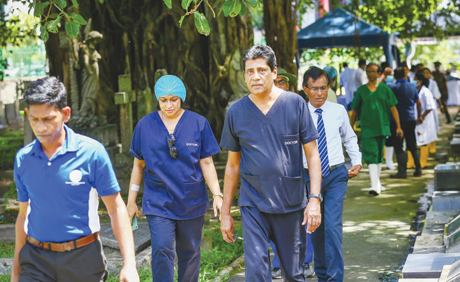 Members of the team of medical experts conducting further inquiries to determine Dinesh Schaffter's cause of death.
The family members of Dinesh Schaffter have sought legal redress. President's Counsel Anuja Premaratne who appeared in the Court on their behalf challenged the post-mortem report that had been submitted before the Court regarding Dinesh Schaffter's death.
He told to Court that according to the post-mortem report submitted by forensic medical officers on December 16 regarding the death of Dinesh Schaffter, the death occurred as a result of "strangulation with a string". According to the first post-mortem report, Schaffter's death was due to strangulation or in other words, murder. According to the second report, what happened was not a strangulation, but a suicide. There was also another report that it could be a cyanide poisoning.
Accordingly, it appears that the autopsy report regarding the death of Dinesh Schaffter is undergoing changes from moment to moment. Dr. Ruhul Haque, who conducted the first post-mortem, is no novice forensic pathologist. Before this, he has conducted post-mortem investigations on many controversial deaths and helped the police to arrest many criminals.
An experienced forensic doctor is able to make a clear determination at a glance whether a death was caused by strangulation or poisoning. Colombo Additional Magistrate Rajindra Jayasuriya, who has paid special attention to the post-mortem report regarding the death of Dinesh Schaffter, established a special five-member medical board consisting of specialist doctors to solve this problem using their expertise.
The five-member medical board chaired by Prof.. Asela Mendis of the University of Colombo, consists of Prof. D.C.R. Perera of Ruhuna University, Peradeniya University Pathologist Prof. D. Fernando, Peradeniya Hospital Senior Forensic Medical Officer S. Sivasubramaniam and Galle Karapitiya Hospital Senior Forensic Officer G.R. Ruwanpura.
Committee
This expert committee, consisting of five nationally recognised figures, studied the information and the post-mortem report at length and finally decided to resolve this issue by conducting a second post-mortem.
Dinesh Schaffter's body was buried at the Borella Public Cemetery. His body was exhumed on May 25 on the order of Colombo Additional Magistrate Rajindra Jayasuriya on the request of the expert medical committee.
When a body is exhumed, a close relative of the deceased must be present to identify the body. Accordingly, his father, Chandra Schaffter came to the Borella Public Cemetery to identify the body. President's Counsel Premaratne, Magistrate Rajindra Jayasuriya, several court officials and a funeral director were also present. Several members of the expert medical committee were also at the scene apart from Police investigators. The place where Dinesh Schaffter's body was buried was identified by the funeral director and his employees.
The body was exhumed at 9.40 a.m. Chandra Schaffter identified the exhumed body as that of his son, although decomposition has set in. According to the Court order, the body was taken to the Karapitiya Hospital for the second post-mortem examination as only the Karapitiya Hospital has facilities for this type of forensic scanning. The body was placed in a sealed casing and was taken from the Borella public cemetery in a van belonging to a funeral parlor under a Police escort.
On-site inspection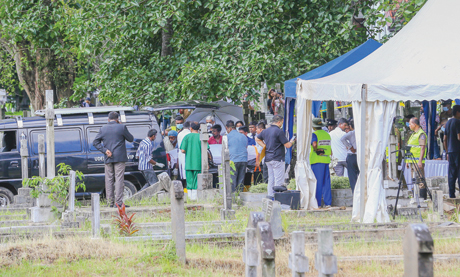 Exhumation of Schaffter's body at Borella cemetery
The members of the expert medical committee conducted an on-site inspection at the Borella Public Cemetery and went to the part of the cemetery where Schaffter was said to have stayed just before his death in his car.
The special medical committee then went directly to the Karapitiya Hospital as the Court has directed to conduct the post-mortem inquiry within just two days. The body should be buried again at the Borella Public Cemetery.
According to reliable medical sources, the body of Dinesh Schaffter was first subjected to the second post-mortem examination on the same day by scanning the whole body according to modern methods of forensic science. Through this, it will be possible to know the fine details about the internal organs of the body.
In advanced countries, the bodies are not dissected and post-mortem examinations are performed mostly by scanning. In those countries, CT and MRI scans are used to examine the dead body and perform post-mortem examinations. "Scanning allows us to look at the body as it is from the inside. Through this, it is possible to examine delicate parts of the body without any dissection," said a medical specialist with knowledge of the procedure.
"The scan shows everything inside the body. A scan can also detect whether a normal patient died of a heart attack. There are forensic radiologists in countries like America, Australia, and the United Kingdom. But there are still no such people in our country.
What we are doing is getting the help of general radiologists for this. They are not trained as supervising doctors. We have made an attempt to conduct such post-mortem examinations in our country. If that happens, there will be no need to exhume the dead bodies and conduct second post-mortem examinations. We have an interest in this, but we have not got an opportunity for it yet," he said.
Experts
Currently, there are seven types of forensic medicine specialists in the world. Sri Lanka has six out of seven types of experts. The only shortage is forensic radiologists. Even though there are talented people who can fill that gap, there is still no opportunity to do so in Sri Lanka.
A scan can reveal whether a death was natural. External and internal injuries and marks of the body caused by assaults, falls, cuts, and so on can be clearly identified through it.
If a scan of Dinesh Schaffter's dead body was done in the initial post-mortem, it would have been possible to clearly identify whether his death was due to strangulation.
As a second post-mortem scan is also being conducted, more information will come out about Dinesh Schaffter's death. The facts that changed from moment to moment in the original post-mortem examination are now more likely to be clarified.
Some observations
However, it is not possible to say whether Dinesh Schaffter committed suicide by consuming poison, which cannot be detected by a scan. During the scan, it will be possible to make some observations and present an expert opinion.
"A scan cannot tell that a death has occurred due to poison. For that, the body parts should be sent to the Government Analyst to do a chemical test. As the original post-mortem examination has been challenged, the body parts must be sent for re-examination. It is better if a blood sample from the body is sent for that.
Then it is possible to identify the presence of poison in the body more accurately. The problem is that the corpse is now several months old, so there is virtually no blood. A body scan provides an even better solution. That is, if the blood has clotted somewhere in the body and there is even a small drop, it can be detected by scanning. By dissecting that part, it is possible to take out the blood clot and send it for tests.
If a blood clot is not found on the scan, a biopsy will be done. A piece of muscle from the body will be sent to the Analyst and subjected to a laboratory test to check whether the body contains poison. Accordingly, in the future, the expert medical committee will have to obtain another autopsy report regarding Dinesh Schaffter's death by a Court order."
All these aspects will be looked into by this expert committee as the Court has given them a big responsibility. Fulfilling that responsibility to the letter, the expert medical committee will soon submit an opinion on the manner of Dinesh Schaffter's death on the basis of scientific evidence.