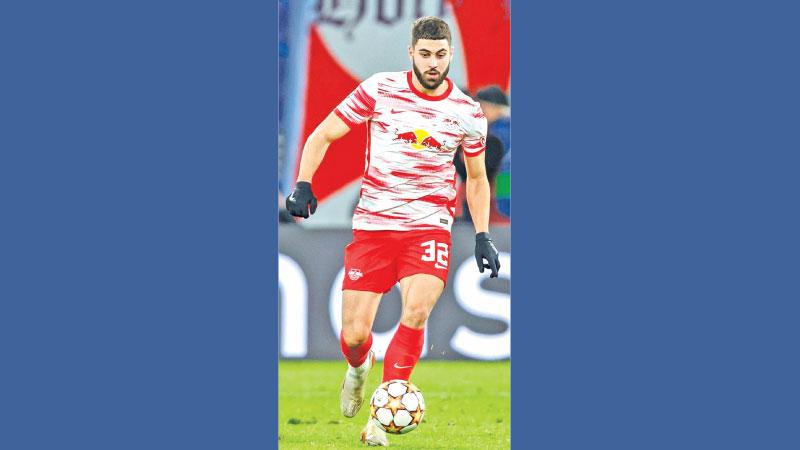 Josko Gvardiol plays for the Croatia National Team and Bundesliga club RB Leipzig. His debut season at RB Leipzig in 2021/22 underlined his top-level credentials. He made 29 Bundesliga appearances whilst featuring a further twenty-three times across the UEFA Champions League, Europa League, and DFB Cup. Although primarily a centre-back, he has often been utilized as a left-back.
He became a full Croatia international over the course of the campaign and started every game during his country's run at the 2022 FIFA World Cup. Gvardiol was astounding in the backline for Croatia, becoming one of the calmest, most reliable heads in the side – and that is no mean feat for a team that boasts Luka Modric, Marcelo Brozovic, and Mateo Kovacic in midfield.
Gvardiol was faultless, until Leo Messi took him and Croatia for a walk in the 2022 FIFA World Cup semi-final. At just twenty, this seems like the first of many tournaments for him, yet he even scored the all-important opener in Croatia's 2-1 triumph over Morocco to secure the bronze medal. It would not be surprising if he becomes the new star that Croatia build around post-Modric.
As a youth, he played for NK Tresnjevka Zagreb and GNK Dinamo Zagreb. His international career includes Croatia Under-14 in 2016, Croatia Under-16 in 2018, Croatia Under-17 in 2018/2019, Croatia Under-19 in 2019, Croatia Under-21 from 2019 to 2021. He has 21 appearances for the Croatian National Team - 9 in 2021, 10in 2022 and 2 in 2023.
Player Profile
The most important aspect of Gvardiol's game is perhaps that he is a left-footed centre-back. This provides a fantastic outlet for RB Leipzig as they can line up the Croatian alongside a right-footed partner, with comfortable in the position they are playing.
Gvardiol is rarely bullied off the ball by his opponent, having learned how best to use his body in the school of hard knocks that is the Croatian league. He has also built his confidence on the ball, where he is just as comfortable bringing possession out of defence as he is playing it to a teammate in a better position.
In the words of Croatia head coach Zlatko Dalic: "Gvardiol is the best central defender in the world. He's so mature. The way he plays, with the grace he controls the ball - it's amazing." Gvardiol's RB Leipzig side was inspiring, strong, and able to kick-start attacks, while knowing exactly when to step out and meet attackers.
Birth and Early Career
Josko Gvardiol was born on January 23, 2002 in Zagreb. Gvardiol started playing football at the age of seven when his father, once an amateur player in his native Novigrad, took him to Tresnjevka. While there, he was spotted by Lokomotiva and Zagreb; however, at the last minute he received an offer from Dinamo Zagreb which his family accepted.
Initially, he played as a left-back or a central midfielder until Dinamo Academy coach Dalibor Poldrugac moved him to the centre-back position. Soon after, Gvardiol started drawing interest from prominent European clubs, including Manchester City, Lille, Borussia Dortmund, RB Leipzig, Bayern Munich, Ajax, Inter Milan and Roma.
He played a key part in Dinamo's 2018/19 UEFA Youth League campaign, where they reached the quarter-finals before losing 4 - 2 to Chelsea in a penalty shootout. After being impressed by his performances for youth teams, Dinamo's senior coach Nenad Bjelica called Gvardiol up to the senior team for pre-season games in Slovenia in the summer of 2019.
On July 2, 2019, he scored in a 2 - 0 friendly win over Austria Klagenfurt. On October 10, 2019, he was included in 'The Guardian's Next Generation List.'
International Career
Gvardiol earned his first call-up to Croatia national Under-21 team at the age of 17, when coach Igor Biscan listed him in the squad for Under-21 Euro 2021 qualifiers against Lithuania and the Czech Republic. He debuted on November 14, 2019, against the former opponent, being named in the starting line up, as Croatia won 3 - 1.
On October 8, 2020, he scored the tenth goal in Croatia's 10 - 0 victory over San Marino, the largest victory in the history of the national team. On March 9, 2021, he was named in Biscan's 23-man squad for the group stage of the tournament; however, he was forced to miss it due to a quadriceps injury.
On May 17, 2021, he was named in Biscan's 23-man squad for the knockout stage of the tournament, as well as Zlatko Dalic's 26-man squad for the UEFA Euro 2020.After losing 2 - 1 to Spain after extra time in the Under-21 Euro quarter-final, Gvardiol joined the senior team.
He made his senior debut in a friendly 1 - 0 defeat to Belgium on June 6, 2021, being substituted on for Borna Barisic at half-time. A week later, he earned his first start for the national team, in a 1 - 0 defeat to England in Croatia's opening game of Euro 2020.
At the age of 19 years, 4 months, and 21 days, he became the youngest ever player to play for Croatia at a major tournament, surpassing Mateo Kovacic.He went on to start all Croatia's games at the tournament. On October 8, 2021,at a 2022 FIFA World Cup qualifying, he scored his debut goal for Croatia in a 3 - 0 victory over Cyprus.
2022 FIFA World Cup
On November 9, 2022, Gvardiol was named in Zlatko Dalic's 26-man squad for the 2022 FIFA World Cup. A day later, in a Bundesliga match against Freiburg, Gvardiol broke his nose after colliding with Willi Orban and thus prominently wore a face mask during the tournament.
He received extended praise for his defensive performance in the group stage, especially in the decisive match against Belgium on December 1 that ended up as a goalless draw and saw Croatia qualify for the knockout stage for the third time in history.
On December 17, 2022 in the third-place play-off against Morocco at Khalifa International Stadium in Qatar, Gvardiol scored his first goal for Croatia at a major tournament. At the age of 20 years, 10 months, and 24 days, he became the youngest ever player to score for Croatia at a major tournament, surpassing Ivica Olic.
In the match, Croatia took a seventh-minute lead through a stunning diving header from Gvardiol. But Morocco responded immediately as Achraf Dari nodded home from close range just two minutes later. Croatia restored their lead, though, in the 42nd minute with a wonderful curling winner from Orsic to claim their second World Cup bronze medal after achieving the feat in 1998.
Croatia's win clinched their third top-three finish at the World Cup after ending as runners-up to France 2018 FIFA World Cup. Gvardiol was named Man of the Match, as Croatia won 2–1. Despite being a favourite for the FIFA Young Player Award, he lost it to Enzo Fernandez.
Career with Dinamo Zagreb
During the 2019/20 season, Gvardiol made his league debut for the senior Dinamo team on October 18, in a 4 - 2 victory over Gorica, coming on for Mario Gavranovic in the 87th minute. In his second league appearance for the club on November 2, he scored the only goal in a 1 - 0 victory over Inter Zapresic. That made him the sixth youngest league goal scorer for Dinamo, after Alen Halilovic, Mateo Kovacic, Niko Kranjcar, Ante Coric and Tin Jedvaj.
On February 12, 2020, in a UEFA Youth League play-off against Dynamo Kyiv, Gvardiol successfully converted a penalty in a shootout as Dinamo won 4 - 3 and qualified for the Round of 16.In the match against Bayern Munich on March 4, Gvardiol deflected Leon Dajaku's shot into his own net to set the score to 2 - 2. In the resulting shootout, he successfully converted his attempt again as Dinamo won 6 - 5 and progressed to the quarter-finals.
On June 25, 2020, Gvardiol signed a five-year contract with Dinamo. On July 5, in the Derby against Rijeka when the league title was already mathematically secured, Gvardiol deflected Franko Andrijasevic's shot into his own net as Rijeka won 2 - 0, which would eventually cost coach Igor Jovicevic his job.
During the 2020/21 season, on August 26, in the Champions League qualifier against CFR Cluj, Gvardiol came on for Mario Gavranovic in the 54th minute following Kevin Theophile-Catherine's red card. The game led to a penalty shootout, with Gvardiol successfully converting his attempt, as Dinamo won 6 - 5 and progressed to the third qualifying round.
In late August and early September, the media reported on the interest of the newly promoted Premier League side Leeds United, whose manager Marcelo Bielsa offered €22 million to sign the 18-year; however, Gvardiol refused the offer and opted to stay in the Prva HNL and develop further.
On September 16, in a Champions League qualifier against Ferencváros, Gvardiol made an error that led to Myrto Uzuni's winning goal for 2 - 1 as the Hungarian champions knocked Dinamo out to the Europa League play-offs. However, on September 28, it was announced that Gvardiol signed for Bundesliga club RB Leipzig on a five-year contract for €16 million, plus various add-ons.
The fee was the highest ever paid for a Croatian teenager and the third highest ever paid for a Croatian defender, only behind Dejan Lovren and Duje Caleta-Car. Gvardiol remained at Dinamo for the remainder of the season. On October 22, he debuted for Dinamo in a senior UEFA competition, as Dinamo drew 0 - 0 with Feyenoord in the Europa League.
On November 16, Gvardiol tested positive for COVID-19, which forced him to miss the derby against Osijek, now coached by Bjelica, on November 21. On December 10, Gvardiol scored his first goal in a senior UEFA competition, as Dinamo defeated CSKA Moscow 3 - 1 in the Europa League. After completion of the Europa League group stage, Gvardiol's performances were highly praised, as Dinamo conceded only one goal and topped their group.
On February 28, 2021, he scored the opening goal and assisted the third one in a 3 - 0 victory over Slaven Belupo. However, after a quadriceps injury in training in early March, he was forced to miss both legs of Dinamo's Europa League Round of 16 tie against Tottenham Hotspur, which Dinamo won 3 - 2 on aggregate.
He returned for the quarter-final match against Villarreal on April 8, 2021, which ended as a 1–0 loss. Three days later, he scored his third goal of the season in a 2 - 0 victory over Lokomotiva. On May 22, 2021, Gvardiol played his last game for Dinamo, 1 - 0 victory over Sibenik.
His honours representing his club Dinamo Zagreb: Prva HNL in 2019/20, 2020/21; Croatian Cup in 2020/21; Croatian Super Cupin 2019.
Career with RB Leipzig
Josko Gvardiol has played 57 matches throughout the course of his career in the Bundesliga. Of these, he has won 30. He has played all the matches of his career in the Bundesliga as a member of RB Leipzig. Here, Gvardiol has put a total of three balls in the net.
Gvardiol made his Bundesliga debut on August 20, 2021 in a 4 - 0 victory over VfB Stuttgart, playing the entire match. He quickly established himself in Leipzig's starting XI and attracted attention with his good plays. On September 15, 2021, he made his Champions League debut in a 6 - 3 defeat to Manchester City.
On December 11, 2021, he scored his debut goal for Leipzig in a 4–1 victory over Borussia Mönchengladbach. He significantly contributed to Leipzig's good form during the beginning of Domenico Tedesco's tenure as manager, after the poor start of the season during previous manager Jesse Marsch's term. On January 23, 2022, he scored his second goal of the season in a 2 - 0 victory over VfL Wolfsburg.
By the end of the season, Gvardiol helped Leipzig win the DFB-Pokal and reach the semi-finals of the Europa League, accomplishing both feats for the first time in the history of the club. Furthermore, the DFB-Pokal victory in 2021/22 was also the first major trophy title in the history of the club.
On August 12, 2022, France Football announced Gvardiol as one of the nominees for the 2022 Kopa Trophy, where he eventually finished in sixth place. On September 1, 2022, Gvardiol extended his contract with RB Leipzig until 2027, with the club having rejected Chelsea's €90 million offer for the player.
On October 25, 2022, Gvardiol scored his first ever Champions League goal in a 3 - 2 victory over Real Madrid. The game was Madrid's first defeat of the season. On February 22, 2023, Gvardiol scored an equalizer in a 1 - 1 draw with Manchester City in the Champions League Round of 16. Aged 21 years and 30 days, he became the youngest Croatian player ever to score in a Champions League knockout phase.
Current Season 2022/23
In the current season, Gvardiol scored one goal into the opponent's net. In 23 of the previous 28 games of the season, he was in the starting line-up. Of these 28 games, he won 15 with his club. Additionally, he was substituted in five games.
His pass success rate amounts to 91.14 per cent. This result enables the 21-year to occupy eighth place in the league ranking for this category. His tackle success rate amounts to 61.56 per cent. With this, he occupies second place in the team-internal statistics.
The 1.85m-tall defender played his last game of the 2022/23 season on April 29, 2023. He was victorious over TSG Hoffenheim while playing for RB Leipzig with a score of 1 - 0. He was in the starting line-up in this game and played as a defender for 59 minutes. In terms of total touches, he had 66 individual ball possessions.
Furthermore, he had 12 tackle challenges in the last match. Of these, Gvardiol, the player with shirt number 32 was able to win seven. He was additionally able to make 52 successful passes. He covered 7.3 km during his total playing time in this game. In doing so, Gvardiol did a total of eight sprints.
His individual honours include: Trophy Footballer for the Best Prva HNL Under-21 player in 2021; Trophy Footballer for the Team of the Year in 2021; IFFHS Men's World Team in 2022; IFFHS Men's World Youth (Under-20) Team in 2022.
(The author is an Associate Professor, International Scholar, winner of Presidential Awards and multiple National Accolades for Academic pursuits. He possesses a PhD, MPhil, and double MSc. His email is [email protected])