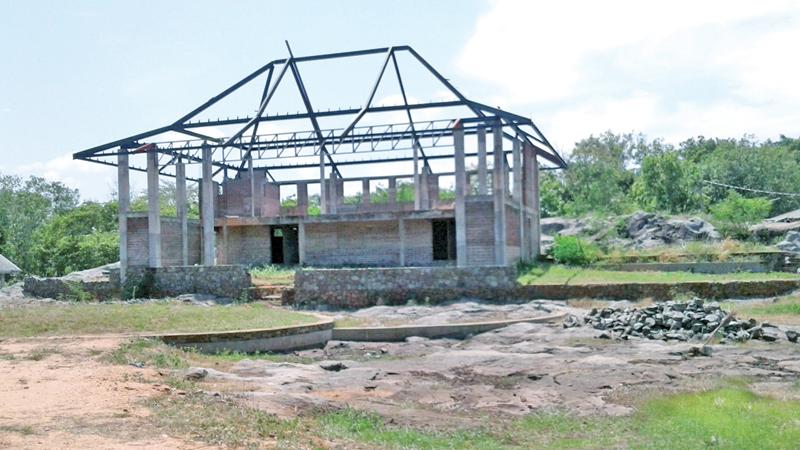 Construction work on an art gallery, a part of the Dambulla T.B.Tennakoon Memorial Open Air Art Theatre has come to a virtual standstill for the past 18 years.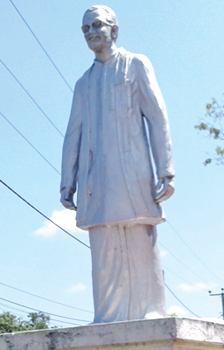 Statue of the late Minister T.B. Tennakoon
The construction work on this art gallery began in 2005. To date only the audience hall has been completed, but that too has been abandoned.
The estimated cost of the project was Rs.10 million. Residents of the area said that the large sum of money spent on the gallery has been wasted since the construction work has halted.
Highlighting that the structure was in a deplorable state, they said that it would become completely dilapidated if it were to be left untouched for any longer.
The main objective of the construction of an open air theatre was to provide facilities to enhance the inborn talents of the artists in the area.
The residents in the area point out that the non- completion of the entire work on this open air art theatre is a disgrace to the great personality who was a major contributor to the development of Dambulla town where he inaugurated the special economic centre.
He was also the founder member of the S.L.F.P. and former Minister of Social Services and Cultural Affairs. He had rendered a yeoman service for the benefit of the poor masses," they said.
At present both the audience hall and the half built art gallery have become home to cattle in the area who have taken over the abandoned construction site. They point out that the audience hall is being used by certain peaple for nefarious activities causing trouble for many who live in the vicinity.
Artists living in and around the Dambulla town call upon the Minister of Cultural Affairs to look into this matter and take immediate action to complete the construction work on this project so that it can be used for its original purpose.