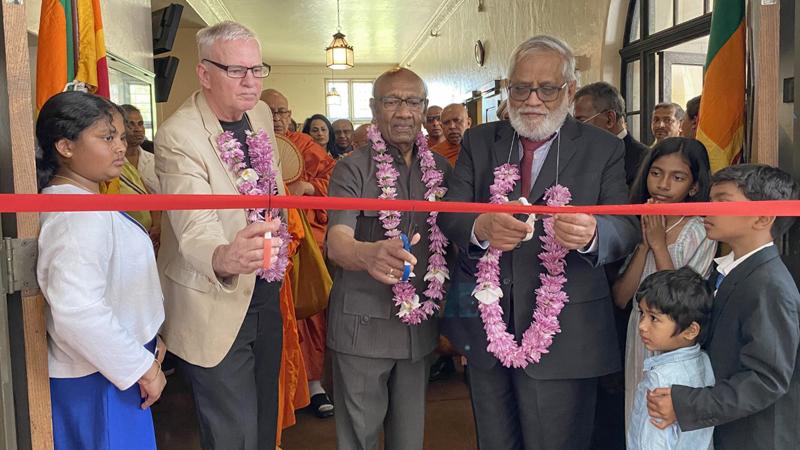 Encompassing a room full of walls at the UCLA Art Gallery, Los Angeles, a panorama of seventy-five strikingly attractive nature photographs was exhibited on the Earth Day weekend, from April 22-23. Visitors enjoyed discovering the works of seven award-winning photographers who brought their fascinating work all the way from Sri Lanka for the exhibition.
With a fierce commitment to pushing boundaries and experimenting and exploring the possibilities of the still image, the America Sri Lanka Photographic Art Society Los Angeles (ASPAS), in association with the Consulate General of Sri Lanka in Los Angeles, held 'The Beauty of Sri Lanka' photographic Exhibition at the Art Gallery at UCLA commemorating the Earth Day 2023 and the 75th anniversary of diplomatic relations between Sri Lanka and the United States for which special exhibits of historic photos were on display.
Scenic beauty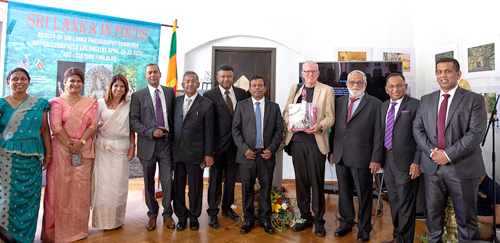 From Left: Secretary ASPAS Sadeesha Perera, Presenter Medini Rathnayake, Photographer Hiranthi De Silva, Director Education Sanjaya Warnansuriya, Director Exhibition ASPAS Santha Weerasinghe, Photographer Andy Samarasena, President ASPAS Suria Perera, Keynote Speaker Prof Glen MacDonald, Consul General Dr. Lalith Sumanadasa, Photographer Chitral Jayatileke, Photographer and Artist Lakshitha Karunarathna
The exhibition is also designed to promote tourism in Sri Lanka. It depicted the scenic beauty of the Island and its fauna as well as the 2500-year-old historical and cultural heritage of Sri Lanka.
The works of award-winning photographers Chitral Perera, Lakshitha Karunarathna, Hiranthi De. Silva, and K.G. Keerthiratne, were on display, while the award-winning photographers who are U.S. residents Sanjaya Warnasuriya, Andy Samarasinghe and Shantha Weerasinghe joined them to exhibit their work.
The exhibition featured outstanding photographs of Sri Lanka's beauty and heritage as seen through their keen eyes as well as those of Suriya Perera, president of the America Sri Lanka Photographic Art Society (ASPAS), who is credited with holding the first Sri Lankan Photographic Exhibition in the United States. This year's event was the third in the series.
The exhibition was also intended to introduce viewers to a range of issues that currently impact the environment. Commemorating Earth Day 2023, the keynote speaker, Prof. Glen MacDonald, a distinguished Professor of Ecology and Geography at UCLA, made a brilliant presentation addressing such concerns.
He spoke about Sri Lanka and recounted that due to its incredible biodiversity, including mammal, bird, reptile, and plant species, Sri Lanka is considered one of the world's biodiversity hotspots. A number of species of animals and plants in Sri Lanka are also found nowhere else in the world. The nation also has a remarkable history, culture, and important monuments. It contains eight UNESCO World Heritage sites. Prof. MacDonald said that the population of Sri Lanka had grown significantly over recent decades to over 22 million people, which produces challenges in protecting the environment, the many rare species in Sri Lanka, and supporting its people. The burden of anthropogenic climate change is weighing heavily on tropical regions such as Sri Lanka. Temperatures have increased in most areas of the Island in recent decades, and this trend is projected to increase into the 21st century. The sea level is also rising and will continue to do so.
Climate change impact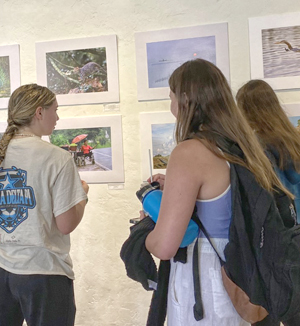 Along with high temperatures and rising seas, incidences of drought, destructive cyclones, floods, and landslides have been projected to increase in Sri Lanka. Prof. MacDonald said that a report by the World Bank Group concluded that increased flooding may be one of the most significant challenges faced by Sri Lankans. As is the case for many tropical nations, Sri Lanka faces economic challenges in developing the adaptations to meet these climate change vulnerabilities while at the same time being responsible for only a very tiny fraction of global greenhouse gas emissions.
Despite this, Sri Lanka has embarked on a solid path toward reducing its greenhouse gas emissions and preserving its forest cover and other natural resources. Prof. MacDonald said that in these efforts, Sri Lank could serve as an example to the tropical and the world in general.He concluded by discussing the importance of the visual arts, and particularly photography, in making people aware of the immense beauty of Sri Lanka, its natural environment, flora and fauna, and peoples, and in motivating environmental efforts. In a message read at the exhibition, American Ambassador to Sri Lanka Julie Chung said, "This photo exhibition, conveniently timed with Earth Day, showcases the beauty of Sri Lanka, and highlights the island's flora and fauna. As you revel in the beauty of this island, it is worth considering the looming threat of climate change and its impact on species, habitats, and ecosystems."
"The United States is active in helping Sri Lanka to advance solutions including support for green technology industry, climate-smart agriculture, climate finance, and climate change policy. Working together, we want to keep Sri Lanka's rich biodiversity thriving for generations to come."
The Ambassador said, "This kind of partnership is nothing new. This year we are celebrating Sri Lanka's 75th anniversary of independence, as well as the 75th year of diplomatic relations between our countries. For 75 years, Americans and Sri Lankans have worked in partnership to embrace democracy, strengthen our economies, and support a free and open Inda-Pacific region. Our shared goals around people, progress and partnership underscore our combined efforts and friendship."
The writer is a former Deputy Director-General, United Nations.