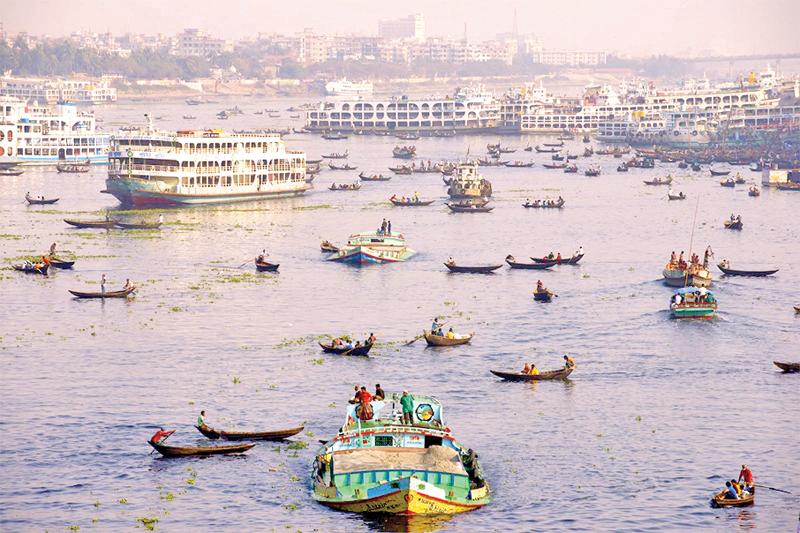 Peace, Prosperity and Partnership in the Indian Ocean is our mutual interest. This region has enormous economic potential and is the lifeline of global trade.
The Indian Ocean Region (IOR) has always been a significant place of interest for all countries and today in the emerging multipolar world where Asia has become a major economic power, managing competition and strengthening cooperation is essential to the peaceful development of the region, Ports, Shiping and Aviation Minister Nimal Siripala de Silva told the Sixth Indian Ocean Conference in Dhaka, Bangladesh over the weekend.
Excerpts from his speech
"The "6th Indian Ocean Conference" is the flagship consultative forum on maritime diplomacy that brings together critical States and principal maritime partners from across the Indian Ocean Region (IOR) to discuss the challenges and opportunities that lie ahead in the IOR and ways and means of increasing regional connectivity.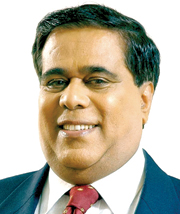 Nimal Siripala de Silva
The organisers of this conference should be commended for their forward-thinking approach in convening this important initiative, particularly in light of the ever-evolving economic opportunities that present themselves in this fast growing region. The IOR is destined to define the future of the world and Sri Lanka, located in the centre of the Indian Ocean is well poised to play a significant role of cooperation.
The countries in the IOR have historically played a significant role in global trade and commerce, and given rise to some of the great civilisations of the world. Sri Lanka has reiterated at previous meetings of the Indian Ocean Conference that it is time for IOR countries to take a role in determining their own future. Sri Lanka will be taking over the Chair of the Indian Ocean Rim Association (IORA) later this year which gives us an opportunity to protect our common interests.
Natural resources
The Indian Ocean is a vital conduit for international trade and is home to vast reserves of natural resources. It is imperative to ensure that the IOR sustains its status as a peaceful and prosperous region, where all nations can equitably benefit from its abundant resources in a sustainable manner. Therefore, we must commit ourselves to ensure the rights and responsibilities of all States for the sustainable use of the Ocean. Many countries remain dependent on energy supplies and traded goods that are carried across the region. Those who are geographically located in the region have a primary interest in the security of the Ocean, which is more often than not linked to their economies and the livelihoods of their people.
It is worth noting that the countries located along the shores of this Great Ocean are among the most densely populated regions on earth. The nations of the region have emerged as some of the world's fastest-growing regions and continue to make remarkable progress in various sectors. Sri Lanka notes the recent entry into force of the ASEAN led Regional Comprehensive Economic Partnership (RCEP) and considers that this could serve as a catalyst for economic integration in Asia. The ongoing discussions between ADB, AIIB and BRICS on building synergies for growth is an important development.
Businesses in the region must grow for the region to develop in economic strength. Businesses require capital for expansion. This is why Sri Lanka has consistently urged for the incorporation of an Indian Ocean Development Fund (IODF) for the development of the region and in particular, establishing a strong Humanitarian Assistance and Disaster Management mechanism to deal with natural and manmade disasters.
Sri Lanka also believes that there is a significant need for enhanced IOR, regionalism that focuses on augmenting cooperation across the maritime domain. Such regionalism should strive to create closer linkages between ASEAN, IORA and BIMSTEC.
The IOR plays a pivotal role in the world's economy and global growth. Our collaborative effort will fully harness the immense potential of the region and further strengthen the bonds of cooperation and friendship among us.
Sri Lanka's historical and cultural significance as a central hub for connectivity in the Indian Ocean cannot be overstated. Our strong partnerships with the IORA nations have enabled us to play an important role in the region's multilateral engagements.
Sri Lanka is committed to further strengthening these partnerships and engaging with the regional community to promote peace, prosperity, and development in the region, particularly as we take up the Chair of IORA later this year.
Need for vigilance
It is important to note the need for vigilance regarding the security of the Indian Ocean. As littoral nations, we have a shared responsibility to ensure the safety and security of this Ocean. The maintenance of peace and harmony in the region is of paramount importance to all countries that surround this ocean.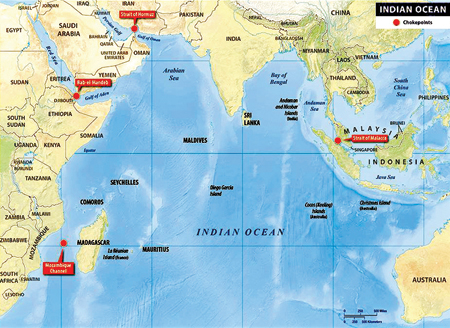 As per recent reports from the World Bank, the economic outlook for South Asia is shaped by a combination of positive and negative factors. While lower commodity prices, a robust recovery in the services sector, and improved value chain stability are aiding the region's growth, rising interest rates and financial market uncertainties are exerting downward pressure on the region's economies.
Sri Lanka is keen to engage with all littoral states and foster trade with all our partners to further enhance economic activity in the Indian Ocean region.
The emergence of the Blue-Green Economy offers a unique opportunity to address complex and inter-connected economic challenges; perhaps climate resilient green economic policies could bring economic growth and prosperity to the IOR.
With sustainable growth the new focus of the global policy discourse, many countries have embarked upon the development of more integrated ocean governance frameworks which help avoid, or at least limit, inter-sectoral conflicts at the outset, and to highlight any trans-boundary implications of coastal/oceans development.
Countries seeking to develop their blue economies have, to varying degrees, acknowledged the need for policies that better align future economic growth in their seas with maintaining or even restoring ocean health.
Sri Lanka has already made significant progress in terms of the development of national Blue-Green Economy initiatives. Being a climate vulnerable country Sri Lanka has seized the opportunities for sustainable economic growth through climate resilience.
With the vision of change and development despite the climate insecure environment we are facing, we have focused on climate smart development through renewables. Therefore, it is vital to shift to the renewable energy sector to address the current critical economic crisis and to alleviate poverty with a view to bringing about prosperity in the region and in the world.
Climate change continues to have a profound impact on the IOR, with adverse consequences for our environment, communities, and economies. In order to address the challenges posed by climate change, it is imperative that we build appropriate capacity in the region.
I am pleased to inform you that during COP27, President Ranil Wickremesinghe announced his intention to establish an International Climate Change University (ICCU) in Sri Lanka. This innovative initiative will support Green and Blue Studies and serve as a platform for research and policy advocacy related to climate change in the IOR.
Regional partners
We believe that the establishment of this university will be a valuable contribution to the regional and global efforts to combat climate change, and we call upon the support and cooperation of our regional partners in making this vision a reality. We look forward to working together to build a more sustainable and resilient future for the IOR.
We firmly believe that by working together towards these common goals, we can achieve sustainable peace and prosperity in our region.
We are optimistic that through collaborative efforts, we can create an environment conducive to economic growth, innovation, and progress for all nations in the IOR. Sri Lanka strongly believes that this forum facilitates to reaffirm our commitment to these shared objectives and work towards building stronger partnerships and collaborations that will advance our mutual interests.
We all should work together, with other major maritime nations beyond the region, and with multilateral institutions to promote economic prosperity and harmony in the IOR.
I urge all to come together and build a shared vision of cooperation that promotes economic growth, security, and stability in the IOR. By working towards these common goals, we can create a brighter future for ourselves and for generations to come.
This conference provides us with a valuable opportunity to engage in constructive dialogue and exchange ideas that can help to further strengthen cooperation and partnership in the IOR. I look forward to discussions and to learning from the valuable insights and perspectives shared by the delegates.
We should continue to engage in productive and collaborative discussions, and explore new avenues for cooperation and partnership. Together, we can build, a stronger and more prosperous IOR.