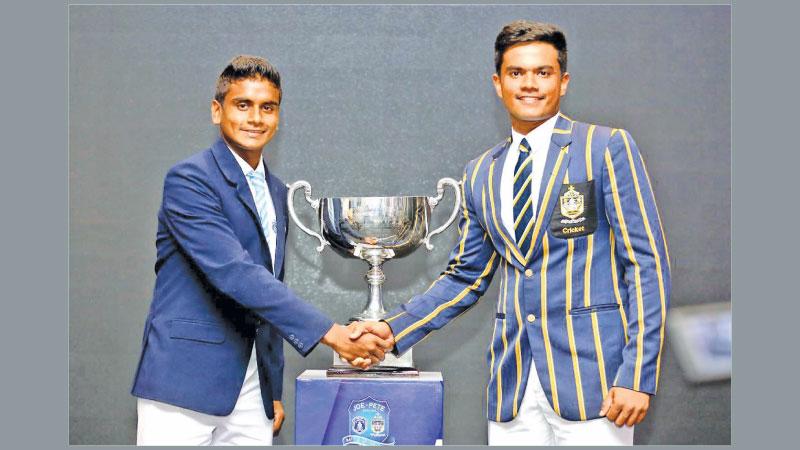 Much is expected when the 89th Battle of the Saints annual cricket big match between St Peter's College and St Joseph's College played for the Fr Maurice Legoc trophy gets underway on April 28 and 29 at the Sinhalese Sports Club (SSC) ground in Colombo.
The match will be sponsored by Dialog Axiata Group and both schools have many a historic and traditional record to brag about.
The Peterites will be led by all rounder Nimuthu Gunawardena and the Joes by Sri Lanka under-19 player Sadeesh Jayawardena.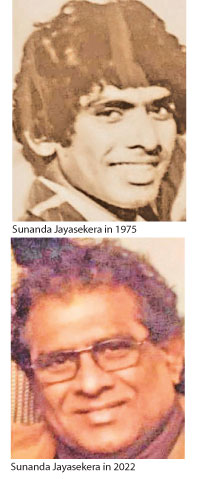 Speaking at a media conference Fr Rohitha Rodrigo- the rector of St. Peter's College declared: "The Battle of the Saints between St. Peter's and St. Joseph's is one of the most anticipated annual encounters in Sri Lanka's school cricket calendar and I'm pleased that the 89th edition of our beloved encounter will be played in its past glory".
The rector of St. Joseph's Fr Ranjith Andradi said followers of the match irrespective of age can look forward to some fine excitement.
"This big match between the two schools has a long history of tradition as two of the leading catholic schools in Sri Lanka. I am sure both teams will play exciting cricket to bring excitement to both young and old Peterites and Josephians. May the class of cricket played at the 'Battle of the Saints' and the Josephian-Peterite camaraderie grow from strength to strength" said Fr Andradi.
St. Joseph's leads the series with 12 wins and their last win came under the captaincy of Ruwantha Fernandopulle in 2008 while St. Peter's won the 2016 encounter under all-rounder Vinu Mohotty and has an overall tally of 10 wins in the series.
Dialog Axiata PLC, HNB, Ceylon Biscuits Limited, American National College, Elephant House, Keells Krest, Maggi and Jetwing Hotels have all rushed in as sponsors.
Sunanda Jayasekera's memorable one-dayer
Meanwhile the 49thJosephian-Peterite limited overs match which is the longest running limited overs encounter in Sri Lanka played for the Fr. Peter A Pillai trophy will be played on April 30 at the SSC ground and what cannot be forgotten is a record that will never be broken.
Interestingly in the inaugural one-dayer St. Peter's College's famous right arm opening fast bowler, rugby player and basketballer Sunanda Jayasekara created a historical record by dismissing St. Joseph's prolific scorer and left handed opening batsman Rohan Wijesinghe Snr. in the very first ball of the game.
He also had a fabulous match where he came back to haunt the Joes by grabbing the scalp of the last wicket that of run machine and hard hitting batsman Wayne Jansz to end his spell, 2 wickets for 12 runs.
What happened in the very first ball by Jayasekera made history which can never be equalled, erased or broken, the rising out-swinger that took the bat of Wijesinghe who was caught at first slip by S.C. Rohan Fernando on the second attempt as the ball flew like a lightning bolt and the school's 50-over Vaseline Trophy Champions were totally rattled and were bundled out for 118 runs.
According to statisticians, Jayasekera's first ball wonder is a world record and a great honour for St. Peter's College.
Speaking exclusively to the Sunday Observer from Canada, Jayasekera said: "Before we went into the ground my late coach Mike Chanmugam (a highly respected St. Peter's College old boy) instructed me on how I should bowl to Rohan. So I simply took his advice and exactly made the execution spot-on by bowling a rising out-swinger which Rohan had no clue whatsoever and just edged it to first slip where Rohan Fernando took a diving catch at first slip.
"To date this unique record of taking a wicket in the very first bowl at an inaugural limited overs match has not been equalled or broken. This achievement is a record that no other schoolboy has done in the past or will achieve again; the record will stand forever as it was the inaugural 50 over match to be played among the schools. I take this opportunity to dedicate this unbreakable record to my beloved late father and my late coach Chanmugam".
The Joes leads the one-day series with 24 wins to the Peterites 21 with two matches ending in no-results and one game finishing in a tie. In last year's encounter the boys from Bambalapitiya under the captaincy of Sri Lanka national under 19 player Wanuja Sahan beat the high riding Josephians captained by Sri Lanka under-19 vice captain Shevon Daniel with a sensational victory in the end.
The Josephian-Peterite limited overs or one-day encounter commenced in 1975 when Fr. Quintus Fernando of St. Joseph's College and Fr. Clever Perera of Peter's College were the rectors and the first game of the series was played at Darley Road on March 16.
The two-day encounter as well as the one-day match will be telecast Live on Dialog Television channel Number 70, live-streamed on ThePapare.com and on Dialog VIU app.