Sri Lanka's automatic or direct qualification to the upcoming 2023 World Cup in India through the Super League came to a pathetic end after losing the third and final ODI to New Zealand by six wickets at Hamilton, New Zealand last Friday.
Eight teams qualify directly for the 2023 World Cup and seven teams, New Zealand, England, India, Pakistan, Bangladesh, Australia and Afghanistan have already secured their slots.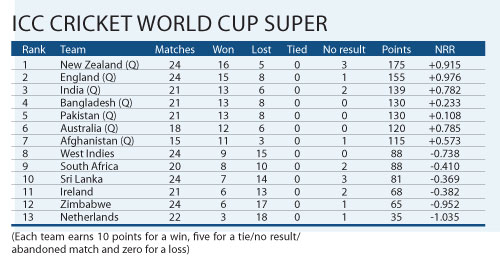 The West Indies currently sit in the eighth and last automatic slot after completing all their Super League games with 88 points but South Africa also with 88 points can oust the Caribbean team from the eighth slot if they beat the Netherlands 2-0 in their ongoing series.
Ireland too has three more direct qualifying round matches against Bangladesh and will have to win all three to have any chance of taking the eighth slot.
In all, only 10 teams will play in the 2023 World Cup and Sri Lanka must now play in the outside qualifiers set to be held in Zimbabwe later this year to secure one of the two remaining slots.
There will also be five non-Test playing countries or Associate teams that will feature in these outside qualifiers.