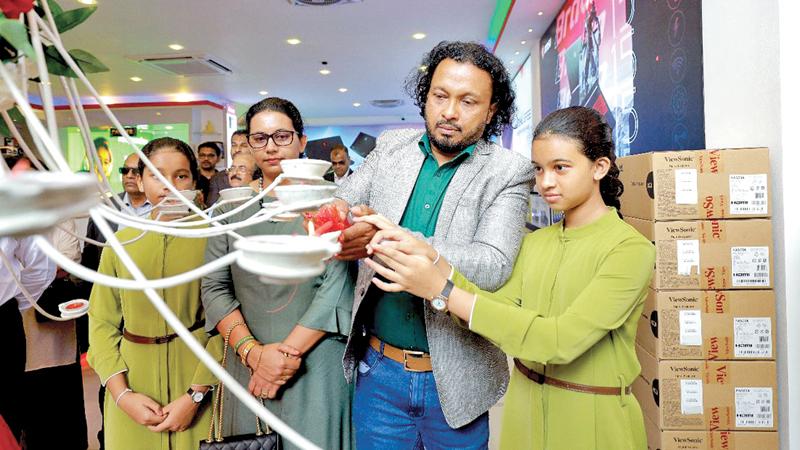 Sell-X Computers (Pvt) Ltd. which deals in all brands of computers in Sri Lanka, opened its new head office and showroom in a five-storied building recently.
The Sell-X Computers, the leader in the sale of computers and related accessories, with a distribution network across Sri Lanka and focusing on the Southern Province and the capital, moved its headquarters to a new building in Galle, Kithulampitiya area, further establishing the trust it has won among the customers for almost two decades. The new head office also will facilitate the expansion of the company's services to its customers.
"Sell-X Computers Pvt. was initiated with five used computers, almost two decades ago. Today, our company has become a huge organisation that distributes, sells and provides after-sales services for all the world's major brands in Sri Lanka. We have five branches in the Galle district, two branches in the Matara district, one in Colombo and a strong distribution network spread across the island," Founder and CEO of sell-X Computers Sameera Bopage said.
Today, Sell-X Computers is working beyond the sale of computers to provide other modern technical services related to computers. 
The company has expanded its product range and services to include, CCTV and security solutions with renowned expertise in computers. Also it provides end-to-end solutions for businesses and homes including network solutions, camera solutions, security and access control solutions, Personal Automated Branch Exchange (PABX) solutions, Public Address Sound Systems (PASS).
It has established a new home and has given its customers the opportunity to get many latest services under one roof.
Sell-X Computers is working to provide all computer accessories and services especially related to computer games at an affordable price and in conjunction with the opening of the new headquarters building, the opportunity to get free experiences related to computer games has also been provided. To mark the opening of the head office and showrooms in a new five-storey building, special discounts are being offered on the purchase of computers from all sell-X Computers showrooms across the island.
Upholding high ethical standards and business principles, sell-X Computers provides services with integrity, reliability and professionalism, which has resulted in a large number of satisfied customers spread across the country, he said.