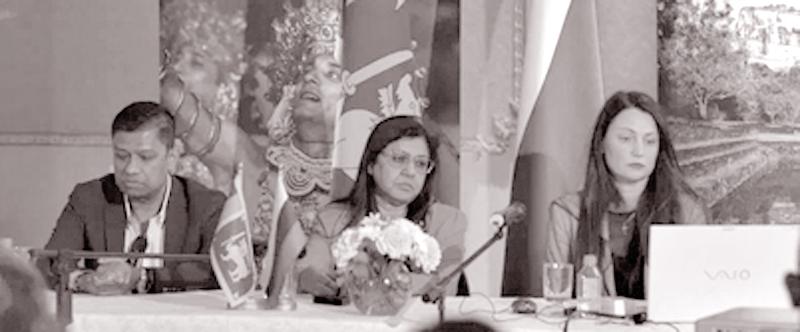 Sri Lanka showcased its holiday opportunities to make Russian travellers consider having a different experience in a different destination, at the Moscow International Travel & Tourism Exhibition (MITT) in Moscow recently, for the 29th successive year.
Sri Lanka's pavilion at the exhibition was organised in collaboration with the Embassy of Sri Lanka in Russia, and the Sri Lanka Tourism Promotion Bureau (SLTPB). 
Sri Lanka Tourism Promotion Bureau attended MITT 2023 with 12 travel industry participants representing travel companies and hotels. They are Aitken Spence Travel, Exotic Holidays International, Deluxe Vacations, Tangerine Tours, Ceylon My Dream, Deluxe Holidays, Walkers Tours Ltd, Lanka sportreizen, Galle Face Group, RIU, Madulkelle Tea & Eco Lodge and Anantara Peace Heaven Resort.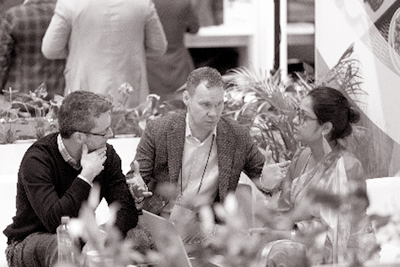 The Sri Lanka stand was opened by  Sri Lanka Ambassador to Russia, Prof. Janiatha Liyanage.
Chalaka Gajabahu, and Ms. Sasika Jayaweera of the Sri Lanka Tourism Promotion Bureau and Chamila Jayarathne, Tishan De Silva, Ms. Olessya Romanova and Ms. Anna Makarovskaya of the Sri Lanka Embassy were also present. The number of visitors this year increased 61% compared to last year's MITT event in Russia. 
There were over 14,830 visitors, 750 exhibitors from 20 countries and 57 regions of Russia.
On the final day of the event Sri Lanka won the accolade of Most Welcoming Stand of the year at MITT 2023 presented by the fair organiser. 
The Sri Lanka Tourism Promotion Bureau also organised a networking session along with a media briefing in collaboration with the Sri Lanka Embassy in Russia. 
Head of Currency Control Department at National Investment Industrial Bank, Russia, Ms. Alexandra Sukneva, outlined the steps taken by the bank to overcome the sanctions imposed on Russia by teaming up with the  People's Bank.
On the sidelines of MITT 2023, the Sri Lanka Tourism Promotion Bureau and the Sri Lanka Embassy in Russia, held discussions with Russian Airlines, to increase the frequency of their commercial flights to boost tourism. 
Sri Lanka Tourism continues to proceed with its promotional activities in Russia with the support of the industry, bringing foreign media, bloggers, influencers, travel agents and also attending key promotional events overseas.
A six-month PR campaign and a two-week short-term social media campaign is in the pipeline to increase the influx of tourists from Russia.