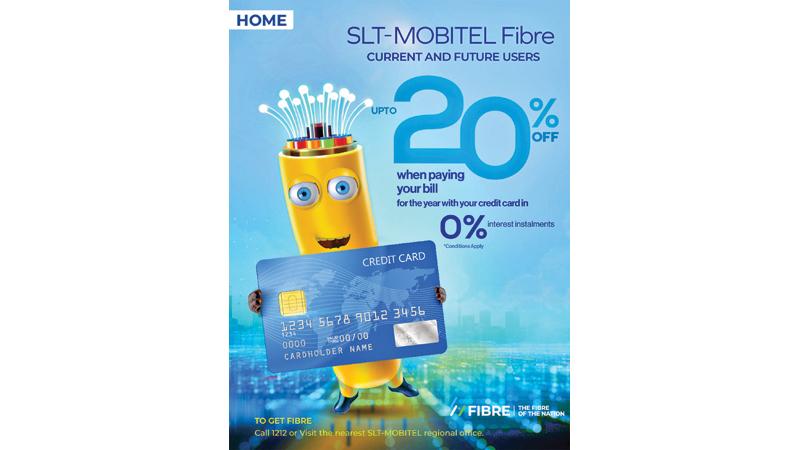 SLT-Mobitel has launched a credit card deal for all Fibre customers. As a part of this offer, tailor-made data packages will not only offer discounted prices, but also provide customers with more data monthly, and the ability to pay in monthly instalments with zero interest depending on the bank, through their credit cards.
With the economic situation in Sri Lanka making the telecommunication market more competitive, SLT-Mobitel recognises the importance of controlling expenses and providing feasible solutions for customers. To that end, the company is introducing credit card deals offered by leading banks, for their Fibre home connectivity plans.
The new plans include Triple Play and Double Play packages for new and existing customers. For new customers, the Triple Play package includes a new connection and Voice, Broadband, and PEOTV for 12 months. The Double Play BB package for new customers includes a new connection and Voice, and Broadband for 12 months. For existing customers, the Triple play package includes Voice, Broadband, and PEOTV for 12 months, while the Double Play package includes Voice and Broadband for 12 months.
All plans come with a monthly broadband quota of 75GB anytime data and 25GB YouTube data per month. Customers have the choice to either stick with the same package or move to another commercially available package. SLT-Mobitel is committed to providing its customers with affordable and accessible services, and the new credit card deals for Fibre customers is just one example of that commitment.
Customers are encouraged to take advantage of the credit card deals to pay for their plans through monthly instalments, providing greater flexibility and convenience.