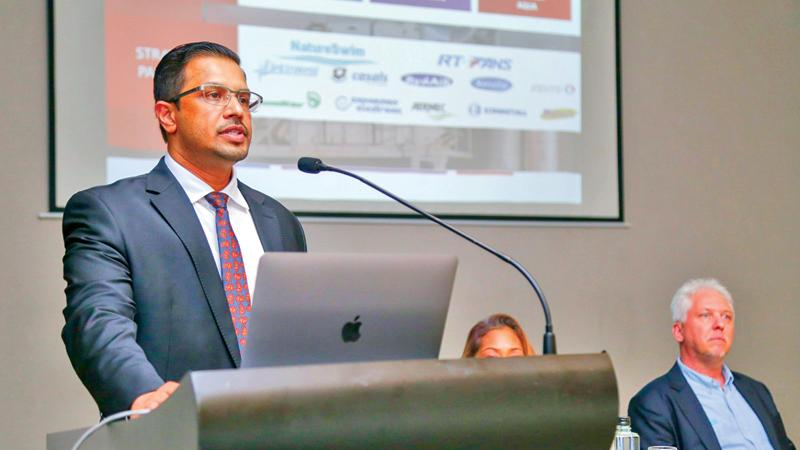 Sirochem Aqua (Pvt) Ltd, a subsidiary of the Sirocco Group of Companies, held an open forum at the Jetwing Colombo Seven hotel recently to promote its vision to build and convert domestic and industrial swimming pools using chlorine-free technology.
Sirochem Aqua hosted its international partner – NatureSwim, where the CEO and Development Director, Mattias Nordin introduced the cutting-edge technology used in their efforts to recreate scientific purifying techniques that have been inspired by naturally occurring systems which enable harmful substances to be filtered from the pool water, making it safe enough to even drink.
In fact, the extensive electronic oxidising, ionization and ultrasonic processes used, turns unrefined water into essentially purified drinking water itself. With over 14 years in operation, Sirocco has the largest portfolio of ventilation fans in the market and has completed close to 1500 installations for a variety of local and international clientele in air purification and ventilation systems, which is their core business.
As air purification systems entered the spotlight during the Covid-19 pandemic, the critical issue of air purification was given prominence and Sirocco used their considerable expertise in the trade to help support vital infrastructure like hospital ICUs. Sirocco Managing Director, Suren Chandraratna, said that he is proud to realise his father's dream today with Sirochem Aqua (Pvt) Ltd that brings to the market, a healthier and more sustainable solution for residential and commercial swimming pools. Chandraratna acknowledged that the current industry regulations continue to determine the standards of swimming pools by assessing the quantum of chlorine in the water, rather than analysing the water purity. This status quo needs to be reconsidered to ensure progressive standards for the future.
The vices of traditional swimming pools that are rendered safe for human use, using chlorine were compared with the virtues of fresh water pools at length, which identified a plethora of reasons to consider making the switch.
From exacerbating harmful skin conditions to increasing maintenance costs, the environment-friendly, state-of-the-art, advanced oxidation process technology introduced by 'NatureSwim' that has been sanitising pools for over 20 years with over 10,000 systems installed around the world.
Sirochem Aqua's partner - 'Poolnologies' provides a freshwater pool system with an innovative sanitisation mechanism that can be fitted onto existing pool systems and turns pools into clean and chemical-free freshwater pools.
Mattias Nordin said action should be taken to move away from the traditional systems of using harmful chemical substances to clean pool water. The proposed mechanism is 100 times stronger and 1,000 times faster at sanitising pools than chlorine, thereby resulting in an immediate return on your investment by reducing your operation and maintenance costs.