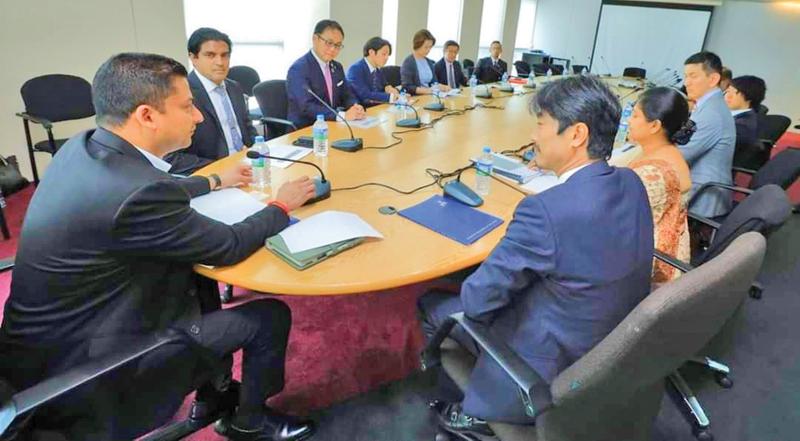 A group of Japanese investors along with Japan Deputy Head of Mission Katsuki Kotaro called on the Board of Investment (BOI) recently to discuss investment opportunities in Sri Lanka.
The investors had a productive discussion with Investment Promotion State Minister Dilum Amunugama, BOI Director General Renuka M. Weerakone and officials on investment opportunities in Sri Lanka where the investors conveyed interest in investing in diverse sectors such as medical equipment manufacturing, pharmaceutical, travel and tourism industry especially cultural tourism, the hotel industry, property development and real estate.
State Minister Amunugama said, "Sri Lanka has come a long way in making reforms and progress since the economic crisis. The approved IMF program will definitelyhelp enhance investor confidence, creating a conducive ecosystem to do business, thereby attracting much-needed FDIs to the country."
He outlined the special investment policy, which is in progress to ease doing business where the BOI would be empowered to further facilitate investors. 
He invited the investors to invest in five new industrial and privately managed zones to be set up in the Northern Province and the Trincomalee district. Discussions are underway to grant tax benefits to investors in the future
DG Renuka M. Weerakone answering the queries of delegates, said, "The Investor Facilitation Centre (IFC) will be a single window to conduct businesses where each investor will get an individual official to look into mattersuntil the investor commences operation in the country. 
"Sri Lanka is making great progress as a country and has strong economic sectors and companies that are strongly looking forward to establishing and investment partnerships with countries like Japan. In this context, the BOI is looking forward to increasing and developing cooperation with Japan through novel investment projects," she added.