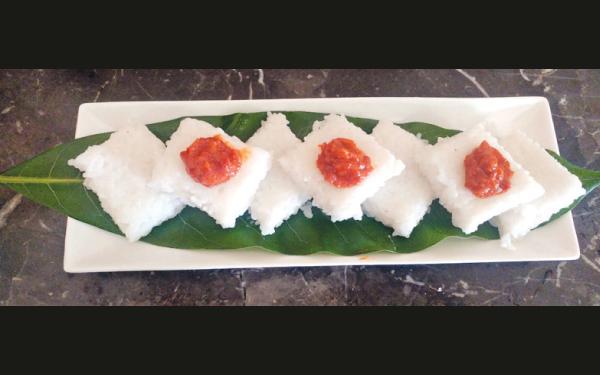 "Hmmm…" the taste, the smoothness and the smell all in one. Cream, white, a wonderful mix. I don't know what it was, but it was made with magic and love.
This talented, lovely master starts to bang pots and pans in the kitchen. She takes a little bit of snowy white rice and takes a coconut, splits it into two and then starts to scrape the snow out of the coconut. After that she heats the kettle and pours the hot water on to the beautifully scraped coconut.
This brave warrior puts her hand into the coconut and water mix and starts to squeeze out the water and then comes the creamy, oozy, beautiful, white milk. Then, she heats the rice and then comes out the snowy white, neatly cut, scrumptious rice.
We all sit around the table and I'm eagerly waiting for her to serve me two chunks of this magic stuff. Along with it comes lunumiris. As I bit into this rice the taste runs over and under my tongue.
It is kiribath. And this is all thanks to my wonderful mother. I tried to thank her but my mouth was filled with creamy kiribath. Well, I guess a 'thank you' isn't enough for her.
Dahami Abeynanda
Grade 8
Stafford International School
Colombo