The Bangladesh High Commission in Colombo observed the International Mother Language Day - 2023 recently at the historic Independence Square. Prime Minister Dinesh Gunawardena was the Chief Guest. State Minister of Higher Education, Dr. Suren Rāghavan, State Minister of Foreign Affairs, Tharaka Balasuriya and Heads of Diplomatic Missions and UN and International Organisations were present. People from all walks of life including academia, intellectuals, political and cultural personalities, Government officials, students and scouts from schools across the island also participated.
Depiction of thoughts
The Prime Minister and other dignitaries depicted their thoughts about the Day on canvas with strokes of brush and paint.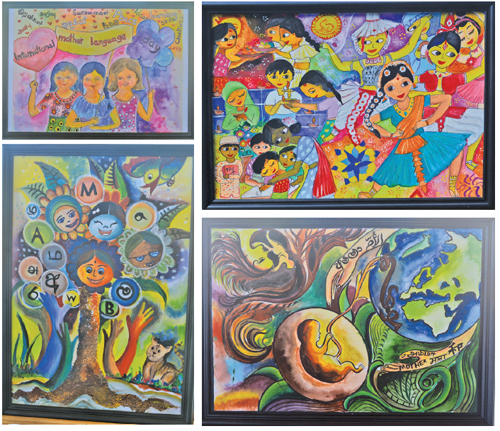 The program began with the rendition of the immortal Ekushey song by the children of the High Commission officials and their family members. The participants observed a minute's silence as a mark of respect for the Language Martyrs.
Creative writing and painting competition
To mark the International Mother Language Day an island-wide creative writing and painting competition for children was launched two months prior to event on the theme "Mother Language: Unity in Diversity".
This was done under the patronage of the High Commission with the assistance of the Ministry of Education. The winners of the competition were awarded prizes.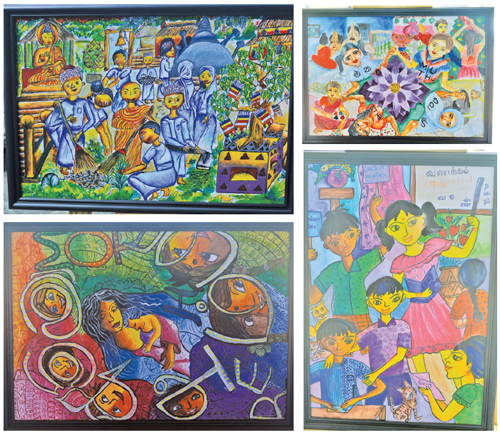 Cultural performance
The day's attraction was on multi-lingual cultural performance by the students and performers of the Swami Vivekananda Cultural Centre, the Russian House in Colombo, Maldivian Educational and Cultural Centre, Iranian Cultural Centre, SAARC Cultural Centre, Bangladesh High Commission and singers from Sri Lanka.
They showcased their cultural traditions and love for their mother tongue and motherland in eight languages, The finale was a K-pop performance. All the items drew huge appreciation from the audience.
The High Commissioner for Bangladesh, Tareq Md Ariful Islam spoke about the significance of the day, shared its historical perspective and emphasised the role of mother tongues in promoting an inclusive society and a peaceful world.
State Minister of Higher Education, Dr. Suren Raghavan spoke in English, Sinhala and Tamil, about the importance of preserving mother languages and linguistic diversity. UN Resident Coordinator Sarat Das spoke about the significance of multilingualism.
The event was organised in partnership with the Ministry of Education, United Nations in Sri Lanka and the Sri Lanka Scout Association.
A blood donation camp was also organised by the High Commission in association with the Sri Lanka Scout Association at the General Sir John Kotelawala Defence University Hospital.
The day's in-house observance began at the Chancery early morning with the hoisting of the national flag at half-mast followed by a minute's silence, special prayers and reading the messages of the dignitaries of Bangladesh.

Pix - Sudath Nishantha