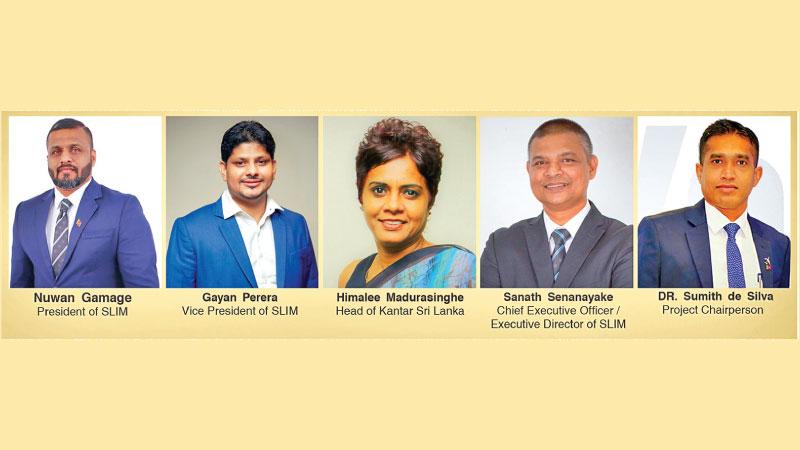 SLIM launched the 2023 edition of SLIM-Kantar People's Awards recently.
It is the only awards ceremony in Sri Lanka that recognises the heart share of the people.
Kantar, an international marketing data and analytics company operating in Sri Lanka at present, has partnered with SLIM as its research partner for the SLIM-Kantar People's Awards since 2022 and the theme for SLIM-Kantar People's Awards 2023 is "Choices define us".
The SLIM-Kantar People's Awards uses a scientific research process to identify the most popular brands, personalities, organisations, advertisements, songs, and artists that are close to the hearts of Sri Lankan people. Its distinctiveness lies in its people-led jury system.
Initiated in 2006 by SLIM, the apex body for marketing in Sri Lanka, People's Awards is anawards show where the people of the country act as judges. This pioneering concept has gained momentum over the years, making it a driving force in the marketing industry and a highly anticipated event among the public.
President of SLIM, Nuwan Gamage said, "SLIM ensures that we always collaborate with the best partners to execute our actions to fulfil the aspirations of Sri Lankan marketers. It is an honour to have Kantar Sri Lanka on board as the research partner to ensure that the survey is done in the most scientific and transparent manner. The credibility of Kantar Sri Lanka adds immense recognition to the People's Awards."
Director, Head of Kantar Sri Lanka, Himalee Madurasinghe said, "We at Kantar specialise in better understanding the people and help shape the brands of tomorrow for creating a positive impact. Our partnership with SLIM on SLIM-Kantar People's Awards reflects our commitment to using scientific research processes to help businesses and other stakeholders make informed decisions based on data and insights gathered through robust research methodologies."
Project Chairperson, Dr. Sumith De Silva said, "Our choices define us in many ways; choices reflect our beliefs, values, and character, and shape our experiences and opportunities. It's important to recognise the power of our choices and to make them wisely.
"As the objective of the SLIM-Kantar People's Awards is to discover what brands, personalities, and media institutions are closest to the people's hearts, the theme for SLIM Kantar People's Awards 2023 is 'choices define us'. I am honoured for having an opportunity to contribute to such a massive event," he said.
Vice President of Events at SLIM, Gayan Perera said, "In times of adversity, despite the short-term plunge in sales or demand, what remains constant is the 'heart share' of a brand, given that the brand has made strategic investments to nurture and cultivate this heart share.
"This is precisely why SLIM-Kantar Peoples' Awards has focused on inclusivity this year, with a renewed commitment to capturing the pulse of Sri Lanka's diverse society. By refining our research process and revising certain award categories, we aim to venture beyond the market share and recognise the heart share of the people," he said.
Chief Executive Officer / Executive Director of SLIM, Sanath Senanayake said, "SLIM-Kantar People's Awards recognises the brands that have stood out in their industries and have succeeded in creating a strong connection with their customers through exceptional quality, reliability, and value. We are proud and delighted to work with Kantar, the world's leading data, insights, and consulting company in this instance."