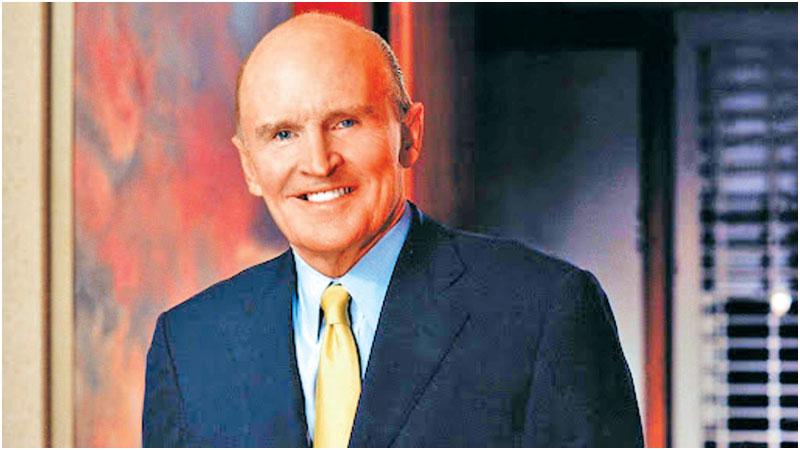 Three years have passed since the passing away of Jack Welsh, a legendary leader. He was hailed as a person who redefined management with refreshingly new approaches towards extraordinary results. His leadership legacy offers many learning insights which are valid in the current day and time. Today's column is a reflection of his accomplishments in identifying him as a transformational leader with many vital lessons for Lankans. 
Overview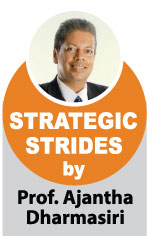 "Before you are a leader, success is all about growing yourself. When you become a leader, success is all about growing others." That's how John Francis Welch, popularly known as Jack Welsh, expressed his leadership approach. The way he transformed General Electric (GE), a US$ 70 billion worth American Conglomerate is an amazing story about "winning", the title of his bestselling book. 
A transformational leader inspires, influences and initiates in transforming his or her team members as empowered leaders. He/she essentially is a leader breeder. As opposed to a transactional leader who is more interested in results than relationships, he or she will ensure the right combination of task and talent in focusing on team-based achievements.
We can see much evidence from Welsh's words and deeds as to how he demonstrated transformational leadership in action. According to Prof. Paul Argenti of Tuck School of Business, "he was great at defining and executing a strategy and changing it when it needed to change. He was the consummate leader of his time." 
In "Jack Welch and Leadership," author James W. Robinson highlights the leadership secrets of a man who created an unflinching set of principles that enabled him to not only conquer obstacles in his youth, but also triumph in a brutal marketplace. He shares the amazing story of how Welch's inspiring vision and inexhaustible passion allowed him to take a struggling GE from a $13 billion organisation to a $494 billion "cash engine". How he created a corporate culture that cultivated new leaders is indeed a classic case study.  
"Good business leaders create a vision, articulate the vision, passionately own the vision and relentlessly drive it to completion", so said Welsh. We can dig deeper into "Well-done Welsh" by referring to four Is of transformational leadership advocated by James McGregor Burns. They are individualised consideration (IC), inspirational motivation (IM), intellectual stimulation (IS) and idealised influence (II). The Jack Welsh saga can be unfolded through these four Is with ample evidence. 
Individualised consideration 
This is essentially about "different strokes for different folks". Transformational Leaders actively work to create a diverse and a supportive environment, where individual differences are respected and celebrated. Based on whether the team members are senior or junior, young or old, educated or experienced, men or women, they need to be approached the way they deserve. Welsh did exactly the same. "Jack was one of the finest leaders I've ever met," said Larry Bossidy, one of his team members who was groomed by Welsh. 
There was another dimension for Welch's individualised consideration. He was given the nickname "Neutron Jack" for eliminating employees while leaving the office buildings intact. Welch was known for making surprise visits to office buildings and factories to check on his workers. He developed a "rank and yank" style of dealing with underperforming employees and managers by making clear cuts from staff based on their rankings against other employees and divisions.
At the same time, Welch made arrangements to cut the fat from what began as a nine-level layer of management and to set up an air of informality at the company. This was to induce a fresh breeze of compactness as if it were a small company rather than an amalgamated corporation as it became during his tenure and into the present day.
Inspirational motivation
"Giving people self-confidence is by far the most important thing that I can do. Because then they will act." That is how Welsh thought. Transformational leaders create an environment where the team members are motivated to perform. The inspirational motivation ensures that the team is dynamically geared to achieve results. Such leaders delightfully communicate their desire for higher performance expected from the team members. "We want each man and woman in this company to see a connection between what he or she does all day and winning in the marketplace. Their roles and responsibilities must be clear to everyone. Small companies thrive and grow on the sense of contribution and reward. We want it as well, and everything we do to evolve our management system will be consistent with getting it," said Welsh. 
Intellectual stimulation
Transformational Leaders challenge their team members to think and act using their brain and brawn. They ask the question why more, to probe deeper in finding a root cause to a problem. Rather than becoming an almighty problem solver, he or she guides the team members to solve their own problems. This is very much in line with what Walt Disney said, "Do not come to me with problems, but come to me with solutions".
The way Welsh created "work-out" sessions is a significant way to tap the brains of all the team members in moving them away from the hustle and bustle of busy business towards brilliant brain storming. 
"Focus on a few key objectives. I only have three things to do. I have to choose the right people, allocate the right number of dollars, and transmit ideas from one division to another with the speed of light. So I'm really in the business of being the gatekeeper and the transmitter of ideas." This is how Welsh demonstrated intellectual stimulation. 
Jack Welsh believed and promoted an ideal whereby his company and other companies should either be number 1 or number 2 in a particular industry or else leave it completely.  In adopting Motorola's Six Sigma program for increasing productivity in manufacturing industries and other management changes, Welch illustrated that the key to excelling in an industry relied on the value of the people working for that company, but he had little patience with lackluster performance.  "Willingness to change is a strength even if it means plunging part of the company into total confusion for a while." This illustrates Welsh's approach towards transformation. 
Idealised influence 
This is the toughest part of transformational leadership. The challenge of becoming a role model in practicing what you preach is a major challenge. It goes with the popular saying of Gandhi, "you must be the change you wish to see in the world". The world today full of false idols, yearns for authentic role models. We lost one with the demise of Welsh. "Be candid with everyone," was what Welsh did through his actions. 
With Welch at the helm, GE became famous for developing future leaders such as W. James McNerney Jr., Lawrence Bossidy, and David Cote, all of whom became CEOs of important industrial companies. He was famous for his teaching inside GE as well as in business schools such as MIT. It is interesting to see that over 35 top CEOs in the US have been trained by Welsh himself. Such idealised influence paved the way for 'Fortune magazine' to identify him as the "most valuable CEO on earth" for a time. 
Mixed feedback on Welsh  
"Jack changed the rules of the game," says 'Business Week'. "He was the first CEO to lay off workers while the company was still profitable. There were people who hated him for it. But if he hadn't done it, GE wouldn't have thrived." His controversial concept of "weeding off the bottom" in the performance curve sent severe warnings to poor performers. "Control your own destiny or someone else will," was what he advocated. 
"My friend, the former CEO of GE, was not a perfect leader. But his curiosity, his candor, and his focus on making the right people decisions ensured that he remains a role model," says Claudio Fernández-Aráoz of Harvard Business School.
He is candid in his assessment of Welsh. "Of course, Jack did make mistakes throughout his career. And perhaps he isn't the ideal model for 21st century leadership. However, as someone who knew him professionally and personally, I learned from him, and I believe that others still can too. Here are three of his principles that I believe can work for today's managers as well as they did for him". 
Perhaps, one of the most controversial issues related to Welsh was his selection of his successor, Jeff Immelt. Despite the two decades of grooming, When Jack Welch turned the keys of GE over to Jeff Immelt in 2001, GE was a well-run and greatly admired profit machine, stocked with exceptional management talent and innovative practices. Over the next 16 years, while Immelt held the top job, he completely demolished the House that Jack built. Obviously, Welsh cannot escape the blame of not strategically ensuring sustained results. "I've learned that mistakes can often be as good a teacher as success", said Welsh with a sense of self-reflection. 
Way forward 
'There are no good or bad institutions but only well-managed or ill-managed institutions." What Peter Drucker said makes profound sense to us today. It is applicable to nations as well. Sri Lanka is still lingering on due to leadership blunders creating chaos.
With an ailing economy recovering slowly and a range of issues affecting professionals and non-professionals alike, we need to ensure professionalism at all fronts with right leadership in action. "Well-done Welsh" will be a source of inspiration for Sri Lankan business leaders and administrators alike to demonstrate "speed, simplicity and self-confidence" in achieving stellar results.