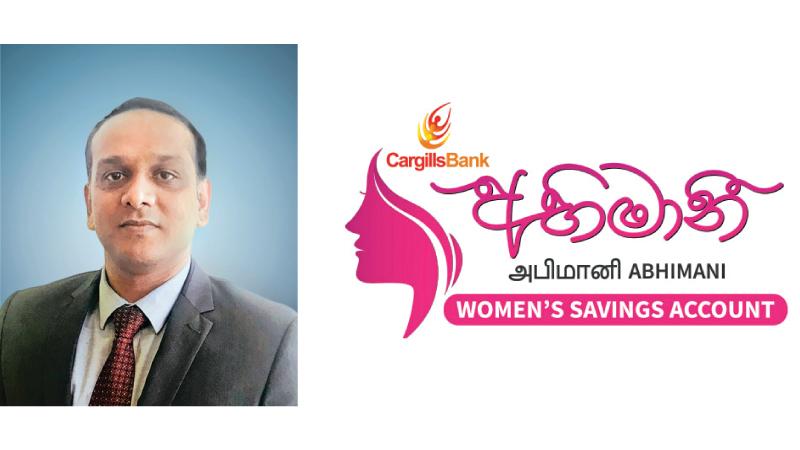 Cargills Bank has launched an exciting campaign to honour women in celebration of International Women's Day. The campaign is aimed at empowering women to take charge of their finances and savings, through Cargills Bank's women-centric banking proposition, Abhimani Women's Savings Accounts.
As part of this limited time offer, new and existing Abhimani Savings Accountholders will receive an attractive bonus interest rate when they deposit any amount during March 2023 and maintain an average balance of Rs. 5,000 for the month. This offer is exclusively from Cargills Bank and is designed to support women and their loved ones with their savings goals. In addition to this, Abhimani Savings Accountholders will also have access to convenient SMS alerts, plus mobile and internet banking facilities, with registration and annual fees waived for the first year. Furthermore, children of Abhimani accountholders will receive a free "PODIHITIYO" minor savings account with a free, prefunded initial deposit of LKR 1,000/-, providing a head start for the next generation's financial future. Cargills Bank is also pleased to offer a range of seasonal and non-seasonal benefits for its Debit Cardholders, adding extra value to their banking experience. Mr. Lasantha Mahendrarajah, AGM-Retail & SME Business at Cargills Bank, expressed his enthusiasm for the campaign stating, "At Cargills Bank, we are committed to empowering women and providing them with the financial tools they need to achieve their goals. We believe that the Abhimani Women's Savings Account, coupled with these exciting benefits, will be a significant advantage for our customers. We invite women across Sri Lanka to take advantage of this limited time offer and start saving for their future, today."
With a vision to be Sri Lanka's most inclusive bank driven by digital enablement, Cargills Bank is rated A(lka) by Fitch Ratings Lanka and is the financial services arm of the Cargills Group, providing a full range of banking and financial services. The Bank has also embraced the CBSL's vision of a cashless society and was the first to issue and acquire LankaQR transactions in Sri Lanka, driving island-wide technology-based payment solutions.
In addition to branches, ATMs and digital channels, Cargills Bank accounts are also accessible through Cargills FoodCity outlets island-wide and enjoy free cash deposits and withdrawals at any Cargills FoodCity counter, courtesy of the Cargills Cash Service. Cargills Bank's services include a full range of savings accounts, investment planner accounts, credit & debit cards, consumer loans, agriculture and micro financing, SME & business banking loans and trade facilities. The Bank also provides a range of flexible and convenient digital banking services, ensuring 24/7 access and absolute convenience.