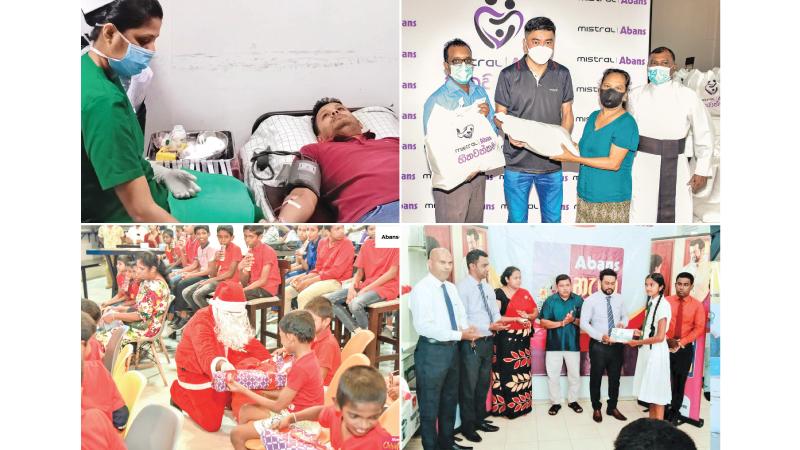 Abans Group, one of the largest conglomerates in Sri Lanka, continues to demonstrate its commitment to making a positive impact on the communities it serves. Through its ongoing corporate social responsibility (CSR) initiatives, Abans helps to improve the lives of many, in key areas such as education, environmental sustainability, health and wellness, and support for those in need.
One of the key areas of focus for Abans' CSR efforts is education. The company has partnered with various organizations to provide education and training opportunities for underprivileged children and young adults. This includes scholarships, computer training programs, and vocational training courses in fields such as electronics and information technology. The 'Study Buddy Abans Nena Pahana' campaign is a prime example of the efficacy of Abans' CSR strategy 'Building Sustainable Communities'. Through the initiative Study Buddy Educational packages were distributed, free of charge, among students through Abans showrooms.
Abans' commitment to health and wellness is also a key component of its CSR efforts. The company has made substantial investments in healthcare facilities, provided essential equipment and supplies to hospitals and clinics across the country, and organized health camps and other community events to raise awareness about important health issues. 'Life is Precious…Value it!' a discussion held in tandem with World Suicide Prevention Day, is a case in point. The objectives of this initiative were to raise awareness on suicide prevention and to offer support to individuals who may be struggling with suicidal thoughts. Abans' annual blood drive, which aims to satisfy the National Blood Bank's urgent blood requirements is another similar commendable CSR initiative.
Abans is committed to improving the lives of those who are less fortunate. The company has provided financial support to various organizations that work with the homeless, the elderly, and other vulnerable groups. For example, the CSR project 'Abans-Mistral Hithawathkama' was launched to assist low-income families who have fallen on hard times due to the prevailing instability in the country. A pack of essentials including dry rations were distributed among selected households. To ensure transparency, needy households were identified with the intervention of two Catholic Churches in Angulanaand Kadalana.The 'AbansNanasa' CSR project, a book donation campaign aimed at providing prisoners with educational and self-improvement resources stands as testament to Abans' commitment to community service.
There is no group more vulnerable than the orphaned. In an admirable attempt to share the joy of Christmas with the less fortunate, Abans recently held a special carol service with the participation of the children of Sri Jinananda Development Centre, Wellawatte. The event ties up with its CSR initiative, now in its second consecutive year, 'Be Their Christmas Miracle'.
"At Abans, we are proud to be a responsible corporate citizen and to make a positive impact on the communities we serve. Our commitment to corporate social responsibility is not just about giving back, it is also about creating a better future for all. Our dedicated employees play a critical role in bringing our CSR initiatives to life and it is through their hard work and dedication that we are able to make a lasting impact," said Group Chief Human Resources Officer, DulaniNissanka.
"At Abans, we understand the importance of giving back to the community and making a positive impact by offering our people a 'Better Way to Life', in line with Abans' Vision," said Group Chairperson, AbanPestonjee. This rings true considering her own humble beginnings of founding Abans from a corner store by Galle Road. "Through our CSR initiatives, we are helping to create a brighter future for Sri Lanka and demonstrating our commitment to being a responsible corporation."