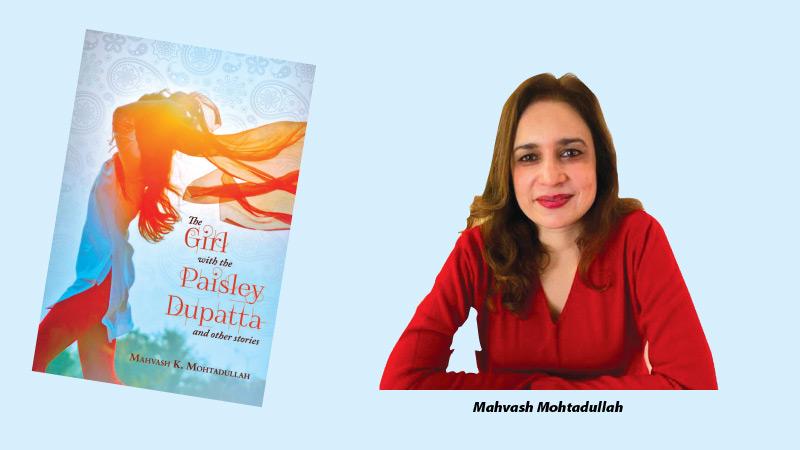 When you first crack open the spine of Mahvash Mohtadullah's book, 'The Girl with the Paisley Dupatta and other stories', and delve into the very first, finely-woven story, 'The Sins of Our Fathers', the reader is instantly plunged into the world of Zubaida, a girl begotten to a family in Pakistan, whose culture and tradition overrode familial bonds.
What happens to Zubaida is both heartbreaking and shocking at the same time and tears down the horrors that can befall a woman that grows up in such patriarchal suppositions of tradition; where a perceived 'respect' overtakes basic familial instinct, where a woman can be valued as nothing more than an object, subservient, never meant to be born, never meant to achieve, never holding status or position.
This is an anthology of tales mostly about the woman that calls the larger Indian subcontinent home. She is Pakistani, Indian, Bangladeshi, Nepali, Afghani and even Sri Lankan. She comes from every walk of life, dogged by social, cultural and even faith-related challenges but armed always with her grit, softness and grace. For those unfamiliar with the last two terms in the title, "paisley" is the curved, tear drop like pattern that is found on a lot of traditional, usually festive clothes worn by women in Pakistan, India and Bangladesh. And "dupatta" is the Urdu term for the scarf worn with the shalwar kameez. Both these words have a significance in terms of the milestones achieved by women (signified by the paisley) despite the various physical, mental and emotional constraints imposed on them by society and tradition (signified by any version of the dupatta that is not the woman's own choice). Both these themes of accomplishments and constraints run like a silver thread through most of the stories in the book.
Some of the tales in this anthology are from outside the bell curves of our lives – theytouch on sensitive issues that are spoken of either in subdued whispers or not at all: from the brutal vigilante justice dispensed in the name of religion in 'The Gods of Fury'; to the harrowing custom of honour revenge or revenge rape in the 'Sins of our Fathers'; to the patriarchal ruthlessness that so many young women are subjected to in 'The Girl with the Paisley Dupatta' which is also the title story of the book.
Some of the other stories are about women and men negotiating life in their senior years and also about younger adults who are learning to grapple with love, friendship and tradition in the sometimes tumultuous and many times limiting folds of their families and communities: From the love affair of sixty-one-year-old Nighat in "Love in Rawalpindi"; to the shenanigans of a dancing queen in "Riotous Love"; to the complicated friendship between two middle aged unmarried society girls in 'Days of Purgatory'.
Says Mahvash, "In telling many of these stories, I have attempted to challenge mindsets and to bring relatability to those particular glimpses of life that many times, pass by unnoticed and unheeded except at the climax of their crisis; and even then, there is fleeting moral outrage and then we move on to the next piece of news that attempts to challenge our sensibilities. "
Talking about the road to writing this collection, Mahvash says, "I've realised over the years that I'm an empath. I've always been able to read vibes and situations pretty quickly. And it was this sensibility that made me aware of the deeply ingrained imbalance between the genders in our part of the world, whether it was at the workplace or in everyday life around me.
"I have always tried in my own modest ways, to try and balance out the scales if you will. For instance, during my banking career, I was adamant that the male to female ratio in the units reporting to me was equal at least if not slightly in favour of the women. Or imagine the following scenario in an Islamic republic where minorities try their hardest to morph into the avatars of their majority Muslim brethren just to be able to survive: I had a Hindu girl manage my home in Karachi for a few years, a fact which the other two Muslim staff did not take kindly to. They even told her to keep her dishes aside because they did not want to be tainted by her heathenness. Suffice it to say that they understood me clearly when I made my point that I wouldn't tolerate faith-based biases in my home.
"At the end of the day, we in the greater Asian subcontinent are products of a conventional patriarchy that still plays out in questionable ways in our day to day lives. And as the world has become smaller, and especially as women from our part of the world have realised the potential that they bring to the table so to speak, there has been a rumbling and a shaking of that patriarchy. I'm trying to do my bit through my writing to make that crack even bigger by letting girls and women know that it is not ok anymore to constantly be afraid for one's physical, mental and emotional safety."
More recently, Mahvash also published a book of poetry and essays called 'Shimmering Scraps of Poetry and Madness'. As the title suggests, it embodies everything from the sublime to the ridiculous'.
Mahvash has also authored a series of children's books called 'Curious Animals' and 'Quirky Creatures'. Two of the books in that collection are already published and two more are in progress.