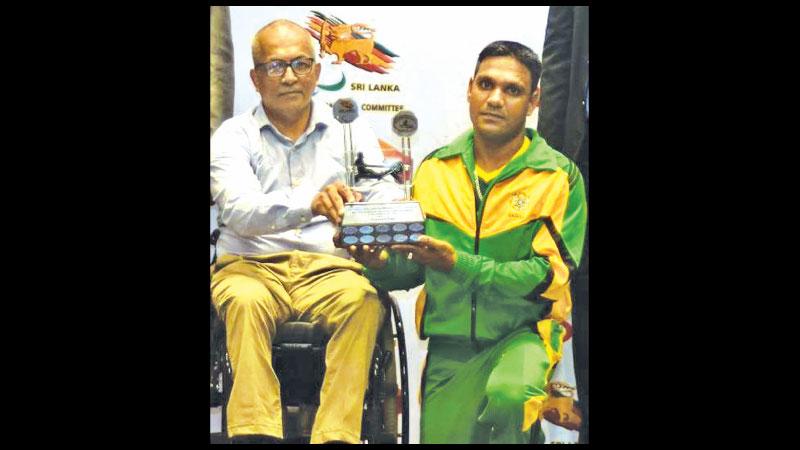 Gajaba (men) and Sri Lanka Para Rowing Association (SLPRA) women's teams emerged overall champions at the 2nd National Indoor Para Rowing Championships held at the Sugathadasa Indoor Stadium for the Maj Gen. Rajitha Ampemohotti Trophy.
Para Rowing was introduced to the National Paralympic Committee in 2013 by Lasantha Welikala, during the Presidency of Maj. Gen. Rajitha Ampemohotti and Lt Col Deepal Herath as Secretary.
Since then, the national body has produced Asian medalists in both formats of the sport - conventional rowing on water and indoor rowing. The year 2020 saw Mahesh Jayakody becoming the first ever Olympian at the Tokyo Paralympics, Japan.
Jayakody representing the Special Task Force was outstanding once again winning the PR1 Men's 2,000m race clocking 8:26.6 minutes.
Samitha Samanmalee won the corresponding women's race in a time of 12:19.0.

A unique feature of this competition was that participants competed on machines which are activated according to the movements used in water rowing covering a distance of 2,000 metres with the winners being declared on the timings achieved.
The regatta comprised the following events: PR1 (arms and shoulders) Men 2000m, PR1 (arms and shoulders) Women 2000m, PR2 (trunk and arms) Men 2000m, PR2 (trunk and arms) Women 2000m, PR3 (legs, trunk and arms including vision impaired) Men 2000m, PR3 (legs, trunk and arms including vision impaired) Women 2000m, and PR3 (legs, trunk and arms including vision impaired) Men 4x500m relay.
"We hope to classify these athletes with the help of World Rowing and other experts to include competitive events for the category PR3 II, Intellectually Impaired in the future," said SLPRA president Kanchana Pradeepa de Silva. SLPRA committee also comprises Wasana Dahanayake (secretary), Priyantha Pieris (vice president) and Hemamalee Jayasekera (treasurer).
"We are hopeful that Jayakody will qualify for the Paralympics 2024 in Paris," added de Silva.
They are also preparing for the Asian Games 2023 and Asia-Oceania Olympic qualifications 2024.
SLPRA thanked NPC president Lt Col Deepal Herath, Chairman of Army Rowing Maj. Gen. Wanasinghe, Maj Gen. Udaya Herath and Maj. Neththikumara for providing the athletes with the necessary facilities for training at the Army Rowing Centre and coaches, especially Maj. Mangala Alagiyawanna for the generous assistance extended and guidance provided.
Results:
PR1 Men
1. JAMP Jayakody(Special Task Force) 08:26.6
2. MDT Dananjaya (Sri Lanka Light Infantry SC) 11:05.3
3. RDS Sisira Kumara (Rheumatology & Rehabilitation Hospital) 13:02.8
Women
1 GD Samitha Samanmalee 12:19.0
2 WADL Sherlin (SLPRA) 13:34.1
3 HWGS Wijesooriya 18:47.6
PR2 Men
1 HM Bimsara Udayanga (SLPRA) 10:04.0
2 EMMD Madawa Bandara (SLPRA) 10:34.1
3 TMHC Jayarathna (Rheumatology & Rehabilitation Hospital) 11:18.3
Women
1 MH Thilini Maneesha Hewage (SLPRA) 12:22.5
2 Nirosha Kumari (Prithipura SC) 15:58.4
PR3 Men
1 NAP Nissanka 07.36.5
2 TMNGJP Tennakoon (Gajaba SC) 07:39.7
3 SAL Sampath 07:44.2
Women
1 KD Dananjani (Rehab Lanka) 10:52.9
2 WMDD Chandrathilaka (Athugalpura SC) 11:58.0
PR3 4x500 relay
1 Gajaba Regiment Sports Club 'A' 28:58.7
2 Gajaba Regiment Sports Club 'B' 30:08.7
3 Sri Lanka Light Infantry Sports Club 'A' 30:31.0