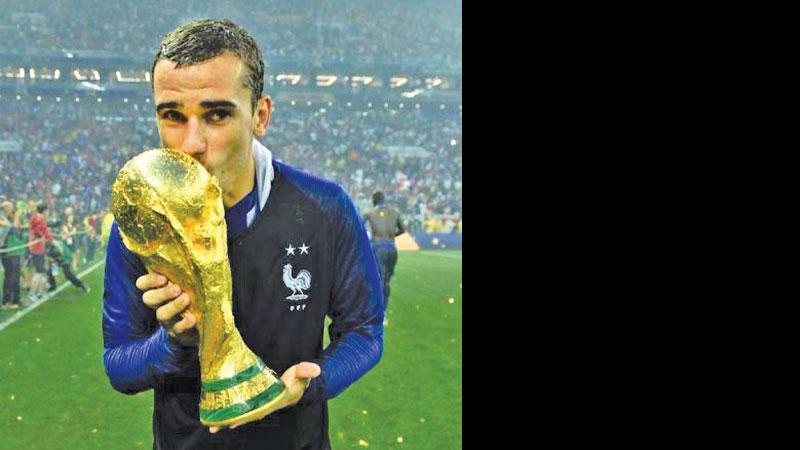 Antoine Griezmann is France's midfield play-maker and a creator of goals. He is also a tireless professional who plays for the France national team and La Liga club Atlético Madrid. He is considered one the greatest players of his generation, most notably placing third twice in the Ballon d'Or. A versatile player, nicknamed, 
"The Little Prince" is known for his attacking, passing, and supportive defence, who has played as an attacking midfielder, winger, and striker in his career.
Griezmann began his senior club career with Real Sociedad (2009 - 2014), winning the Segunda Division in his first season. In 2014, he joined Atletico Madrid (2014 - 2019) for a then-club record €30 million and won the UEFA Europa League, the UEFA Super Cup, the Supercopa de Espana, and La Liga Best Player. He succeeded in scoring 234 goals in 619 appearances of his club career.
He was nominated for the Ballon d'Or and Best FIFA Men's Player in 2016 and 2018. In 2019, Griezmann was the subject of a record association football transfer when signed for rivals Barcelona in a transfer worth €120 million, becoming the fifth-most expensive player of all time. There, he won a Copa del Rey, before returning to Atletico Madrid (2021) and became the club's third-highest all-time top goal scorer.
At international level, Griezmann won the 2010 UEFA European Under-19 Championship and made his senior debut for France in 2014 at age 22. He has since earned 116 caps, ranking as France's sixth-most capped player, and with 42 international goals, he is also the nation's third-highest all-time top goal scorer.
He finished as the Player of the Tournament, becoming the top goal scorer as France finished runner-up at UEFA Euro 2016. He won the FIFA World Cup Silver Boot as the second highest goal scorer as France won the 2018 FIFA World Cup; he won the FIFA World Cup Bronze Ball as the tournament's third best player and named Man of the Match in the final. He has been honoured with the Knight of the Legion of Honour in 2018.
Player Profile
A quick and versatile left-footed forward, with an eye for goal, Griezmann has been described as a "team player," and can occupy several offensive positions in or behind the main attacking line, due to his technical skills, vision, ability to drop deep and link-up play between the forwards and midfielders, or score many goals.
He has been deployed as a main striker, in a central role as an attacking midfielder, as a second striker, as a false 9, or as a winger, on either flank. Griezmann is an accurate finisher with either foot from both inside and outside the area and is also good in the air and accurate with his head, in spite of his relatively small stature.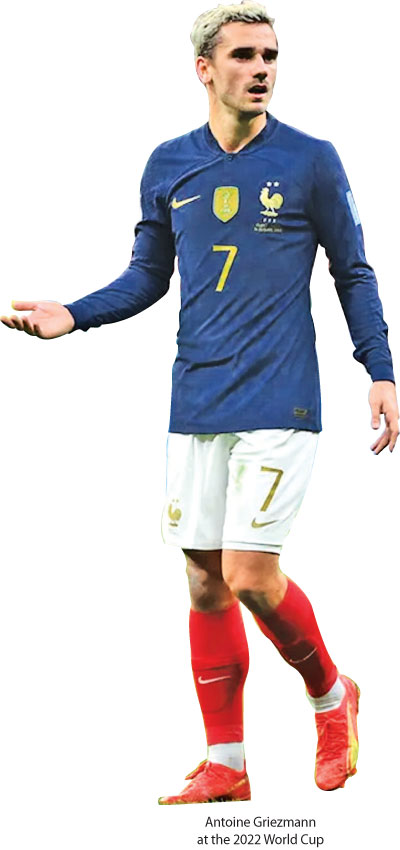 In addition to his ability to score and create goals, he has also been praised for his work-rate, attacking movement, positional sense, and ability to interpret the game, which, combined with his pace, mobility, and energy, enables him to make effective attacking runs to beat the defensive line. Griezmann's performances for the French national team prompted head coach Didier Deschamps to label him "one of the greatest players of all-time."
Griezmann's height is 176 cm and his weight is 73 kg. His best stats are Agility: 92, Composure: 90, Jumping: 90, Ball Control: 89, Reactions: 89.
Birth and Growth
Antoine Griezmann was born in the commune of Macon. His father Alain Griezmann, a town councillor, is from a family who migrated to France from Germany in early 19th century. The family surname was originally spelled "Griesmann." His mother Isabelle Lopes is of Portuguese descent, and her father Amaro Lopes was a Portuguese footballer for Paços de Ferreira.
Griezmann began his career playing for hometown club Macon.  In 2005, while on trial with Montpellier, Griezmann played in a friendly match against the youth academy of Paris Saint-Germain in Paris, and impressed several clubs, notably Spanish club Real Sociedad. Following the match, the club's officials offered Griezmann a one-week trial in San Sebastian, which he accepted. He was later offered a second week stay at the club.
The club then contacted his parents and formally offered the player a youth contract. Griezmann's parents were initially reluctant to have their son move to Spain but allowed him to make the move after positive reassurances. Because Griezmann spent time at youth level in a Basque club, he is potentially available to play for Athletic Bilbao, despite being born and growing up in the non-Basque areas of France.
Griezmann on his idol growing up, "I liked [David Beckham] a lot. He was my idol. That's why I wear a long-sleeved jersey and wear the No.7. He had a lot of class on and off the pitch. That's what I liked about him. No one had the right foot he had."
Griezmann is a Catholic. He has been in a relationship with Erika Choperena, a Spanish native since 2011. They had their first child, a daughter, in April 2016. The couple's second child was born in April 2019. The couple had their third child, a daughter in April 2021. Interestingly, all three siblings were born on a truly astonishing moment on one and the same day of April 8.
International Career
Due to playing in Spain, Griezmann went unnoticed by several France youth international coaches. After his success with Real Sociedad, on February 23, 2010, he was named to the France under-19 team to play in two friendly matches against Ukraine. On March 2, Griezmann made his youth international debut appearing in the team's 0-0 draw with Ukraine. In the return leg, he scored the game-winning goal in the 88th minute to give France a 2-1 victory.
In the 2010 UEFA European Under-19 Championship, he scored two goals and provided an assist in the match against Austria, a 5-0 win, as the national team eventually won the competition on home soil. He was named in the Team of the Tournament.
This victory resulted in France's qualification for the 2011 FIFA U-20 World Cup, which merited under-20 team appearances for Griezmann. In October 2010, he was called up to the under-21 team to play in a friendly match against Russia and made his under-21 debut.
After appearing in two matches with the under-21 team, Griezmann returned to under-20 level and made his debut with the team on February 9, 2011 in a 2-1 victory over England. He made his debut in the U-20 World Cup competition on July 30, 2011 in the team's 4-1 defeat to the hosts Colombia. On August 10, in France's Round of 16 match against Ecuador, Griezmann scored the game-winning goal in a 1-0 victory.
He earned his first cap on March 5, 2012 appearing as a starter in the 2-0 home win against the Netherlands and playing the first 68 minutes.
2014 World Cup
On June 1, playing against Paraguay, he scored his first international goal for France in a 1-1 draw. He added two more goals against Jamaica in an 8 - 0 win. Then, he started in France's first match of the World Cup defeating Honduras 3-0. In the last 16 against Nigeria, his pressure led to a 2-0 French victory. However, France was eliminated in the quarter-finals by eventual champions Germany.
France hosted UEFA Euro 2016, and Griezmann started the opening game, a 2-1 win over Romania. In the next against Albania, he scored in the last minute to win 2-0. In the last 16 against Ireland, he scored twice as the French recovered to win 2-1.
On July 3, Griezmann assisted two goals before scoring himself in a 5-2 quarter-final win over Iceland. In the semi-finals against the country of his father's birth, Germany, he scored twice in a 2-0 victory to lead France to their third European Championship final.
Griezmann won the Golden Boot as the tournament's top scorer, with six goals and two assists in seven games, and was named the tournament's best player, also being named to the team of the tournament. His tally of six goals at the tournament was second only to the nine goals by compatriot Michel Platini at UEFA Euro 1984.
2018 World Cup
Griezmann was called up to the France squad for the 2018 FIFA World Cup. On June 16, 2018, he suffered a foul in the box and scored the resulting penalty to open the score in France's 2-1 over Australia, which was the first penalty decision ever to be awarded in a World Cup match with the assistance of the video assistant referee system. On June 30, Griezmann scored a goal from the penalty kick in a 4-3 victory over Argentina in their round of 16 match.
In France's 2-0 victory over Uruguay in quarterfinals, Griezmann first assisted a goal and later scored a goal himself. He did not celebrate his goal against Uruguay out of respect for his Uruguayan mentor and Uruguayan club teammates. In the semi-final against Belgium, he set up the only goal of the game from a corner.
On July 15, Griezmann was involved in several goals in the final against Croatia, which France won 4-2. With the score at 0-0 in the first half, France was awarded a foul on Griezmann. He took the ensuing 30-yard free kick, which gave France the lead in the 18th minute. Croatia equalized, but Griezmann scored a 38th-minute penalty after the referee ruled for handball (via a video assistant review) to give France a 2-1 lead.
In the second half, he was involved in the build-up to of the third goal for France. For his efforts, Griezmann was named Man of the Match, and was also voted the third best player in the tournament behind Luka Modric and Eden Hazard, receiving the FIFA World Cup Bronze Ball. He was also chosen for the FIFA World Cup Fantasy Team and IFFHS Men's World Team in 2018.
2022 World Cup
In the UEFA Nations League, Griezmann scored a second half brace as the world champions came from behind to beat Germany 2-1. In the postponed UEFA Euro 2020, he scored a goal in a 1-1 draw against Hungary. He was also part of the national team which won the 2021 UEFA Nations League Finals.
He was included in the French squad for the 2022 FIFA World Cup in Qatar. On December 14, he was named Man of the Match in a 2-0 win over Morocco in the semi-finals. Although France lost to Argentina in the final by penalties after a 3-3 draw, Griezmann finished the tournament as co-top 'assister' with three assists.
Club Career
Griezmann made his debut for Real Sociedad in the 2009/10 pre-season campaign, scoring five goals in four appearances. On September 2, 2009, he made his competitive debut in the team's Copa del Rey match against Rayo Vallecano and after four days, he made his league debut against Real Murcia.
On September 27, he made his first professional start and scored his first professional goal against Huesca in a 2-0 win. Then, Griezmann scored his second goal in a 2-0 win over Salamanca and scored goals in back-to-back matches against Hercules and Recreativo de Huelva.
He scored two more goals in wins over Cadiz and Numancia as Real Sociedad earned promotion to La Liga for the 2010/11 season as league winners. On April 8, 2010, Griezmann signed his first professional contract agreeing to a five-year deal with the club until 2015.
Griezmann made his debut in the Spanish first division on August 29, 2010. In a post-game interview, he described the occasion as "fulfilling his childhood dream." On October 25, he scored his first goal in the league in a 3-0 victory over Deportivo de La Coruna.
In his first match of the 2011/12 against Barcelona, he scored the equalizing goal in a 2-2 draw. In the final league game of the 2012/13 campaign, he scored the only goal against Deportivo de La Coruna, securing qualification for the UEFA Champions League for the first time since 2003-04. Griezmann scored against Lyon and helped Real Sociedad qualify for the Champions' League group stage.
Atletico Madrid reached an agreement with Real Sociedad for the transfer of Griezmann on a six-year contract on July 29, 2014. He made his competitive debut in the first leg of the 2014 Supercopa de Espana, a 1-1 draw away to Real Madrid. On September 17, he scored his first goal for the club, in a Champions League group stage match against Olympiacos.
Griezmann netted his first league goal for the club, in a 4-2 win over Cordoba on November 1. On December 21, he scored his first La Liga hat-trick as Atletico won 4-1 at Athletic Bilbao and was chosen the La Liga Player of the Month for January 2015.
He finished the season with 22 goals in 37 games, overtaking Karim Benzema for the highest total by a French player in a single Spanish top-division campaign. He was selected for the Team of the Year at the LFP Awards.
He scored in the first leg of the 2017/18 UEFA Europa League contributing Atleti to progress and scored twice in the final to claim the trophy. On August 15, Griezmann started in Atletico's 4-2 extra-time win over Real Madrid in the 2018 UEFA Super Cup. He then scored a goal in both halves to give his team a 3-1 home win over Club Brugge.
On December 15, Griezmann played his 300th league contest in the Spanish top division, scoring twice as Atlético Madrid won 3-2 over Real Valladolid. In the following week, he scored his 200th career goal, in a 1-0 win over Espanyol.
On January 26, in a league fixture against Getafe, he scored his 10th league goal of the season. Then, he scored the only goal in a 1-0 win against Rayo Vallecano, to become the fifth highest goal scorer in Atlético history with 130 goals.
On July 12, 2019, Barcelona announced the signing of Griezmann to a five-year contract. On July 14, he was presented at the Camp Nou and was handed the number 17 shirt and made his debut in a pre-season friendly against Chelsea.
He scored his first Champions League goal for the club on November 27, 2019 in a 3-1 win against Borussia Dortmund. In the 2021 Copa del Rey Final, Griezmann scored the first goal in a 4-0 victory over Athletic Bilbao. On August 31, 2021, he returned to Atletico Madrid and scored the winning goal in a 2-1 victory against Porto in the 2022/23 UEFA Champions League. On October 10, 2022, Atletico Madrid secured him back until June 30, 2026.
(The author is an Associate Professor, International Scholar, winner of Presidential Awards and multiple National Accolades for Academic pursuits. He possesses a PhD, MPhil, and double MSc. His email is [email protected])