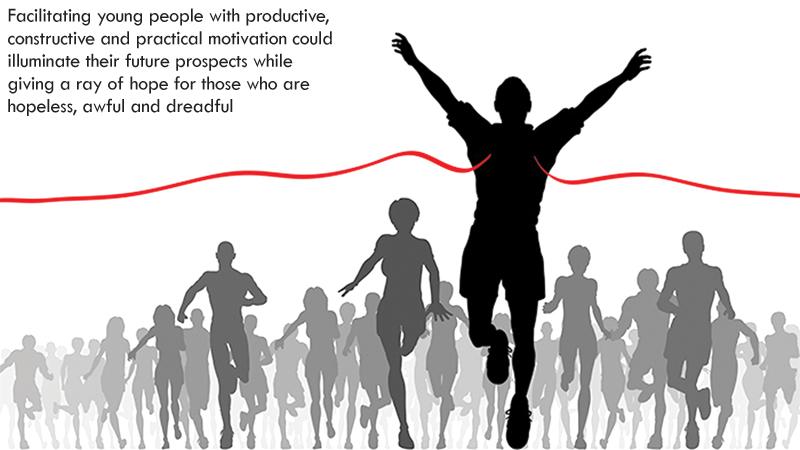 Sometimes, you may come across some young people who are born to odd, fluky and fortuitous environments ripened with a countless number of irksome and sour circumstances. However, despite such misery, they are inclined to be strong and firm to drive away the odds. The young folk belonging to this specific cohort are a rare breed, and getting themselves armed with strong academic credentials is their strategy used in breaking a trend or the status quo, maintained by a cross-section that belongs to the elite and the privileged strata of society.
A young man who I met while travelling to Kandy in a public bus told me that nobody in his family is a graduate, and the very same reason itself motivated him to be academically ambitious and diligent. "Even when I was in primary school, I found myself being rather high spirited and with time, I gradually understood that making me educationally qualified was the only option left behind with me".
Self-motivation and self-determination are not just merely two nouns in the English language, but they are unquestionably the hallmarks and devices of the innermost being of any aspiring and determined individuals who are willing to drive themselves into the uttermost hierarchy of their selected fields.
Except for a handful of people, notably a considerable number of celebrated revolutionaries in their selected fields of work were not born with a silver spoon: strong birth characteristics were not a matter of huge concern for them. However, the experiences and the knowledge gained in the university of life, with a huge wave of aspiring, optimistic and untiring efforts they all came into the stardom, created legacies and departed.
The personal life experiences that you encounter have the potential of stimulating the young and take their best off the carpet. As the young folk struggle their survival from dreary and dingy route to maturity, they should be offered with a strong degree of encouragement, cheer and fortitude in order not to get wrecked and capsized, merely owing to the family's sordid and unsophisticated social background, while getting inspired with the spirit, involved in the statement of "I Can Do It", both the social and environmental challenges, defiance and claiming that may even try manipulating the better outcomes of life.
Under such circumstances, young people should be motivated to cultivate and inculcate usual attitudes among them where the youth should neither embrace mediocrity that comes through the pressure given by society nor be conceded to be written off owing to the horrendous circumstances visibly noticed around them.
Good dreamers
Young people are more or less intrinsically good dreamers with an enormous amount of stupendous and phenomenal potential which could be converted into palpable acquirements. Therefore, facilitating young people with productive, constructive and practical motivation could illuminate their future prospects while giving a ray of hope for those who are hopeless, awful and dreadful.
In that light, motivation becomes a rampant push for self-realization. It is also the most sought-after and indispensable ingredient in acquiring a fruitful and rewarding life. Despite the age bracket, motivation is also a sine-qua-non element for a challenging and inspirational self-determination and self-belief.
Grievously, a considerable number of young people are, in all probability, vulnerable to a situation that could best be attributed to demotivation syndrome. Younger individuals may handily be enmeshed with fright and panic, which may even debilitate their future. This may also be one of the reasons which makes the youth not sometimes being valorous and intrepid enough to take up with novel enterprises. Extending a helping hand for young people to interpret failure and non-fulfilment as a springboard for change, boon and accomplishment is certainly an important element that should be duly considered.
Life is dynamic, zestful with vigorous and constant changes and often associated with its own whimsicality and volatility. Therefore, motivation is indispensable in order to add fuel into the passion in the youth by bringing to light varied and assorted dormant and slumbering talents, skills and dreams in them where ample opportunities and knowledge should be made available and imparted along the path which they are expected to walk. However, motivation may come in sundry and multiple forms.
Motivation is a tool that is able to assist young people in order to rediscover and comprehend the enormous potential in them by means of self-determination and actualization. Change is a phenomenon that is unobtainable until an individual arrives at a point of realising the half-baked potential and opportunities that are available for them. Self-determination and actualization are the elements that prevail in the motivational processes which give rise to a change of personal status.
Challenges
Either going through motivational literature or meeting people who have got the potential of challenging you with practical life scenarios that are unique to them could have the magic of transforming irksome, troublesome and unpleasant circumstances into feasible and obtainable success. In that light, motivation is able to upgrade the quality of life whereby one may become a significant and unique individual in society.
Young people should exigently be stimulated in a way where they show a willingness to accept novel challenges, encountered by them while promoting a steady and strong thought of not being frightened by failures and setbacks. Fright, horror and fear are a barricade that demarcates the successful people from the people who are not so. Most frequently, a sheer thought engulfed with fear and horror of failure prevents us from initiating a project that is different, crucial and much needed that may also set us on the peak of success.
Albert Einstein once remarked, "If you never failed before, it means you have never tried something new". In such a context, one of the most significant elements of motivation in the life of young people is the fact that just a mere sense of motivation may eradicate the panic, horror and fear and ultimately replacing those horrendous thoughts with pleasant, aspiring and optimistic thoughts which give rise to the determination and courage to achieve success, regardless of the place where an individual is born and raised: no utter concern on one's upbringing and birth characteristics. Furthermore, failure is not distinguished in an individual as long as exploring new avenues differently and putting them into practice while not keeping a low profile in trying new adventures are taken into account.
Motivation is evidently not a strange phenomenon but something abstract that is inherent, innate and immanent in any human being. This inherent personal zeal, ardour and warmth compel and impel your potential in extinguishing any task that you take up with until it eventually reaches success.
I quote two different statements that Shakespeare shared at two different times that splendidly manifest and justify the fact that what a colossal significance relies on the sense of motivation in driving people's lives into greener pastures in life. "Sweet are the uses of adversity which like the toad, ugly and venomous, wears a precious jewel in his head yet." "Our doubts are traitors and make us lose the good we often might win by fearing to attempt".