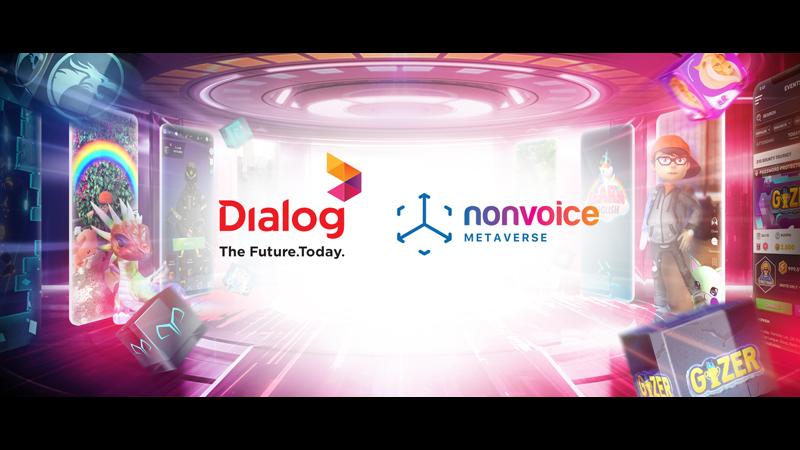 Dialog Axiata PLC, in partnership with Nonvoice LLC, announced the launch of Sri Lanka's first 5G-ready Gaming & Edutainment Metaverse powered by Augmented Reality (AR) and Virtual Reality (VR), delivering a truly immersive experience in gaming, education and more to Sri Lankans.
Nonvoice Metaverse, powered by Dialog, will allow users access to 10 Metaverse applications with a single subscription for as low as Rs. 289 +taxes per month, inclusive of free NFT (Non-fungible Token) collectibles every month. Subscribers can enjoy a wide selection of games, elevated learning experiences, and enhanced Esports for the ultimate Metaverse experience. Applications available include Bookfull, the world's largest 3D/AR library with hundreds of book titles for interactive learning, LearnX which improves vocabulary in young people with AR, SCOAAR, a multiplayer AR air hockey game, World League Live Soccer, a social and immersive fan engagement platform for global soccer clubs, InvadARsX, an AR spaceship defender game and other gaming apps across a range of genres. Dialog will also be offering all new subscribers a free-trial period of the platform till 31st December.
Commenting on the launch, Supun Weerasinghe, Group Chief Executive of Dialog Axiata PLC said, "In line with our brand ethos of delivering 'The Future.Today', we are proud to launch Sri Lanka's first 5G-ready, AR & VR-based Gaming & Edutainment Metaverse with our partner, Nonvoice LLC. As the first in South Asia to trial 5G, we have since endeavored to leverage the capabilities of the network and the power of technology to usher in a new era of immersive experiences and innovation. Nonvoice Metaverse, Powered by Dialog, brings this to life, offering users a new facet of social technology like never before."
For more information or to subscribe, visit dialog.nonvoice.com and register via a Dialog mobile number.