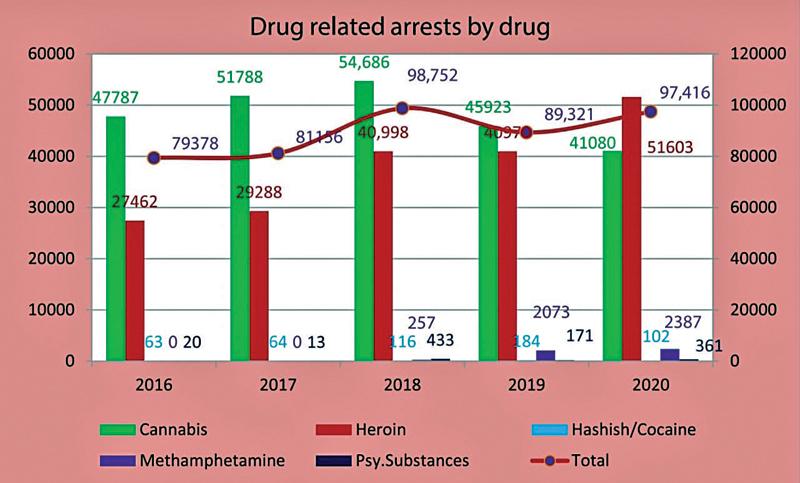 The newspaper headlines are plastered about drugs and drug-related crime. Ice, heroin and cannabis are coming for the youth and could add to the growing list of national problems in the future.
'A man addicted to Ice throws a sleeping infant out of an apartment window', 'Drug fiend sets fire to an O/L topper', 'Ice found in school canteen'; these are some of the horror stories that are making the news but how serious is the drug menace or is it all sensationalised?
There are confirmed reports that drugs are entering our children's classrooms and playgrounds in the form of sweets and chocolate bars sold by peddlers in the payroll of drug gangs.
We spoke to law enforcement and relevant Government authorities regarding Sri Lanka's drug scourge and how it is really affecting the future generation.
The 'Volksdrug'
Ice is all the rage but its origin story is a fable on how a drug can ravage a society. Methamphetamine, Ice's forerunner, was first discovered by German chemists during the Third Reich. The new pharmaceutical was given short clinical trials where it was identified for its stimulant properties. The substance was refined and packaged as 'Pervitin' and marketed to the general public as a form of 'pep' pill. Pervitin quickly grew popular with housewives and students, earning it the nickname 'Volksdrug' or 'People's Drug'.
Come World War II, Pervitin was used to boost the fighting capabilities of the Whermacht and saw stellar success during the Nazi Germany's juggernaut offensive of France during the blitzkrieg; Luftwaffe pilots and tank crews were given Methamphetamine laced chocolates so they can keep fighting night and day.
But these gains were short-lived, Germany quickly found that their new miracle drug was producing addicts more than they could handle and tried to proscribe it before it was too late.
But it was not just Germany who were playing with amphetamines. Several other armies during that time were also experimenting on battle drugs and after the war, these surpluses started hitting the streets where the compounds were studied and manufactured into the unrefined 'crystal' form that it is today. And like most dangerous drugs that began as pharmaceuticals such as heroin, morphine and Quaaludes, a door was opened for methamphetamine abuse.
Considering the current drug problem, the Supreme Court has been vested with powers to impose the death penalty on any individual charged with the possession of over 5g of Ice.
State Minister of Justice and Prisons Affairs Anuradha Jayaratne said that the powers have been vested with the court under the newly passed Poisons, Opium and Dangerous Drugs (Amendment) Act No. 41 of 2022.
Early this December, the Government announced a special Bill to combat the drug trade that have been targeting schools in addition to a new act to be introduced instead of amending the Dangerous Drugs and Poisons Ordinance.
The Police said they had notified all stations to seize any chocolate bars or toffees sold near schools with registered trademarks. The Education Ministry said that they have taken steps to strengthen school committees to stop students from getting hooked on drugs.
Meanwhile, Police Spokesman SSP Nihal Talduwa said that dangerous narcotics such as Ice and heroin are not prevalent in schools because the cost of those drugs keep them well above what students can afford. "A child can't spend Rs 3,000 a day just to buy drugs. But the problem we have here is not ice or heroin but various medications and sedatives laced with sweets and treats that are sold near schools by dubious vendors."
He said the goal of drug pushers is to get children addicted to softer drugs at an earlier age so by the time they are adults there is a group of individuals ready to take on harder drugs like ice and heroin. "These drugs are sold mostly by sellers outside school premises," he said adding that these types of spiked candies are more prevalent in schools than ice and heroin.
In lieu of this situation, Government authorities are conducting drug prevention programs islandwide. The National Child Protection Authority (NCPA) has three programs in place namely the Student Ambassador National Program, community awareness and psychosocial support. The NCPA is of the view that the anti-drug message is better to be taken up by school children themselves.
According to National Dangerous Drugs Control Board (NDDCB) statistics the 25-29 and 20-25 age categories are currently first and second highest groups receiving treatment at rehabilitation facilities, while those in their late teens, 15-19, and early and pre-teen groups, 14, are lowers than the middle-age groups combined. According to NDDCB's Drug Abuse Monitoring System (DAMS) data 1,376 addicts have received treatment in rehabilitation (all facilities including NDDCB, Prisons, NGOs and BCGR) around the country from January to October. "We received 118 addicts at our clinic in Kandy from January to October this year," NDDCB spokesman Chamara Karunarathne said while adding that tobacco and cannabis are the gateway drugs in most cases.
The total number of drug related arrests was 67,900 during the January to October period, out of which 35,765 was for heroin, 25,114 for cannabis, 6,728 for methamphetamine, 232 for psychotrophic substances, 21 for cocaine and 40 for hashish.
The Colombo District reported 38 percent of the total drug related arrests followed by 14 percent from Gampaha and 11 percent from Kurunegala.
The data showed an upward trend for methamphetamine from 2018 to 2020, based on number of arrests with zero arrests shown in the year 2016 and 2017.
Karunarathne also said that the NDDCB and other treatment facilities are facing major issues which are mostly to do with financial constraints and lack of staff rather than the influx of addicts.
Drug bust figures also show a spike in seizures starting in 2019 and cresting in 2020 with staggered and steep descents in 2021, 2022. Karunarathne said this is due to the nationwide lockdowns that throttled the drug trade during this period.
He said that the isolation experienced by children during the lockdowns would have made them vulnerable to drugs.
"The children have got used to hours of internet use and other bad habits including lack of exercise during the lockdowns which could make them especially dependant if they get into drugs."
Echoing the Police comment that ice is not much of a problem in schools, Karunarathne agreed that the high price of hard drugs keep them out of the reach of schoolchildren. "But drug laced candies and sweets can still make them into addicts," he said while adding that 4,300,000 children in the country are vulnerable to drug abuse.
When inquired about the party-drug scene he said that revelers are more inclined to psychedelic drugs such as LCD and MDMA but added that ice is making its way into these events as well.
Children are naturally curious and will always be a target of drug dealers, he said.
Narcotic nexus
We spoke to Sri Lanka Navy Spokesman Captain Indika De Silva regarding the drug seziures in Sri Lankan waters. He said that the Navy has seized 1,250 Kg of heroin and 7,100kg Kerala Cannabis this year with an estimated street value of all the drugs busted so far is around Rs 24 billion.
When asked for the origin of the drugs he said that Kerala Cannabis is sent across the Palk Straight and enters Sri Lanka's coasts from the Gulf of Mannar to Point Pedro. "Heroin and other drugs are traded in the high seas and in international waters," he said.
The high seas drug network is mostly centred in the Arabian Sea from the Horn of Africa to Madagascar and Sri Lanka is a destination to the drugs bound east, the Navy Spokesman said. He also said that fishermen from various nations are involved in this drug trade including Sri Lankans.