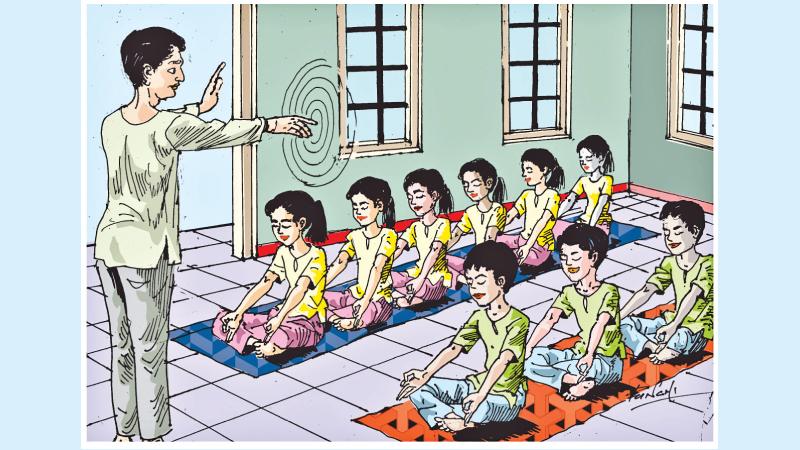 It has been observed during the recent past that not only the youngsters who are still in their teens but also some matured undergraduates who are in their early twenties treat their own lives in a very lackadaisical manner with no hope for future and some have gone to the extent of even committing suicide.
It is a common sight at the Angoda Mental Hospital and even at some psychiatric treatment centres in Colombo and in some main cities that there are a substantial number of young children being brought by their parents for treatment for various types of mental disorders.
Parent's complaints
Parent's complaints are diverse. Some say the child becomes very violent and aggressive for the slightest advice and refrain from food. Some complain to say the child is constantly pondering over something and avoids contacts with the family members.

Some parents complain that the child never concentrates in his/her studies and refuses to go to school while some other parents are worried about the extreme arrogance and mischief of their children. There are also some parents who complain that their children get up from sleep crying frightened over a delusion.
Similarly there are a large number of parents who bring their children to these places for treatments and counseling sessions spending large amount of hard earned money on a daily basis.
But when you study these cases deeply it is quite evident that these innocent children are subjected to some form of psychological problems either at home or at the school which could be solved easily.
It is quite timely and appropriate to look into the education imparted to the children in the best of schools and colleges, universities and all other educational institutes.
Parents try their utmost to give the best of education to their children to fit them for life. Teachers warn that lack of education will cripple the child's chances in the world.
The media, educationists and intelligentsia exhort the young people to study, for life depends on education. Yet for all this rhetoric about the future, our educational system faces a backward trend rather than a forward one, with respect to the emerging new society.
National education imparted to children should be able to produce men and women who will be able to adopt themselves to rapid and wide changes and development in the super-technology of the future.
This can be achieved by those with agile and diligent minds firmly based on normality, character and will. Education does not mean only accumulation of knowledge, but the utilisation of the knowledge and skills for the good and well-being of all life on earth. Moral and value-based education should be based on certain psychological principles.
In today's busy world everybody is on a rat-race for material gains and day-to-day affairs, children do not enjoy the cherished love and affection, care and caress of their parents. As a result of this lack of parental instinctive nurturing, children fail to imbibe the superior qualities of human nature, namely love, joy, cheer, respect, patience, tolerance and compassion.
Dahampasala
Present day society is full of vices where the youngsters irrespective of any differences had been victimised due to their sheer ignorance and partly due to the lack of adequate supervision of their activities by the parents. It is the general belief that the Dahampasala or Sunday school in all three main religions should be made compulsary until they reach the advanced level standard so that they will be more religious minded.
National policymakers in respect of scholastic education should pay their attention to introduce a value-based curriculum in all areas possible. In the teaching process some moral and philosophical thoughts can be brought out at the conclusion of every lesson. Every topic in the curriculum can be concluded with a moral code. Most scientific laws are laws of nature. Beauty, goodness and truth should be highlighted in the study of arts, music, dancing, humanities and other aesthetic studies.
The study of nature and environment elicits many values and truth which when imparted to the youth, remain indelible in their minds. Man is a product of nature, nurtured and fostered by nature.
Appreciation of poetry, literature enjoyment of nature and outdoor life should form an essential part of value-based education. Knowledge should be wielded with love to young children. The instincts and reflexes with which a child is born can be developed by the environment, into the most diverse character and behaviour. Most of this happens in very early childhood.
Consequently it is at this period that we can hopefully attempt to form a desired character.
It is the business of early education to train their instincts, so that they may produce a harmonious character, affectionate rather than sullen, courageous than timid, to speak the truth without fear or favour and to learn tolerance and patience.
Parents and teachers should pay maximum attention to the training and education of a child from the pre-grade classes up to advanced level classes. The introduction of parents/teacher relationship is vital in early education. It is encouraging to see that parent/teacher meetings are conducted in almost all schools.
But they mainly focus their attention only on the academic performances of the children. It is time that they pay some attention on other aspects such as discipline, behaviour, social obligations and moral developments.
Good behaviour is primarily founded in the home, but it should be carefully nurtured and fostered in the school and university. School is the second home of the child. An effective program should be drawn by the Education Department to send psychologists, moralists, religious dignitaries to visit schools from time to time and to lecture, to discourse, and cause awareness of the need for discipline, character and good mental health.
Discussions, debates, dramas centered around moral themes will help in the desired type of moral behaviour.
Meditation lessons
It is suggested that meditation lessons should be included in the national curriculum from Grade Six onwards and trained and qualified teachers be recruited for the purpose.
When the adolescent mind is tranquilised it is very easy for the teachers to make a concerted effort to improve the student's sense of self worth that may produce really positive results. The teacher should always try to produce students with positive mindsets to accept any challenge that they may encounter in their future lives.
The young should be encouraged to participate in social activities like scouting, guiding and red cross.
Computer and information technology is fast intruding into all walks of life, changing our life-style. It is in the vanguard of deep social changes. It will change the life-style of the people and also their values. Computer revolution is no more a technological evolution but a social revolution.
This revolution forces us to discover new habits, new morals and formulate new disciplines and life systems. Our educational system has to be geared to meet this new age.
There are different opinions, conceptions and arguments on using computers by small children. Some go to the extent of openly attacking the use of computers saying that young children are exposed to all kinds of nefarious activities.
It is the responsibility of the teachers and parents to keep a close watch rather than criticising something which has an immense use for higher education.
Value based education should be extended even to the international schools or so called fee-levying schools and private tuition institutions where there is a large number of students receiving education.
Law -enforcement authorities will have to be alert on these places since they are more vulnerable in comparison to Government schools.
Ragging should be banned in universities
It is a pity to hear that over 500 university students have died or either committed suicide during the past two decades mainly due to uncouth and unbearable methods of ragging in the universities. However much a student is well disciplined and religious minded and tolerant, there had been occasions where they had been subjected to take rash decisions sometimes even to commit suicide.
Subsequent investigations had proved that most of these victims are from ordinary rural backgrounds and they enter the universities with great expectations of looking after their parents and youngsters in the family in future.
When they are confronted with these inhuman, barbaric and uncouth ways of ragging, they completely lose hope of their future and the psychological impact forces them to take their own lives. What a crime?
The authorities should take immediate steps to ban ragging in the universities which are initiated by unscrupulous and unrealistic and bankrupt political organisations in the country.
It is commendable to see that the present State Minister of Higher Education Dr. Suren Raghavan had taken bold steps to ban or at least mitigate this ragging menace in the universities to safeguard the students from this politically motivated maniacs.